Main Content
Skip carousel of pet photos and or videos
This is an inline carousel of images and or videos of this pet.
Meet NOBLE-Godspeed



You can read more about this wonderful boy by clicking on "Read More About this Pet", below.  We do our best to keep listings totally up to date; however, there's often new information that isn't yet posted.  If you are interested in this terrific dog, please EMAIL US for more information!

 

YOU CAN SEE LOTS MORE PHOTOS OF THIS DOG!   CLICK HERE.   Albums are listed alphabetically by name.  New dogs may not have an album, but check back soon as we update regularly!  

ADOPTION DONATION:  $250    (Before adoption, this dog will have a complete health exam, be neutered, microchipped, heartworm negative, fully vaccinated, and tested for parasites).

HISTORY:  Noble's history is shown at the end of his listing, under "About Him".  We wanted to start with the most recent information.


THE LATEST:  Noble is doing well in foster, and has won his foster mom's heart.  He's her constant companion and she's lavishing him with the TLC he'd been hoping for while he waits for his forever home.  He was showing a little stiffness in his back legs and initially couldn't get on the bed - but he's been on Cosequin and can now jump up on the bed!  (So if you don't want a bed buddy, maybe Noble's not your guy :))  His foster mom writes:  "He is a unbelievably well-behaved sweetheart!  There just aren't enough words to describe how good he is -- I'm totally in love and so is Annabel".

We're waiting for more specifics and will update soon - but somebody looking for a gentle, well-behaved boy should look no further than Noble!


ABOUT HIM:  I got a call from my vet's office, where they know of my work in Husky and Malamute rescue.  They'd been contacted by a client who was looking for help with a Husky who'd apparently been on the run and fending for himself.  Apparently this handsome boy (we decided to call him "Noble") had been spotted running around a grade school off and on for the past two years.  He was painfully thin, yet friendly - and was approaching people looking for love, and for help.  The good Sam took him in, and the set about trying to help him.

He said:  "This is just a GREAT, GREAT, GREAT dog.  My daughter is allergic to the fur (which he has in abundance) or he'd be home here with us.  As it is, we've made him comfy in the garage (you can see the photos of him dozing with his head on a bed pillow) and have him tethered so that he can walk around the corner and go outside.  Because he is so VERY thin, we've introduced food slowly - but he's eating well and appears to be handling small meals very well.  He loves hanging out with me when I'm working in the garage - he's very affectionate and actually seemed to want to climb into my lap.  He's very trusting and sleeps on his back with his legs up and paws dangling ... which is a good position to be in as he also happens to LOVE belly rubs!  He continues, "Noble is wonderful around kids.  My wife, the neighbor, and the neighbor's 3 little girls (one is only about 2) have had him out enjoying several walks together.  As far as other dogs, we don't have any - but when little dogs approach him on walks, he just sniffs them curiously and seems to want to play.  He's been great in the car." 

Noble is what is known as a "wooly".  This means he has an extra-long coat which is actually outside the breed standard, as it doesn't shed ice and snow as effectively as the standard coat.  This longer coat does take even time and attention (in terms of brushing) than the standard coat, but it also is extremely beautiful.  A wooly is very much sought after by our adopters because of their exceptional beauty, and these are dogs who are definite 'attention getters" when you take them out and about!

UPDATE:  We recently spent a long afternoon at Noble, where we learned more about him first-hand.  We believe Noble is a mature dog - probably about 7 to 8 years old.  Though Noble didn't seem crazy about the other dogs (we believe he needs a home where he will be your 'One and Only') he was friendly and loveable with every person he met!

After Petco, Noble went into a one week stint in a foster home, where were confirmed that he is not cat- or small-dog safe.  He was regretfully returned to boarding.  However, we did learn a lot about him from her experience.  She wrote:  "Noble does need to be the an only pet, but for the person or family who wants a cuddly new friend to be there 'everything', Noble is your boy! He is the sweetest, most lovable guy. Don't get me wrong, he loves his exercise, but he loves lounging around the house and napping even more! :) He's almost a "lap dog." Several times when I was sitting cross legged on the floor, he came and sat right in my lap. When laying on the couch, he would lay right on top of me! He also loves belly rubs. Noble was not around children consistently with us, but he did meet several at Petco, and he enjoyed being petted by them. Because he had been stray and starving so long, Noble is very protective of his food. This is something that would need to be monitored with small children. As far as strangers, well - he doesn't know a stranger! He loved everyone we met on our daily walks.

Noble was kept indoors, except for potty breaks and exercise. He loved sleeping on my bed. He was doing great on his housebreaking. He was also working on crate-training, and would go in easily for a treat. He would need continued work on this, as he was somewhat anxious in the crate. Noble is a very fast learner - he came to us with no evidence of training, but he learned "Sit", "Stay", "Down", "Stop" and "Come" very quickly! He does exceptionally well on the leash. I trained him to stay on the right an to go the same pace as me. He didn't pull, and if I put tension on the leash, he stopped. He is also really good in the car. He will either lay down, or sit up and gaze out of the window, but he is quiet and well-behaved.

Noble was not extremely interested in most toys. He did love the plush/stuffed animal squirrel that belonged to our dog. He also loved his Kong stuffed with chicken and rice, but not peanut butter. He's that rare dog who doesn't like peanut butter! He loves getting out with you and is a great walking or jogging buddy. We went on a jog every morning, around 5:30am, and then went on another, lighter walk in the evenings.

When we were home, however, he had free run of the house with us. As far as containment, we have a 6' wooden privacy fence which makes that easy. He was always interested if people were moving through the front doors and gates, etc. but otherwise never tried to escape by digging or jumping. In short, Noble is a fantastic dog, and I'm sad it didn't work out at our house. He behaves very well, and deserves a family than can care for him the way he needs. I would not recommend a household with other pets, as he's a bit territorial, but he is VERY loving and cuddly with people!"

Due to a lack of foster homes, we had to return this boy with our rescue partner at the paid boarding kennel in order to help him.  If you can't adopt, you can still help him by contributing toward his 'room and board'.  Please see more info on how to donate, below! 

What to do if you want to adopt this dog:   SEND AN EMAIL to request an adoption application and get started! We will review your application to determine if there is a good match between your family and this dog.  We may suggest another if we can offer a better fit in terms of lifestyle, experience, other pets, etc. A vet check, reference checks, and a home visit will be conducted before an adoption can be considered for approval.

Northern Lights does not have a physical shelter.  We are a non-profit rescue organization comprised of individuals who open their private homes to foster dogs in need of a second chance.  When fosters are not available, we often pay to board a dog until space is available, but we hope someday to have enough fosters to eliminate that need.  If you would like more information about how you can save a life by fostering for Northern Lights, EMAIL US for info and an application!  

FAQ:  For information regarding who we are, as well as our adoption policies and practices, please visit our Petfinder HOME PAGE.

CAN'T ADOPT, BUT WANT TO HELP A DOG TODAY?   Northern Lights is a 501(c)3 charitable organization which operates solely on donations – and your contribution is tax deductible!  You can make an immediate on-line donation to give the gift of life, comfort and care via PayPal!  Just CLICK HERE, select "Send Money", and enter AdoptASledDog@aol.com as the payee.  To donate by CHECK, simply mail your contribution to Northern Lights Sled Dog Rescue – PO Box 7281 – Greenwood, IN  46142.

 

NOTICE:   In the vast majority of cases, the dogs in our program are rescued from shelters, and Northern Lights has no means by which to collect or verify a dog's history.  We work in concert with our veterinarians, and breed and age estimates are based on a combination of professional input and our collective experience.  Our policy with information acquired while the dogs are in our care is that of "full disclosure".  It is our goal to ensure the adopter has all available information to ensure the best possible match between the dog and the adopting person or family.  In some instances, because of applicant interest, dogs are in our program for relatively brief periods of time.  If we have identified a temperament or health condition while the dog is in our care and custody, every effort will be made to correct it prior to adoption OR the adopter will be made aware of the issue or condition prior to adoption.  Northern Lights' screening process is designed to select only adopters who are willing, and have the means, to treat conditions which may occur after adoption, and adopter will be contractually responsible for doing so.

Recommended Pets
Recommended Pets
Did You Adopt NOBLE-Godspeed?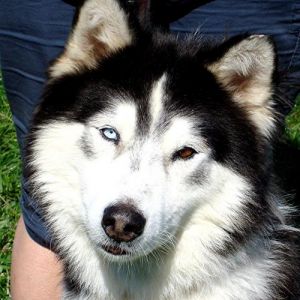 NOBLE-Godspeed
Siberian Husky
Adult
Male