This is a carousel of images and or videos of this pet. Press the S key to skip past this carousel. Use the arrow keys to navigate between the different images and videos. Press the F key to activate a fullscreen carousel.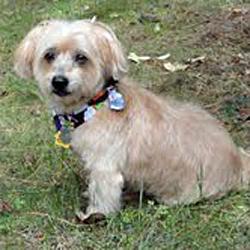 Adopted
Missy GA
Dog
Yorkshire Terrier Yorkie
Yorkshire Terrier Yorkie

Suwanee, GA
About
House-trained

Yes

Health

Vaccinations up to date, spayed / neutered.
Meet Missy GA


UPDATED BIO 11/17/2012: Missy is a 7 year old 15 lb yorkie-poo who is being fostered in Suwanee, GA. Here's what she had to say recently..............


Hello everyone! I'm Missy and I'm my Foster Dad's princess, so for our fun Thanksgiving photos, FD and I decided I'd be a native American Princess, Missyhontas! How do you like my braids? I could have been a pilgrim like my foster , but I just don't see myself in a white bonnet, not when feathers, braids and a headband are an option.


I've not been feeling the greatest lately but FD, the Vet and the Yorkie rescue people are working very hard to make me feel better. Even if I don't feel totally up to snuff, I do feel totally loved in my foster home. I love to snuggle and give kisses in return. I'm not a real lap dog like these other little guys. I get too hot, but I do like to be close to you and I follow my FD around everywhere he goes and sit where I can see him. I love it when he takes me on outings for walks and car rides.


What am I thankful for this Thanksgiving? I'm Thankful for the Yorkie Rescue people, for FD, for my Mom who loved me so much she gave me the chance at a new forever home, even though it broke her heart to let me go. I'm thankful for good food, good treats, nice foster brothers and for the possibility that someday someone will adopt me and bring me to a forever home. I promise to love you forever and ever and ever………………lots of kisses from me to you xoxoxoxo


UPDATED BIO 10/13/2012: Missy is a 7 year old 15 lb yorkie-poo who is being fostered in Suwanee, GA. Here's what she had to say recently………….


Hello, Missy here. I've not been feeling too great recently, but Foster Dad and the nice Dr. Baranick are working hard to make me all better. FD says I'm a real trooper and he's sending me to the spa for a day of beauty. FD has started calling me his "Mamma Bear" because he says I look like a Teddy Bear, and I get along with all the other dogs so well. I like other dogs and I was recently introduced to a nice, but very strange-looking dog, that FD called "cat". I thought "cat" was nice, but sort of stand-offish. I'm sure she'll come around so I'll just let her have her space until she's ready.


FD insisted that I choose a Halloween costume. I tried on the witch hat, but FD said it didn't suit me …… see, I don't like being mean like a witch, it just isn't in my nature. Instead, I got a beautiful fairy princess costume with wings and a beautiful tutu. I know I look pretty, but can't wait until after by spa day when I can try it on again. If I knew where my forever home was, I'd try to use my wings to fly to you. I'd miss FD very much but I am ready to give all my love and attention to my forever parents. Will you bring me home, please? I'll be a perfect little companion for you and love you for all of my life............Missy xoxoxo


 


 


UPDATED BIO 08/08/2012: Missy is a 7 year old 15 lb yorkie-poo who is being fostered in Suwanee, GA. She is such a good dog that the only reason her Foster Dad wants to see her adopted is so that he can make room for other foster dogs in need. Missy is completely house-trained; an owner who is paying attention to her signals will never have an issue. Missy has Cushing's Disease which advances some symptoms of aging and; she needs to take a tablet every day for the rest of her life which costs approximately $50 per month. Missy has some compromised vision and hearing issues, but she gets around without any problems. Her temperament is such that she gets along well with other dogs and likes everyone she meets. She's a bit of a beggar in the kitchen and at the table, but we are working on discouraging it. Missy is dedicated to her FD and follows him everywhere, never strays, comes running when called, loves to play fetch and play with her foster brother Manny, never pulls on her leash, seldom barks, goes potty as soon as she goes outside, takes her morning pill without coaxing right from FD's hand, and is patient and very loving. Missy is not cat-tested, but her FD suspects that due to Missy's totally non-aggressive attitude that she would be fine sharing a home with a cat. Missy seems okay with children, but her energy level is not what it used to be, so her ideal day consists of lengthy naps under FD's desk where she lightly snores away until it is time to go outside.


Missy wanted to tell you a little bit about herself……..here's what she had to say:


My name is Missy and I've had several homes in my short life. I was sad to leave my last home, but my owner could no longer care for me. She says the entire neighborhood was very sad to see me go. I love living with my FD who I follow around everywhere. I try to never make much noise and sit quietly nearby and nap while FD is working. He says I snore but I don't believe him. FD says he has changed my name to Missy Poppins because he says I'm "practically perfect in every way." That makes me blush, but I do my best to keep everybody happy. I don't hear as well as I used to, but when FD calls - I come running. It's so nice to have someone that loves me! I don't like to be left alone though because sometimes I get afraid that FD may not come back. So far though he has come back every time! I think I may have him trained! Okay, so I'm a pretty Princess, I'm house-trained, I come when called, I'm very loyal, hardly ever bark, and um……perfect (according to FD), soooooo, how come I'm still here? I can bring a lot of joy and happiness to my new owner and make them smile, just like I did Foster Dad.


UPDATED BIO 06/06/2012: Here's what Foster Dad had to say today about Missy:


"This little love bug is the sweetest thing I've been around. Sure, she needs to go out every couple of hours since the Cushings Disease makes her incredibly thirsty, but she hurries out to do her business and comes right back in. When she looks at you you can see the little cartoon hearts come out of her eyes. Everyone that meets her falls in love immediately. She's got me wrapped around her paw that's for sure."


INITIAL BIO 05/30/2012: MEET MISSY! She is a 7 year old 15 lb yorkie-poo who is being fostered in Suwanee, GA. Missy was surrendered by her owner because she could not provide enough time and attention to her, and felt she would be happier if she was in a home where someone was home more. She is a very sweet dog, quiet, adaptable and well-trained. Missy would make an excellent companion pet for someone who is retired. She is leash-trained, easy to walk and is not aggressive or yappy.


Missy has been diagnosed with Hyperadrenocorticism, most commonly referred to as Cushing's Disease. Read more about it here….. http://www.fda.gov/forconsumers/consumerupdates/ucm151209.htm. Missy's Cushing's Disease is under control with medication and diet. She has been taking Vetoryl since 02/2012 and will need this medication for the rest of her life. Please don't turn away from Missy because of this – she deserves to be well-loved and cared for as any other little doggie companion. Watch for updates on Missy as her Foster Dad gets to know her better.


Recommended Pets
Recommended Pets
Did You Adopt Missy GA?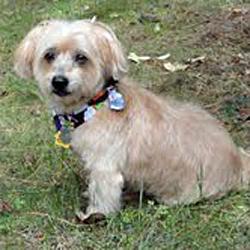 Missy GA
Yorkshire Terrier Yorkie
Adult
Female