Main Content
Skip carousel of pet photos and or videos
This is an inline carousel of images and or videos of this pet.
Adopted
Khali
Dog
Pit Bull Terrier & Labrador Retriever Mix
Pit Bull Terrier & Labrador Retriever Mix

Calgary, AB
About
Coat length

Short

Health

Vaccinations up to date, spayed / neutered.
Good in a home with

Other dogs.
Meet Khali
Female, 8 years, Lab/pit bull X

Training:
- Khali is able to do basic commands such as Come, Sit, Lay Down, Kennel, Up, Down, "Give me Kiss" and "Paw/other paw"
- She can be easily distracted if she gets too hyper so seeing another dog or a new person can mess up her training a bit.
- She is also very food motivated so treats or even her normal food is a good way to get her attention.

General Likes:
- People. Khali loves other people so much.
- Car Rides, Khali likes the thought of car rides, but gets very nervous while inside of the vehicle. Never the less she is always happy to jump into the car.
- Fruits and Veggies. Besides leafy greens Khali enjoys most vegetables, and her favourite fruit is definitely Bananas.
- Belly rubs with head and butt scratches. Her favourite place to get pet is on her neck and thigh, she will love you forever if you give her a good scratch in either spot.
- Loves to Fetch and just rough housing in the yard.
- Also loves to be lazy with you and lay on the couch and watch some Netflix.

General Dislikes:
- Loud noises. She is much better now but used to get very very scared of loud noises such as something being dropped or pans banging.
- Thunder/Fireworks. Still very scared of thunder and fireworks, generally hides under my desk or cuddles with me during either of those situations.
- Being approached too fast (sometimes). It really depends on the situation with this. When we first got her if we went to
pet her too fast she would submit immediately. Now she is much better but I still usually wiggle my fingers in front of her
to let her know I'm going to pet her. If she's excited she usually has no issues with being approached quickly by people, she loves them too much.
- Other dogs sniffing her privates. Down below there's more detail on other dogs, but for sniffing she usually shy's away quite a bit if another dog is trying
to smell her butt.
- Brooms and that evil, evil vacuum.

People Skills:
- As in general likes, Khali loves people. She has manner issues because she likes to jump up on people.
This is currently being worked on but it seems she wont jump on the people she's been trained with but everyone else is fair game for her at the moment.
- Usually Khali likes to lick people when she first meets them. The issue is with people who don't like being licked
and tell her not to...then to say sorry she licks them, and they get mad so she says sorry by licking them even more.
It's a vicious cycle but hey, it's cute in my opinion.
- Children: She loves kids as much as other humans, maybe more. Only issue is she gets excited and with her jumping up
on people I generally need to hold her for introductions or else she may bowl a kid over. Never had any issues
in the time I've had her but always something to watch out for.

Other Animals:
- Dogs: She used to be scared of other dogs but now loves most of them. If they seem aggressive, she will get scared quite easily and may growl or bark. Large dogs that approach too fast are scary for her so introductions with other dogs should definitely be monitored but after she gets used to a dog she loves to play with them.
- Cats: It depends on the cat's personality with Khali. If the cat ignores her and lets Khali sniff them then it's fine but if the cat runs away Khali thinks its a game and will chase them. She has quite a bit of a prey drive it seems so probably not great if a cat is in the adopting house.
- Other animals: She has a pretty bad prey drive and loves to run after rabbits, squirrels, birds etc. She's always on leash and never gets a chance to catch them so I'm unsure what the outcome would be.

Bad Habits:
- She enjoys licking things.. Like my bed, or couch. It's not all the time, but I still usually only let her in the room if I'm in there with her or else
when I'm coming to bed I need to watch out for a huge wet spot on my mattress.
- Separation Anxiety. This was a major issue when we first got her so it may pick up again when you adopt her since it's a new home. (Please keep in mind it was
also made much worse because of my room-mates). She used to bark and cry for hours when we left the home. The last year or so though she has improved a large amount.
At a new home we moved to our new neighbours did not know we had a dog for at least 2 weeks until they seen us walking her.

Other Notes:
- In the time I've had her she's barked maybe 8 times in front of me (single barks). Even then, she was super excited or seen another dog and just wanted to say hi.
- If you're looking for a dog that just needs like 30 minutes of play or a run around the block Khali is definitely the dog for you. She loves people and loves to just hang out with you as long as she's burned some energy. She's a bit older now but when she was with a friends puppy she would play with it until we had to separate them so Khali could drink some water and get some energy back. Honestly she's a beautiful and amazing dog to have and I'm torn up about needing to give her up but she deserves a family that has more time to care for her.
- She has high energy but low stamina, so she seems very young to a lot of people. The vet said that her age would be about 8 (by now). Her paperwork also confirms that age but most people meeting her put her at a much younger age for how she acts and how outgoing she is.

Our rescue is called BARCS. We are a registered Non Profit.
Our Website is www.barcsrescue.com. All our animals are posted on the website and updated often. If you would like to proceed we need an adoption application to be filled out. They can be found on our website. Once we receive your application, we will contact you to arrange a meeting with the pup you are interested in.
We look forward to hearing from you.

Recommended Pets
Recommended Pets
Did You Adopt Khali?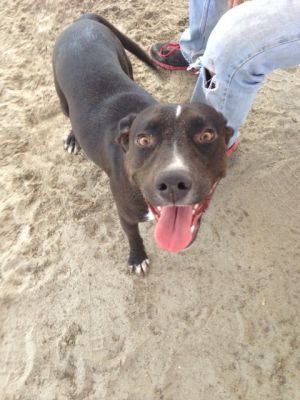 Khali
Pit Bull Terrier
Senior
Female