Main Content
Skip carousel of pet photos and or videos
This is an inline carousel of images and or videos of this pet.
About
House-trained

Yes

Health

Vaccinations up to date, spayed / neutered.
Petfinder recommends that you should always take reasonable security steps before making online payments.
Meet Breezy
New foster update:

Things are progressing quite nicely for Miss Breeze. She is really starting to pop personality and confidence wise.

Last night she took it upon herself to actually PLAY yes PLAY with a pair of my socks that had fallen from my dresser onto the floor, she then snuggled up to them and to a little nap. I didnt have the heart to correct her, i'll take any kind of play where ever I can get it.

She is becoming very vocal about getting her share of cookies when they're offered, sitting upright with eyes sparkling and little ears standing straight up, she will give a couple sharp barks to say "Hey dont forget about me!"

She has also decided that YES I do like sleeping up on the bed with people, its quite comfy. She has discovered that having a nice tasty bone to chew on is a good thing too. She has started coming downstairs with the gang to great me at the front door, and when she isnt doing that she's standing on my bed barking in excitement, I can hear her through the window as Im walking up the sidewalk to the front door.

Recently she made an appearance at a local event where MABCR had a table and was very brave about sniffing hands of strangers both adult and child, although she was anxious I would not say she was truly afraid of all the goings on, lots of people passing, a wagon with a team of huge Clydesdales clopping by.

She's been here 15 months now and is ready to find a quiet family of her own that is willing to continue to work with her and bring her out. Inside just dieing to come out, is a delightful little dog that I am sure would be a great companion, she just needs a quiet confident leader who will be patient but always encourage her to move forward in her developement.

Breeze is not high drive, gets along great with other dogs and cats, and is completely housebroken. She is working on her recall but should always be on lead outside a fenced area, she is also learning sit and down

Update from Breeze's foster: Working with Breeze has been a series of baby steps over the last year, following the old cliche "Two steps forward and one step back".

A year of learning to trust and grow on Breezie's part, and a year of learning just when you think you've exhausted every effort to make contact that you find another way on mine. Breeze has been eye opening experience in behavior, tolerance and gaining trust for me and my family while we have fostered her.

This funny looking little girl who came from a world of hoarders, of being shut away so that every new thing frightened her, that a sudden movement or appearance of another being - dog - cat or human was perceived as a threat to run from has found a glimmer of trust. Last night as she curled on my bed between my husband and me she gave a small sigh and laid her head on my arm in contentment. I lay there amazed and over joyed not wanting to move and disturb her.

Over the last week or so there have been little signs of this light bulb going on and last night it flickered to life. Breezie is a funny looking little thing, her perky upright ears always at alert, and bright eyes always watchful, her tail wags when I come to the door to let her in, then she leaps for joy four feet in the air.

No doubt this sweet little girl is athletic, sad to think that for three years she waited in a shelter for a kind gentle, patient soul to rescue her from that dark place. It robbed her of the joys of playing with toys, thrilling at car rides and curling up with her person. That sad little shadow that came into my house last year, now lays on her bed, a little smile on her face as she waits for me to great her with a "Hi Beezel Nut!" my pet name for her and obviously an invitation to hop up on the bed for that desperately desired human contact.

Will she ever play with toys or be overjoyed to ride in that car? I don't know, Breeze will continue to unfold in her new home. Somewhere waits her heart person, that person that will see beyond that little girl that wants to run hide, and see like I do that brave little dog that faces every day with growing spirit, and anticipation as to what the future brings. Someone that has a gentle heart to bring out that wonderful loving little dog that I know is hiding inside, the one I see with each tiny kiss I receive .

Breeze is completely housebroken has been since day one here, is excellent with other dogs, cats and people of all types, she responds well to quiet firm commands, is learning sit, and come. Knows "Go down stairs, and lets go potty. Although unsure with firm gentle handing bathes well in the tub, and allows her nails to be trimmed. She would do best in a quiet home with either cats or other dogs. She has free run of the house at all times without any problems and sleeps uncrated at night. So if you're looking for a very special girl in your life, she's here waiting.


****************************************************
Breezie has been here with us several months and is making slow but steady progress that people and the outside world are not evil things. She is, we think a border collie/corgi mix approximately 4 years old, spayed of course.


Breeze was part of a hoarding case and was take from her owner as a pup. Due to a pending court case, she was housed in a shelter for the next 3 (yes, 3) years with little human contact or time outside of her indoor kennel.


When Breezie first came here all she could do is hide and tremble if we even attempted to interact with her. Eating only if in a crate that was completely covered she has graduated to eating in the open next to that same crate, Terrified of any human interaction whether it be my just talking to her to attempting to touch/pick her up would cause her to tremble uncontrollably and loose control of her bowels or pee in fear.


How much she has changed in such a short time!! Now she will quietly sit on the bed next to us, she is still not fully relaxed in this exposed position but will sit calmly. She barks at anyone that enters our room but its a "I am here just so you know" bark rather than "I am here and I will defend my spot to the death" bark. She has never ever had an accident in the house outside of what was mentioned above. She goes down to potty with the other dogs when told to and has ofter simply come down when she needed to potty.


This is a sweet girl that has been very very traumatized by her early life. She is on a long road to learning how to trust and understand the outside world. I see in her future a quiet family , she likes routine, not change. Its neat to see her progress over the time she has been here, she is teaching us all a lot more in patience and how to accept those seemingly miniscule advances as mighty victories.


Breeze will do best in a calm, quiet home with strong and confident leaders. She will gain much strength from then during her journey to becoming a 'real dog'. Breezie will benefit from the company of other dogs who are quiet, confident dogs. She does well with cats, and is positively responsive to quiet and rspectful children (best beyond toddler stage).





Rescuing animals is quite expensive. If you are unable to adopt, but would like to help this, or any other animal in our system, please consider a sponsorship donation.
For information on our sponsorship program, please contact Sarah at SLR@mabcr.org.
Please go to our main website at www.mabcr.org for more information regarding the adoption of this or any dog from our rescue.


Please note that while this dog is currently available, any dog on our site may have an adoption pending and may not be available to you at this time. The same dog may later become available if the adoption falls through.


Our website will give you details on our adoption procedures as well as an application for adoption. An application must be submitted prior to 'matching' an adopter with a dog as all dogs do not fit into all homes. We pride ourselves in our adoption process, we take the time to get to know our adopters so that we can place a dog with them that they can enjoy for years to come.


Please understand that we will not discuss dogs with individual adopters until after the application process is completed.


Our rescue does not have a public facility, therefore there are no visiting hours. Appointments to visit with the available dogs are made after the application process has been completed by our staff.


All dogs who are adopted through MABCR receive 1 month of free pet insurance, supplied by Petfinder.org. Please remember to ask about it when adopting your new friend.


To assist any dog within the MABCR organization, please consider making a donation to the general fund or to the medical fund. All dogs coming into our rescue are fully vetted (s/n and innoculations) prior to adoption.


DONATE ONLINE USING PAYPAL

Thank you for your interest in Mid-Atlantic Border Collie Rescue.
Recommended Pets
Recommended Pets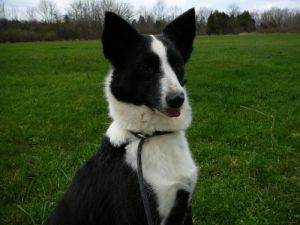 Breezy
Border Collie
Adult
Female