Main Content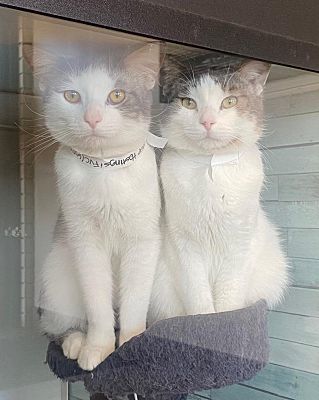 Adopted
ADOPTED! Hastings (Foxmoor - Aurora)
Domestic Short Hair
Aurora, IL
Young

Male

Medium

Black

, White
About
Health

Vaccinations up to date, spayed / neutered.
Petfinder recommends that you should always take reasonable security steps before making online payments.
Meet ADOPTED! Hastings (Foxmoor - Aurora)
Meet Hastings! (kitty on the left in the photo) Hastings is a handsome, friendly, shorthaired kitty born 1/22/20. He came to us from a home who was taking care of many outdoor cats in their area and took in multiple litters last year when COVID started. They are moving now and so Hastings needed to find a forever home. He is cat and dog friendly (after intros of course), as he lived in a home with many other cats and a few dogs prior to his rescue. Hastings would love a fresh start and a new forever home, he would prefer to go home with his brother Bridgerton (they cry for each other when separated ?). Hastings adoption fee is $129 and includes his neuter, microchip, vaccinations and routine labwork. Please email us for an application if interested in adopting. Meetings are scheduled after an application is approved.

Rescue
Help Save Pets - Foxmoor Aurora
Contact Info
Rescue
Help Save Pets - Foxmoor Aurora
Contact
Email
availablepets@gmail.com
Address
2258 Ogden Ave, Aurora, IL 60504
Pet ID
Phone
(630) 851-1312
Website
http://www.helpsavepets.org
Donation
Donate to This Rescue
Their Adoption Process
Additional Adoption Info
Adoption Requirements

• Must be 21 years of age or older to adopt a cat, 23 years of age or older to adopt a dog.

• Must provide a copy of your lease agreement or association by laws if you live in an apartment, condo or townhouse

• Must provide documents/receipts that specify your cat or dog's immunizations/required tests are current (rabies, distemper and fecal (+ for dogs- heartworm test and bordetella if adopting a dog) (+ for cats - leukemia test/vaccine if adopting a cat)). We can call your veterinarian to get this information, if you don't have the documents. If you know they are not current, bring the animals with you and can have them updated by the animal hospital that houses HSP.

• All adults in the household must be present and co sign the adoption agreement.

• All your currently owned dogs/cats must be spayed or neutered. This is a non-negotiable requirement.

• Heartworm prevention for dogs must also be purchased at the time of adoption and prices vary depending on the size of the animal being adopted.

• Puppies under 6 months old are required to sign up for a puppy obedience class. ($89 deposit required, refundable upon completion)

Each Adoption Includes:
• Spay or neuter surgery
Vaccines current to the date of adoption *:
• Rabies vaccine
• Bordatella vaccine for dogs
• Canine Influenza vaccine for dogs
• Booster for canine and feline distemper and several other dangerous diseases
• Fecal test
• 1st deworming
• Heartworm test (dogs +6 months old)
• Leukemia test for cats
• Capstar flea treatment
• Microchip identification implant
* Boosters required for puppies and kittens (depending on age) POST adoption are the responsibility of the pet owner.

Application Process

Once you have decided on an animal, you will be provided with an Adoption Questionnaire which requires name, address, phone numbers and asks some questions about your household, why you want a pet and how you plan to care for it. The Adoption Questionnaire needs to be approved by an authorized humane society volunteer. If an authorized volunteer is on site, that occurs quickly and if you've provided all required information on applicable lease agreements/association by laws and current immunizations/tests for any existing pets, you may be able to take your new friend home immediately. If an authorized volunteer is not on site, you'll receive an email when the status is determined.

Adoption Donations

Adoption donations for adult dogs range from $59 to $499 and puppies from $159 to $699.
Adoption donations for adult cats range from $29 to $99 and kittens from $59 to $399.

We are a private pet rescue and are not affiliated with any government or national organization, and as such our adoption donations are set to cover as much of the cost for the spay/neuter surgery, vaccinations, tests and medical care of our animals that is realistic. We lose money on every animal we take in as our adoption donations are less than what caring for the animals actually costs us. We ask more for puppies, kittens and purebred adults to help cover the expenses of the older mixed breed animals for which we receive minimal donations and incur significant debt. However, even at our highest prices, puppies and kittens are still half the price of pet store animals AND our animals are already altered and up to date on vaccinations.

Post Adoption Care

If you choose to give one of our deserving homeless animals a second chance at a good life, a New Pet Health Assurance Program provided by our partner veterinary clinics is available. This will cover the cost of treating shelter related illnesses should one occur, for 60 days after your adoption date up to $500. If you do not purchase this coverage, you would assume total financial responsibility for any needed medical treatment immediately after you adopt.


Since 2000, we have placed over 15,000 animals into loving homes. Each one of these animals was given shelter, food, medical aid and vaccinations and time to find the right home. Our doctors mended mutilated limbs and cured many illnesses so that these animals could get a second chance at good lives. We have grown and now operate out of 10 locations, not all of them in Plainfield. In 2008 we changed our name from the Humane Society of Plainfield to Help Save Pets, still HSP.

What exactly does HSP do?
We rescue desirable and healthy adult dogs and cats from pounds and shelters in mostly rural areas.

• Many government funded pounds and shelters, especially in rural areas, have an abundance of homeless animals and scarce cage space to house them. The demand for pets from these shelters is low and the kill rate is high.

We rescue puppies and kittens that most rescues will not.
• Many shelters, including other no kill rescues, will NOT take puppies or kittens under 3 months old because of their susceptibility to illness. Most are sadly put to death.

We rescue dogs and cats with curable health problems.
• Many adult animals with curable health problems (some serious, including Heartworm positive dogs) are restored to health and offered for adoption.

We take pregnant and nursing moms with their babies.
• We find foster homes for them to raise their young in a safe environment. Pounds put these moms and their babies down immediately because of the risk of illness, extra work and additional space involved with caring for them.

We work closely with Will County and Joliet Township Animal Control to help reduce the kill rate of animals locally.

We sponsor an Illinois Dept of Agriculture Humane Investigator, who serves our geographic area and investigates cruelty complaints.

We offer training and behavioral counseling to assist in the transition of adopted animals into new homes.

Go Meet Their Pets
You can meet this pet at the Foxmoor Veterinary Clinic, 2258 Ogden Ave, Aurora, IL. (at the intersection of Rt 34 and Montgomery Rd.)

At the Foxmoor Veterinary Clinic, animals can be viewed Mon, Tues, Thurs, Fri from 10 am to 7 pm, Saturday 10 am to 2 pm. Closed Wednesday and Sunday. No appointment is needed. For up to the minute availability information on this pet during the hours shown above, call 630-831-1312

Email inquires can be directed to availablepets@gmail.com

More About This Rescue
Help Save Pets is a humane society that has locations in Aurora, Channahon, Chicago, Downers Grove, Hinsdale, Oswego, Plainfield and Shorewood, IL and Gahanna and Lewis Center, OH

Other Pets at This Rescue
pet-card
Lilith
Female Young
Domestic Shorthair





Adoption donations for cats range from $29 to $99 and kittens from $79 to $299. This includes:
- Spay or neuter surgery
Vaccines current to the date of adoption*:
- Rabies vaccine
- Booster for feline Distemper, Rhinotracheitis, Calicivirus and Chlamydia (DRCC)
- Fecal test
- 1st worming
- Feline Leukemia test
- Capstar flea treatment
- Microchip identification implant
* Boosters required for puppies and kittens (depending on age) POST adoption are the responsibility of the pet owner.
Come Ready to Adopt:
If you rent or live in a condo/townhouse with an association, bring your lease/bylaws indicating pets are allowed and if there are any restrictions. We require vaccinations and tests to be up to date for the protection of your current pets. Bringing their vet records can help speed the adoption process.

Recommended Pets
Recommended Pets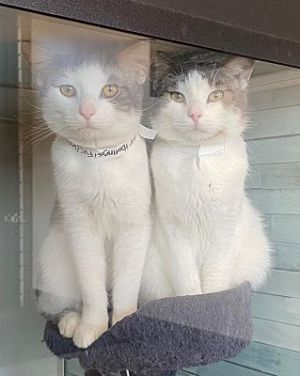 ADOPTED! Hastings (Foxmoor - Aurora)
Domestic Short Hair
Young
Male