Main Content
Our Mission
Rhode Island Parrot Rescue is the only rescue in Rhode Island to focus exclusively on re-homing exotic parrots. We receive approximately 5-10 calls per week from people looking to relinquish, or needing emergency placement for their bird. Rhode Island Parrot has helped hundreds of birds find better lives because of the dedication of our volunteers and support from public and private donors..
Adoption Policy
We do NOT ship birds. Anyone interested in adoption MUST come to the rescue to visit. Shipping is stressful and often dangerous for any bird.

If you DO NOT have experience with parrots or owning a parrot we will require volunteering to learn the skills necessary before we will consider adopting to you.

We do NOT adopt to children. You must be 25 years old to adopt from us. Parrots are complex animals and are not suitable as a child's pet. Children grow up, leave home and go to school, often leaving behind their pet for parents to care for. Many end up in rescues as a result. We have many birds now that were former children's pets and their parents do not want the responsibility any longer.

We do NOT adopt or sell a bird as a gift to someone else. Birds have distinct personalities as well as likes and dislikes. The person who will adopt the bird must complete the application and come in to the rescue.

Owning a cat or dog does not preclude you from adopting from us, however, we will be observing their behavior during your home visit to determine if they are trained to obey commands. We will NOT adopt our birds to homes with ferrets. Ferrets are a predator and have been known to escape their cages far too often and get into mischief. We will not take a chance at all with this predator so if you do have one your application will be denied.

NOTE: If you have other parrots in the home, we require that they have been vetted in the last year for more than just wing or nail trims. Most avian vets recommend an exam once a year, and this often includes blood work.

Our adoption application is designed to help you and RI Parrot Rescue decide if a bird is right for you, and to ensure that you are properly informed about the needs of a parrot. Please think carefully before you submit this application. Keep in mind owning a parrot is a Lifestyle change that you MUST be willing to make. You must change your way of life to accommodate the bird...not the other way around! Parrots DO NOT make easy companions or easy apartment pets. They are LOUD, DESTRUCTIVE, and under certain circumstances they will BITE. Biting is a human caused problem 99.9% of the time and in direct response to a parrot giving plenty of signals to stay clear that the human did not pick up on. They are wild animals, and not domesticated like dogs/cats. Their behavior is instinctive as intended by nature; these behaviors can include aggression, biting, screaming, territorial behavior (especially around cages), nesting or mating behavior, and aggression towards everyone but the favorite person. In some parrots these behaviors will be more pronounced on a seasonal basis. If your acceptance of a parrot be conditional upon it always being a cuddly pet, or, that it talks, then a parrot is NOT for you.

Parrots live a LONG time. Cockatiels can live into the 20-25 year range. Amazons and Cockatoos can live into the 60-80 year range, and Macaws can live into the 80+ range. Before you consider adoption please be honest in your ability and commitment to care for a wild animal over the long term. One of the top reasons for relinquishing a parrot has been the owner aging or dying. You need to plan for your birds care beyond your own life AND take into consideration how YOU will adapt to changes in your life so it will not negatively impact your bird (ie moving, divorce, children).

When your information is submitted it will be sent to an adoption coordinator, who will contact you to conduct a phone interview and determine if a parrot is the right fit for your lifestyle. Once the telephone interview has been completed satisfactorily the next step would be a visit to the rescue to meet our birds and then a home visit, to ensure that the parrot will be living in a safe and clean environment. (There is a $35.00 travel fee to cover travel expenses for anyone living more than 20 miles from the rescue.) The final step after the home visit has been completed and you are pre-approved, would be to set up time to visit the rescue and interact with the birds until you find one that bonds with you. This may take a few visits over the course of a few weeks or a few months. It depends on you and the parrot... and we want to see a good match between our applicant and the parrot. In most cases the parrot will choose you and that makes for the most successful match. We will also make recommendations for you to attend classes if we feel you need more time or information. All of these steps are put in place to help YOU and the bird you are going to live with.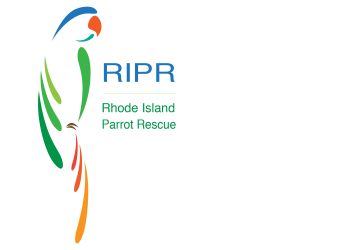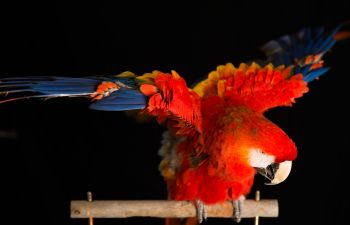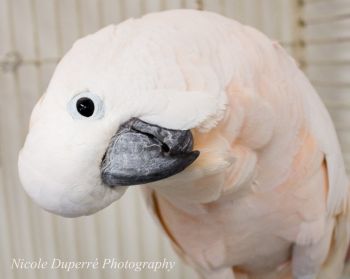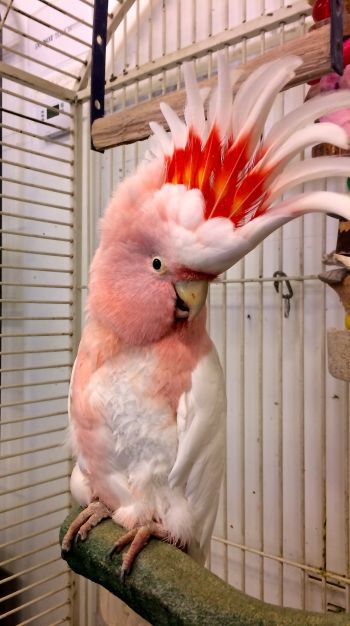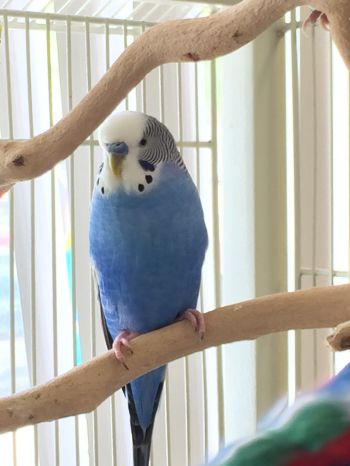 Recommended Pets
Recommended Pets