Main Content
Our Mission
FPKB is a no-kill, free-roaming facility to aid abandoned felines. We also host a once-monthly Free TNR Spay Day for feral, semi-tame and neighborhood felines provided the ears are notched during surgery.

In addition, for $15.00, anyone can have their feline spayed or neutered through our other spay/neuter program with Klamath Animal Clinic. Policies and Procedures apply
Adoption Policy
Adoption Policies and Procedures

The objective of our Adoption Program is to place our felines into loving homes that are capable of meeting all the needs of the cat and providing a lifetime of care. We reserve the right to decline adopting to any individual based upon perceptions or information that the household may not be able to provide complete care for the feline, including future veterinary health care and an environment safe from potential injury. We also hold the right to limit the selections of felines to a specific group of cats if we feel that felines from that group best fit the family environment.

(1) We prefer to adopt to families, couples, or single individuals who have empathy for felines in our no-kill shelter.

(2) An individual must be at least twenty-one (21) years of age to adopt.

(3) We decline adopting to individuals or families owning more than one dog or own a cat-aggressive canine.

(4) For families owning a canine, we require the canine to come to our shelter. W have procedures in place to ensure the likelihood the felines being considered for adoption will adapt well to the canine. Despite what people may tell you, we know some felines, even when very young, simply do not want a dog in their lives, or may never become a friend to it.

(5) We do not do "impulse" adoptions. In other words, we will require that you and others take time in selecting the cat for a lifetime and we will provide all the background information you need. We encourage you to spend appropriate time choosing the right feline for you. We have many cats and one will stand out from the others.

(6) The maximum number of felines in the household, including the one(s) being adopted is three. An individual may request to be an exception to this policy but must establish a reasonable basis to waive.

(7) If renting, proof of landlord permission to have the feline on the premises may be required. We reserve the right to contact the landlord for confirmation.

(8) None of our cats are permitted to be adopted as "gifts" for another person or "surprises" to other family members or friends. We normally require all family members to be involved in the selection process, even though only one person in the family may be the primary caretaker.

(9) We prefer not adopting to families with children aged 6 years or younger.

Several reasons serve as the basis for the above. This process is to help us be sure we made the right choice when the feline leaves our care forever.

(1) One reason is to give assurance that the transition into a home will be done with complete acceptance and understanding and minimize the stress on the feline. We want everyone in the household to be aware of the personality, behavior patterns, health risks, responsibilities involved, and terms of the Adoption Contract. Cats are easily stressed and it is best for the cat if the family is fully prepared and work together to enable the feline to be as comfortable as possible.

(2) One of our tasks is to protect our felines. For us to do that we must meet members of the household to gain confidence that, should the adoption go forward, the feline went to an excellent home. We understand our cats and will make every effort to match the temperament and behavior patterns to blend with the family.

(3) Pets can make poor gifts, particularly if the new owner is not expecting the new arrival. Most importantly, however, is that felines have a variety of personality and behavior patterns and new owners deserve the right to select their own cat since he/she will be the one sharing the pet's life. Please be thoughtful and not plan to surprise someone with a pet they may not want or not like. Allow the new owner to select.

(4) As stated previously, we prefer not adopting to families with children aged 6 years or younger. Young cats tend to scratch and bite, are small in body size, cannot defend themselves, can be easily injured, and are often too innocent to know when to escape. Young kittens can also be over-active and irritating in their behavior. Many adult feline are uncomfortable around young children.

(5) Disclosure: Our Commitment and Your Risk. Friends of Pets of Klamath Basin is committed to placing healthy cats into stable homes that will provide a lifetime of love and care. We have worked hard to identify and resolve health issues for every cat in our program. However, the stress of making the transition into your home can reduce a cat's immunity, making it potentially prone to infections, commonly upper respiratory, diarrhea, and ringworm. Please refer to our Adoption Agreement for more information on this subject.
| day | hours |
| --- | --- |
| Monday | 9:30 to 3:00 |
| Tuesday | 9:30 to 3:00 |
| Wednesday | 9:30 to 3:00 |
| Thursday | 9:30 to 3:00 |
| Friday | 9:30 to 3:00 |
| Saturday | - |
| Sunday | - |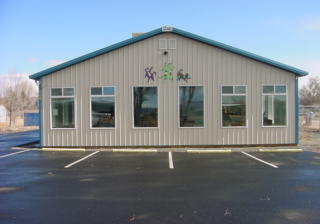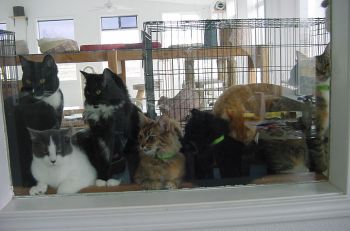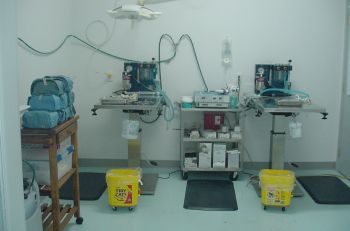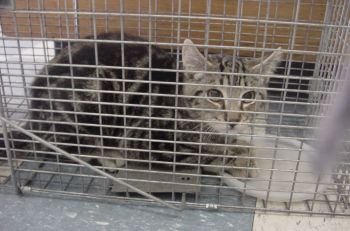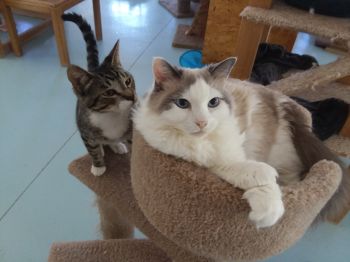 Recommended Pets
Recommended Pets