Main Content
Our Mission
Doberman Underground was formed to rescue and rehome Dobermans and other dogs from abusive or neglectful situations, from shelters/pounds, and through owner surrender (based on space availability), when the owner is no longer able to care for the dog. All dogs live in foster homes and receive thorough veterinary care, and are spayed and neutered before adoption. Every dog is micro-chipped with dual registration maintained for the lifetime of the dog. We find permanent homes through an adoption process which includes vet checks and home visits. We educate and promote the importance of spaying/neutering animals as well as heart-worm prevention, testing, and treatment. We operate within the Doberman Pinscher Club of America Code of Ethics. ?

Doberman Underground is a nonprofit, organized exclusively for humane and educational purposes, within the meaning of section 501(c)(3) of the Internal Revenue Code, or the corresponding section of any future federal tax code, including for the making of distributions to organizations that qualify as exempt organizations under section 501(c)(3) of the Internal Revenue Code, or the corresponding section of any future federal tax code and that are organized exclusively for humane and educational purposes
Adoption Policy
Our adoption area is any location within a 6 hour drive from Columbus, Ohio  We must be able to have a home visit done, no matter where the applicant is located.

Here's the journey you will take to adopt a dog into your family.

Step 1: Adoption Application: Fill out the adoption application form. To prevent any adoption process delays, please fully complete the form.

Step 2: Vet Check: We will contact you requesting you to authorize your veterinarian(s) to release all your pets' veterinary information to Doberman Underground. Please include all recent veterinarians your pet(s) have seen.

Step 3: Phone Interview: We will contact you to review your application and vet check, discuss the type of dog you are looking for, and available dogs.

Step 4: Home Visit: A volunteer will contact you to arrange a mutually convenient time for a home visit. This helps us match the right dog with you.

Step 5: Application Committee: Our Application Committee will review all the information gathered during steps 1-4.

Step 6: Meet Dogs: Once approved arrangements will be made with you to meet dogs available to join your family. If the right dog for you is not immediately available, you remain an approved adopter and will be contacted as appropriate dogs enter the rescue's care.

ADOPTION COSTS

PUREBREED

$400 – Under 1 year
$350 – 1 year and older

MIXED

$300 – Under 1 year
$250 – 1 year and older

WHAT THE ADOPTION FEE INCLUDES

The adoption fee offsets the costs incurred by Doberman Underground in the rescue, medical treatment, feeding, and housing costs of the dog while in our care. Additionally, all dogs adopted through Doberman Underground have been:

* spayed or neutered
* vaccinated for rabies, distemper, parvovirus, and bordatella
* tested and treated for intestinal parasites
* tested for heartworm and received monthly preventative medication
* microchipped which includes a lifetime registration
* food and supplies? to take home

IMPORTANT ADDITIONAL ADOPTION INFORMATION

Rescue dogs are a work in progress. We encourage our adopters to enroll in an obedience class with their new Doberman. This is helpful in building confidence for both dog and owner along with establishing a bond for a successful life long relationship.
All adopters must sign an Adoption Contract, no exceptions. The Contract is a binding legal agreement between Doberman Underground and the adopter(s). It states, among other requirements, that the adoptor(s) keep the dog up-to-date on all vaccines, heartworm prevention, medical care and yearly wellness veterinary exams. The Contract also requires that if the new owners should, for ANY reason, not be able to keep and care for the dog, the dog MUST be returned to Doberman Underground; NO exceptions.
As is common with rescue adoptions nationwide, we need to insure your current pets, or recently lost pets, are kept up to date on heartworm testing and vaccinations. We have treated many dogs that were heartworm positive. These treatments are painful and expensive. It is very important to us that your current or past pet(s) receive regular heartworm treatment and that any dog placed with you will continue with the recommended heartworm protocol. **Note: adoption applications will be declined if you are not following your vet's heartworm treatment plan and/or if you are not up to date on vetting.
Adopters must own the property where the adopted dog will reside (i.e. not living at home with parents, etc.).
We prefer adopters to have a physical fence, however, we do realize that some communities do not allow fences of any type and some dogs are more sedentary than others. On a case by case basis, we do allow adoptions to homes without fences and consider, among other circumstances, the experience level of the applicant, the drive of the dog being considered, and the age and health of dog.
We prefer not to place dogs in our rescue in homes with very young children. Dobermans are generally large, active dogs and can easily knock down or run over a small child. However, we do take into account the experience level of the applicant and the energy level of the dog.
It is our policy to not allow adoptions to homes with existing intact male or female dogs. Whether or not you decide to spay/neuter your dog is your own decision, but this policy is firm and we will not adopt out dogs in our rescue into homes with intact dogs.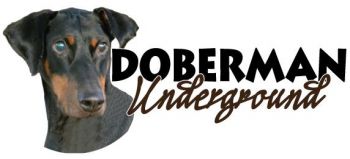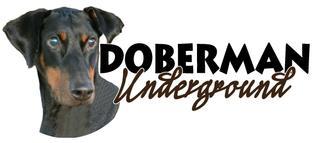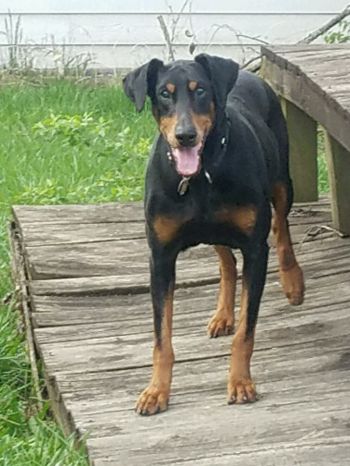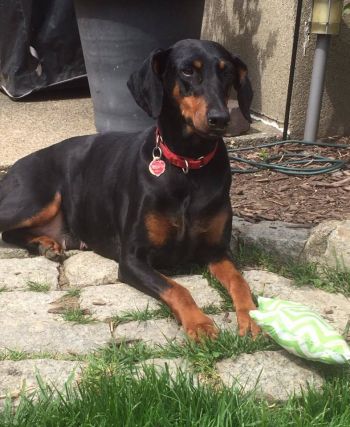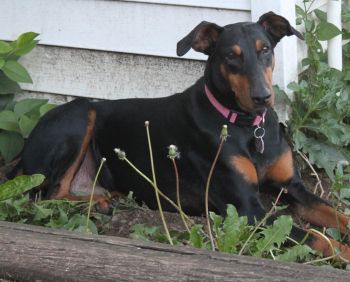 Recommended Pets
Recommended Pets