Main Content
Our Mission
We are a small, non-profit, 501(c)(3) rescue group dedicated to reducing the number of homeless cats in Hudson County through spay/neuter, education, community outreach, and adoption. Note: with rare exceptions, we do not adopt to homes outside of New Jersey.
Adoption Policy
We have a multi-step adoption process. While we try to process our adoptions as quickly as possible, our cats are very important to us, so we do our best to ensure they go to homes that will be the best possible fit for them.

* Adoption application: we have a 1 page application, requesting landlord pet policy verification (if renting), personal references, and a veterinarian reference (if you currently have other pets)

* Meet and greet: we ask that all members of the household meet the cat in person before adoption. This makes sure the cat is a good fit for everyone.

* Home delivery: we will deliver the cat to you, and will help you get the cat settled in its new home! This also serves as a low-key "home check," so please be prepared to allow us inside the home. That will also make it more comfortable for all of us as we finish up the paperwork and walk you through your new cat's vet records!

* Return policy: we will take any of our cats back at any time and for any reason. As part of our adoption contract, if you are ever no longer able to keep the cat, we expect the cat to be returned to us (please do not try to re-home them yourself).

Due to our home deliveries and return policies, with rare exceptions we do not adopt to homes outside of New Jersey. Thank you for understanding.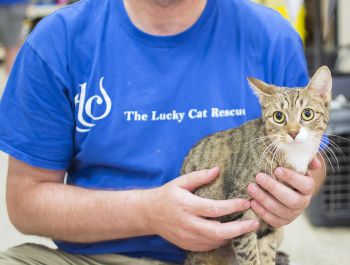 Recommended Pets
Recommended Pets