Main Content
Our Mission
Established in 1988, Doberman Rescue Unlimited, Inc. (DRU) is a 501(c)3 nonprofit, charitable organization whose purpose is to rescue abused, abandoned and unwanted Dobermans and other domestic animals and after rehabilitating them, place them in good, safe and loving homes.

We are a state licensed rescue located on a sprawling 15 acres in Southern NH. Our state of the art shelter includes a beautiful training facility, large fenced in yards, a medical room, wash stations and a variety of rooms and runs to be able to comfortably and safely house the dogs in our care.

Doberman Rescue Unlimited is not just a rescue organization. Another important function of DRU is public education. We educate the public about Dobermans and responsible, humane animal care. Our organization produces a newsletter and supplies educational materials to dog owners. Where appropriate, staff and volunteers are available to counsel dog owners, or to help find a solution to enable the dog to remain in its original home.

We also support our local police departmwnt/animal control with housing stray animals and we host low-cost rabies clinic for the community.
Adoption Policy
Each prospective adoptive parent is screened. An application form must be completed and then a visit is made to the home by a DRU volunteer. A determination is made that the desire to adopt a Doberman is not just a passing whim – that the members of the household are aware of the nature of the Doberman and of the commitment required for dog ownership. In rental situations, the landlord is contacted to ensure dogs are allowed as landlord disputes are such a common reason for turn-in.

The procedure for adopting a Doberman through DRU is as follows:

Read the Introduction to the Doberman Pinscher on this web site to ensure that a Doberman is for you and to help you prepare for a new dog.

Fill out the application online here. Alternatively, you may download and complete the application form and mail it to the address shown on the application.

A staff member or volunteer will contact you and, by appointment, visit your home. First time applicants are interviewed in their own homes to ensure that the adoptive families understand the responsibilities of owning and caring for a Doberman and the needs of a second-hand dog. At DRU's option, if you have already adopted from us, and your circumstances have not changed, this visit may not be necessary.
After the visit to your home, if your application is approved, you will receive a telephone call from a staff member who will try to match you with the available Dobes that fit your circumstances.

We reserve the right to refuse an applicant if, in our judgment, the home situation is not compatible with the needs of a Doberman or if the breed is not suitable for the applicant.

You will then be invited up to the shelter in Sandown, NH to meet the Dobes that have been selected as possibilities for you. Applicants are under no obligation to accept a dog selected for you. It may take some time to find the right dog for you. If you feel that a dog shown to you is not right for you, simply let us know. We will do our best to continue the search for a compatible dog. DRU does not, however, guarantee a successful placement. If a dog has been selected for you and you are unable to see it or cannot decide after seeing it, DRU is under no obligation to hold the dog while you decide.

An adoption donation ranging from $250 to $600 is requested at the time of the adoption. This donation goes to help defray the costs incurred while the Dobe is in our care. Expenses normally incurred include a full medical exam, medical treatment, spaying and neutering, a full set of vaccinations, heartworm test and medication, other medications that may be required by the dog, boarding, food, micro chipping and behavioral evaluation. Your donation also includes membership in DRU for the calendar year in which you adopt.

You will be required to complete an adoption contract at the time of adoption.

You will be required to license your Dobe, provide shelter, food, yearly vaccinations, heartworm testing and medication, and medical care. Most importantly, you must intend to make the Dobe you adopt a member of your family.

Shortly after the adoption, a staff member will call you, and again a while later, to assist with any problems you may be having in integrating the Dobe into your household. Never hesitate to contact your Adoption Coordinator with questions or problems. It is easier to address such problems as they occur rather than at some later time. We ask that you stay in touch with us and maintain your current address with us in the event your Dobe is ever lost and tracked to DRU.

If, for any reason, the adoption is not satisfactory, DRU requires that the dog be returned to DRU. The Dobe must not be sold or given away. DRU retains the right to reclaim any rescue dog that is neglected, improperly cared for, or allowed to roam free.

Our nonprofit organization is run by dedicated staff and volunteers. The staff and volunteers give numerous hours to Doberman Rescue in addition to their own work and family duties. Their best reward is in knowing that they have helped to provide warm and loving homes to Dobermans in need. Please have patience with these hardworking, caring individuals.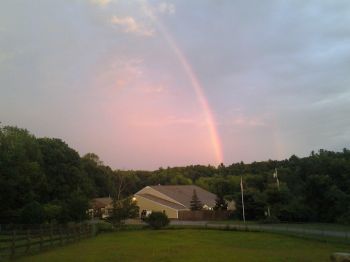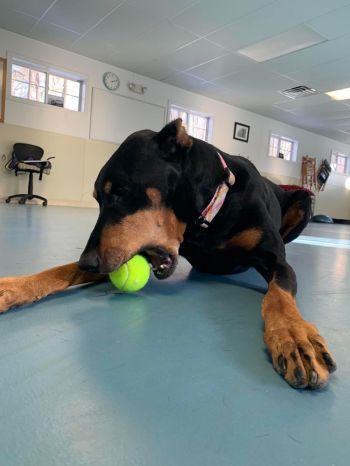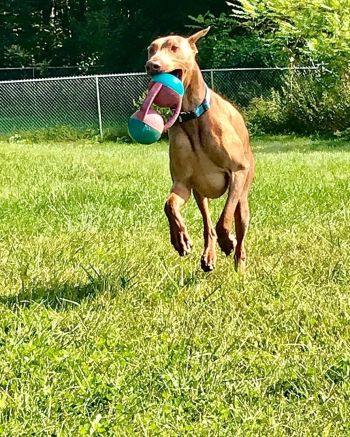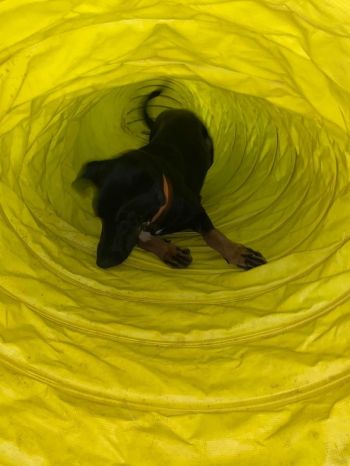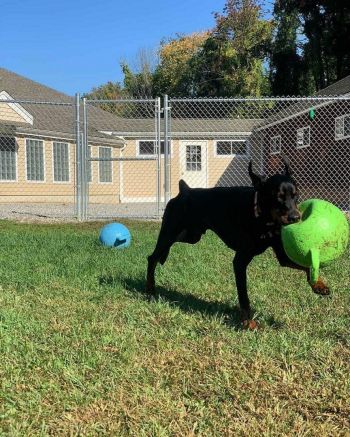 Recommended Pets
Recommended Pets