Main Content
Adoption Policy
Please note: We are FOSTER BASED and located in Cumberland County NC and surrounding areas. We do NOT have a facility where you can come meet the dogs. Adoption events and meet and greets are held ATLEAST twice a month (check out our happenings to see when our next event is) but primarily we work one-on-one with each APPROVED applicant to match the right dog to the right family.

-->The adoption process with 4on begins with the completion of the online application (click HERE). No inquiries regarding any specific dog will be answered until the application & adjoining fee is submitted.

ALL CURRENTLY Available dogs click: "Meet the Underdogs"

-->4on is always in the process of rescuing and vetting dogs. If there are not currently any dogs that you are interested in you can still apply and go through the approval process.

-->The application is reviewed by 4on volunteers after submission.

-->A home visit will be conducted by one of the directors of 4on or a volunteer to review your home and outside property. If your house is not safe for a dog, we will make recommendations and will have you submit new pictures proving the issues have been fixed before the dog can visit with you.

-Once you are approved, and if there is a dog looking for adoption you are interested in and meets your lifestyle, a "meet and greet" will be arranged. This is typically a short meeting to see how the dog interacts with you and your family and very importantly, with any of your other pets.

-->If 4on is happy with the results of the meet and greet and the applicant is also interested in proceeding, a longer visit where the dog stays at your home for an overnight to a week can be arranged with a deposit.

**You MUST have a crate ready for the dog - appropriate for the dogs size.

-->Hosting a dog for an overnight means that you are serious about adopting that dog. It is NOT a chance to "try out" multiple dogs.

--->If the overnight is successful and the family is committed, then the adoption will proceed and the dog will stay and become a part of your family.

**If the overnight-week stay is not successful we will require you to foster the dog until a new foster is found and you may meet a dog that better fits your family.

-->If there are questions or concerns, 4on volunteers and directors will work with you to address and offer guidance on any issues. If you would like further guidance down the road you may join our facebook group to ask other fosters and volunteers advice, as well as, our R+ trainer if she is available. After the adoption is finalized, it is YOUR responsibility to train your new companion at your own cost. We are the Underdog FAMILY and TEAM, so we are here for you and love updates of our dogs!

-->Adoption finalization requires the completion of additional paperwork and payment of the adoption fee.


The adoption fee differs based on age and medical requirements of the dog. Fees are posted for each dog (usually $250 dollars). This fee includes all age-appropriate basic vaccinations, spay/neuter, lifetime registration of the microchip and the actual microchip cost, flea/tick prevention, HEARTWORM preventative, leash, collar, and a front clip harness.

Please Consider These Notes:
-->4on works to place each dog in a situation and environment that is determined to be best for that dog. While you may feel an affinity for a specific dog- he or she may not be the best fit for your lifestyle.

-->If issues were to arise after the adoption is completed, 4on will work with you to provide suggestions and resources to ease the transition of your new pet into your home.

-->As part of the adoption finalization contract, you agree to return the dog to 4on if for any reason you cannot fulfill the commitment for which you have agreed to. As stated in the adoption contract, TRAINING IS NOT AN OPTION, BUT MANDATORY. 4on requires you to meet with a trainer at your cost, should you have cause to return a dog.

-->4on is a registered 501c3 nonprofit and adoption fees go toward running the rescue, vetting the dogs and providing one-on-one matching services. The adoption fee may be tax-deductible.

We do NOT adopt to homes more than 100 miles from Fayetteville NC unless special arrangements are made. We will try to accommodate as much as we can-- but we must be fair to the dogs.

Renters please note: 4on will require a letter from your landlord or a copy of your lease showing permission to have a dog before your application will be considered further & for any breed restrictions.

OWNERS please note: We WILL require proof from your HOA agreement, or insurance that you are allowed to own certain breeds.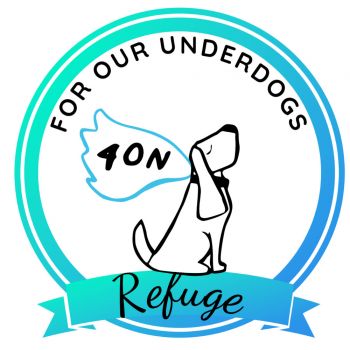 Recommended Pets
Recommended Pets