Main Content
Our Mission
A.S.K. is a federally recognized 501(c)(3) animal protection organization operating direct-outreach services to ALL species, in Michigan.

A.S.K. is not a traditional rescue or shelter. We are a 100% no-kill Sanctuary; animals are given a chance irrespective of age, breed, health status or behavior. A.S.K. operates direct-outreach services whereupon 99% of the animals found and assisted are due to A.S.K. seeking them out, street by street. Animals that are rescued come from neglect situations; all dogs rescued were formerly victims of 24/7 outside life. All animals are rehabilitated, socialized and up-to-date on vaccinations.

A.S.K. helps all species. Learn more at www.allspecieskinship.org, www.facebook.com/allspecieskinship
Adoption Policy
A.S.K.'s rescued animals are in private foster homes where they have dedicated one-on-one care. This is great news for potential adopters! Our foster homes get to know our rescued companions thoroughly; this allows us to match you with a lifelong companion that fits your lifestyle and personality.

Steps to Meeting an Animal

1. Please Facebook message for fastest reply or call 877-596-7776 and express interest in a given animal

2. We will either conduct a conversational interview or send you our inquiry forms via email.

3. Completion of forms does not guarantee a meet up. We will select adopters to meet animals based on behavior matches.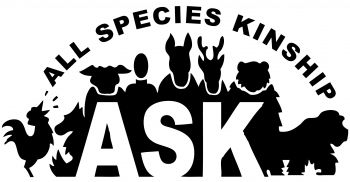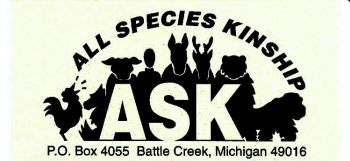 Recommended Pets
Recommended Pets