Main Content
Our Mission
Here at Tier Haven our hearts belong to the working dog breeds of Kentucky - German Shepherds and Belgian Malinois being our most common companions. The Tier Haven family is comprised of volunteers, adopters, and donors who have a passion for these working breeds and all of their quirks. We are brought together by the dogs that steal our hearts while chewing the shoe collection.

Tier Haven Rescue, Inc was originally incorporated in 1996 under the name ARK Project, Inc and is a long standing member of the animal rescue community in Kentucky. Originally an all-breed rescue Tier Haven shifted to focus on working dogs with the rise of breed specific legislation which was leading to larger numbers of German Shepherds, and other working dogs, being euthanized. We are rooted in Kentucky with a strong passion for enacting change within the state which has ranked last in animal welfare for many years - even if change is one dog at a time. Even as breed specific legislation has dwindled there are still large numbers of working dogs finding themselves at risk of euthanasia due to a lack of breed knowledge and/or training. The Tier Haven Family is committed to giving these dogs a second chance and we are all honored to be part of their paths to a better life.

While the Tier Haven Family is large we are still a small organization with a core group of volunteers who keep things flowing. These volunteers are dedicated to the rescue, rehabilitation, and rehoming of the working dogs who find themselves in Kentucky shelters. Tier Haven believes in individuality and giving our individual dogs the space to be dogs and move foward in a productive manner regardless of past trauma. This can take time though and Tier Haven is a dedicated no-kill organization which means we often have "long-term" residents either due to medical or behavioral needs that are on-going.

As a non-profit Tier Haven relies on our adopters and donors to continue moving forward with our mission - our adopters give us the gift of space to help the next dog while our donors give us the support to ensure each dog is given the best possible care while waiting for an adopter. Tier Haven is a foster based organization which means we do not have a central facility where our dogs are housed. This means we cannot allow drop in visits and have a specific adoption process which must be followed in order to meet our dogs. It also means that as a no-kill, foster based, rescue we are limited in the number of dogs we can care for at any given time and have a separate policy for owners seeking to surrender their dogs, which you can find below our adoption process.


*****Ways to Support Tier Haven*****

Tier Haven relies on the generosity of our donors to continue providing the best care possible for our animals and keeping our doors open to new animals. There are many ways to support Tier Haven and a number of them you are probably already doing!

A) Kroger Community Rewards - select Tier Haven (IV240) as your charity of choice and a percentage of your purchases will be donated to our group.
B) IGive - Simply download the IGive Button to your desktop to be alerted when your online shopping is donation eligable.
C) Amazon Smile - shopping through amazon smile allows you to keep your prime benefits and select a charity to support! Tier Haven is an amazon smile partner and grateful for all our amazon smile donors.
D) AmazonSmile Charity List - You can purchase needed items for the dogs and have them shipped directly to our foster homes through https://amzn.to/2NsZmJE
E) WoofTrax - Simply download the app onto your phone, select Tier Haven as your charity, and remember to turn it on while you're out for a walk.
F) Young Living Essential Oils - Support Tier Haven while supporting your wellbeing! Use member #3144252 to be placed in our team and have your purchases benefit the dogs.
G) Monetary donations can be sent via Paypal to Tierhavenrescue@gmail.com or mailed care of Tier Haven to 2400 Bush Ridge Dr, Louisville, KY 40245

If you have any questions regarding our donation options please reach out to our media manager via our Facebook page and thank you for your support!
Adoption Policy
Tier Haven requires an adoption application to be completed and processed prior to meeting or adopting any of our dogs. As a completely foster based organization Tier Haven relies on the application to help ensure that adopters are meeting dogs that are suitable for their household and that the dogs are meeting adopters committed to their individual needs. We do not have a central facility nor do we allow drop in visits on our foster homes for respect of their privacy and time.

The application is completed via email and you may email Tierhavenrescue@gmail.com to obtain an application. We rely on your application to assist in matching you with a suitable dog and ask that you provide us with as much information as possible about why you're seeking a Shepherd and your expectations for the dog. When submitting an application please contact your vet clinic and provide them with a release of information and also inform your personal references that they will be contacted.

Once your application is processed you will be contacted by a volunteer to discuss potential dogs and arrange a meet and greet. Since we are a foster based group we only allow up to three (3) dogs on each meet and greet to keep it manageable for everyone. Meet and greets are often held at public locations to respect the privacy of our foster homes and they are scheduled at the discretion of the foster homes.

Tier Haven charges an adoption fee of $350 + taxes for each dog. This includes spay/neuter, vaccinations, heart-worm test, micro-chip, and *monthly preventative care while with our organization*. Tier Haven relies on the adoption fee to continue helping future dogs therefore we are unable to reduce the fee for any reason.

*This means that if the dog has been with Tier Haven for longer than a month we can guarantee that they are up to date on flea, tick, and heartworm prevention. This does not mean we will continue to provide monthly preventatives for the dog beyond its adoption*

We do allow our adopters to take a dog home from their first meet and greet if they wish to do so. If you are intending to take a dog home please come prepared with a leash, collar, and your adoption fee of $350 plus tax. Each adoption is on a 10 day trial during which the adoption fee is refundable should the dog be returned for any reason. Even beyond our trial period we require our dogs to be returned to our care should they ever need rehomed for any reason - we are here for our dogs for their lifetime.

If you have any questions about our adoption process that haven't been covered here please email them to us at Tierhavenrescue@gmail.com.

****Surrender Policy****

Tier Haven is unable to accept any owner surrenders due to the overwhelming number of Shepherds in shelters across the state. If you would like to discuss alternatives to rehoming such as training, dog day cares, and behavior management please email us at Tierhavenrescue@gmail.com.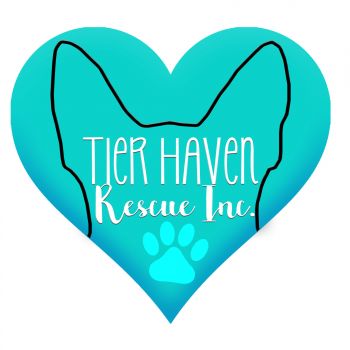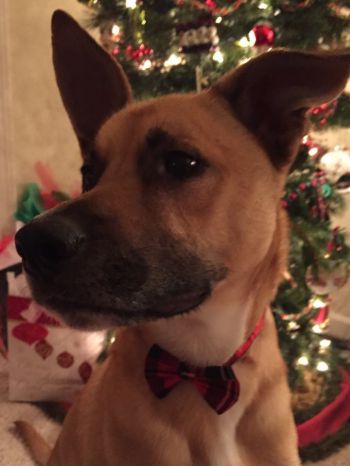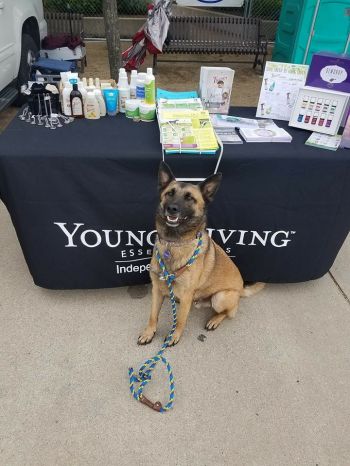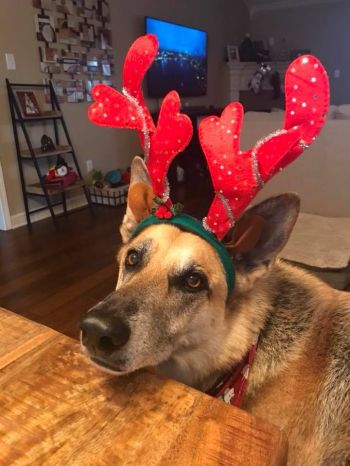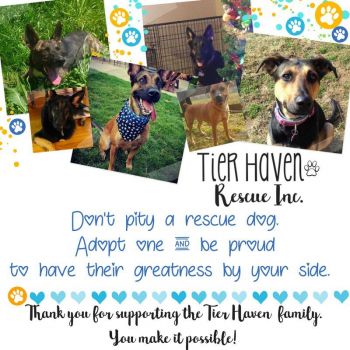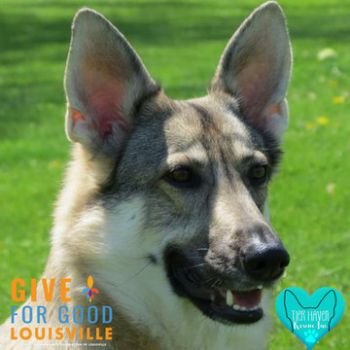 Recommended Pets
Recommended Pets