Main Content
Skip carousel of pet photos and or videos
This is an inline carousel of images and or videos of this pet.
Petfinder recommends that you should always take reasonable security steps before making online payments.
Meet Leo
Leo - A44134717Intake Type: (4/8) Stray -- Public Drop Off Videos:Leo does the A frame! -- https://youtu.be/ohOdvoOGMUcLeo in Covered Run -- https://youtu.be/v-cHwgHs7CELeo and Jelly Through Fence -- https://www.youtube.com/watch?v=PeQJyOpo58cLeo and his Kong Wobbler -- https://youtu.be/2B7LILmqdHkLeo and his Kong Wobbler 2 -- https://youtu.be/bAP7AJVT7OcMedical Observation: (4/22) Vet Check -- Patient is displaying significant kennel stress and yesterday injured self from fence biting in play yard. Patient is at high risk for continued behavioral decline in kennel. (4/12) Visual kennel side exam. Patient is hard barking at front of kennel as soon as approach, occasionally baring teeth, dilated pupils.(4/9) Vet Check -- Patient is no longer limping on right hind leg and is fully weight bearing and ambulatory. Patient's behavior precluded hands on examination. Patient is behaviorally urgent. Behavior Observation: (4/29) Great office dog! Enthusiastically plays with Kong Wobbler although doesn't eat food that is dispersed so switched to treats in Wobbler. Calms down after 10 minutes of Wobbler time and naps. Approaches both staff members to solicit attention and receives pets all over with a loose body. Jumps up into handler's lap for more attention.(4/28) Feces smeared all over kennel this morning. Leo rushes to front of kennel when handler approaches but is not spinning or bouncing off walls. Easily leashed and removed from kennel. In yard, urinates and defecates before returning to handler. Allows pets all over with loose body. Takes treats nicely and can be easily coaxed to use agility ramp. Easily returned to kennel and leash easily removed. Moved to D row for less stimulation from other dogs. Urgently promote for declining in kennel.(4/22) Per Vet Staff -- Initially approached the kennel with loose body language, but quickly became overaroused and began hard barking with dilated pupils and piloerection. Patient was pacing kennel following visual assessment. (4/21) Easily leashed and removed from kennel. Pulled moderately through shelter and parking lot. In yard, urinates and defecates before soliciting attention from handler. Accepts handling and pets all over with loose body language, tail wagging. Easily distracted by female dog in yard across the lot. Pushes through one gate and starts to bite at fencing. Initially unable to redirect but, after 30 seconds, able to distract with treats and remove from fencing. No attempted redirection on handler. After unable to visualize female dog, returns to loose body language. Easily returned to kennel and leash easily removed. Vet check entered for possible injury to mouth from biting fencing.(4/16) Hard barked initially when approached by known handler followed by unknown handler. Was easily able to be leashed and exit kennel. Pulls some while walking, and stops frequently to urinate. In yard, dog continued to be asocial, and avoidant: sniffing around perimeter, and did not look when called. Would occasionally walk by handlers and allowed very gentle, quick pets before walking away again to sniff perimeter. No interest in toys today. Easily returned to kennel.(4/14) Per Staff -- Leo hard barked twice initially on approach but took treats nicely and was wiggly and easily leashed and removed from kennel. He walked nicely through kennel and outside. Urinated and defecated once outside. Pulled minimally and did walk along with Jelly showing minimal interest in other dog. Also met Jelly through fence and again displayed minimal interest. In yard, Leo is loose, allowing all handling and accepting pets although slightly aloof and easily distracted. Plays tag without becoming aroused and readily chases tennis balls and returns with ball to handler. Does initially tense slightly with tennis ball in mouth after approaching handler but then drops ball at handler's feet to retrieve a different one. Easily returned to kennel and leash is easily removed.(4/12) Per Staff- Takes treats from assessors hand but will hard bark and lip curl when no treats are present. Body is tense, tail high, eyes dilated.(4/12) Per Staff -- Hard barking at front of kennel, snaps at assessor's hand but takes treats willingly.(4/9) Per Vet Staff -- Patient charged kennel door, hard barking with hackles up and dilated pupils. Patient responded well to treats and would even sit when directed, however as soon as treats were out, went back to initial presenting behaviors.
Recommended Pets
Recommended Pets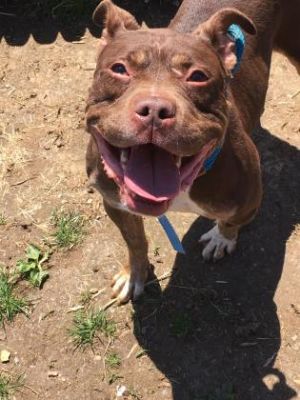 Leo
Pit Bull Terrier
Adult
Male