Adopt an Alaskan Malamute
Family:
spitz, Northern (draft)
Area of origin:
Alaska
Original function:
heavy sled pulling, large game hunting
Average size of male:
Ht: 25, Wt: 85
Average size of female:
Ht: 23, Wt: 75
Other names:
none
••••

Energy

•••••

Exercise

••••

Playfulness

••••••

Affection

••

Friendliness towards dogs

•

Friendliness towards other pets

•••••

Friendliness towards strangers

••

Ease of training

••••

Watchdog ability

••••

Protection ability

••••

Grooming

••••••

Cold tolerance

••

Heat tolerance
Alaskan Malamute Dogs Available on Petfinder Right Now
Watch Video About Alaskan Malamute Dogs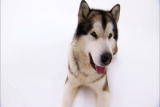 Dogs 101: Alaskan Malamute
Alaskan Malamute Dog Temperament
The Alaskan malamute is powerful, independent, strong-willed and fun-loving. She loves to run and roam. She is family-oriented, and as long as she is given daily exercise, she is well-mannered in the home. Without proper exercise, she can become frustrated and destructive. She is friendly and sociable toward people. Some can be domineering and some may dig and howl.
Alaskan Malamute Dog Care
The Alaskan malamute loves cold weather. She can run for miles and needs to have adequate exercise every day, either in the form of a long walk on leash or the opportunity to run or mush. She does better inside during warm weather. Her coat needs brushing once or twice a week, more often when shedding.
Alaskan Malamute Dog Health
Major concerns: CHD, ChD, cataracts
Minor concerns: renal cortical hypoplasia
Occasionally seen: gastric torsion
Suggested tests: hip, eye, ChD clear rating
Life span: 10-12 years
Interested in the history of the Alaskan Malamute dog breed?
Like most of the dogs of the spitz family, the Alaskan malamute evolved in the Arctic regions, shaped by the adverse climatic conditions. Her origin is unknown, but she was first described living among the native Inuit people known as the Mahlemuts, who lived along Norton Sound on Alaska's northwest coast. The word Mahlemut comes from Mahle, an Inuit tribe name, and mut, meaning village. The dogs served as hunting partners for big game (such as seals and polar bears), and hauled the heavy carcasses back home. These dogs were, of necessity, large and strong rather than fast, enabling one dog to do the work of many smaller dogs. They were an essential cog in the Inuits' lives and were treated almost as one of the family, although they were never pampered as pets. The unforgiving environment meant that a less than optimal dog would probably not have been kept. When the first outside explorers came to the region in the 1700s, they were impressed not only by the hardy dog but also by their pet parents' obvious attachment to them. With the discovery of gold in 1896, a flood of outsiders came to Alaska; for entertainment, they staged weight-pulling contests and races among their dogs. The native breeds were interbred with each other and those brought by settlers, often in an attempt to create a faster racer or simply to provide the vast numbers of dogs needed to supply the gold rush. The pure malamute was in danger of being lost. In the 1920s, a New England dog-racing enthusiast obtained some good specimens and began to breed traditional malamutes. As the breed's reputation grew, some were chosen to help Adm. Byrd in his 1933 trek to the South Pole. During World War II, malamutes were once again called into service, this time to serve as freight haulers, pack animals and search-and-rescue dogs. In 1935, the breed received AKC recognition and began a new phase as an imposing show dog and loyal pet.
Copyright © 1998, 2005 by Barron's Educational Series, Inc. based on
ENCYCLOPEDIA OF DOG BREEDS by D. Caroline Coile, Ph.D.
Shelters with Alaskan Malamute Dogs
Some animal welfare organizations with Alaskan Malamutes ready for adoption: