Elizabethton Carter County Animal Shelter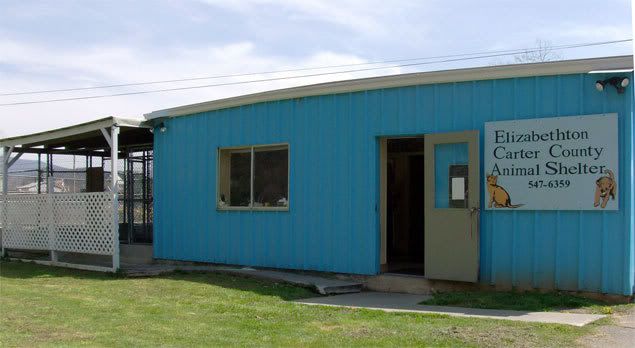 ---
Online Errors
Petfinder has been updating some of its computer "stuff" and for the time-being, pet profiles are being affected. While we try to update (add/remove) pets as quickly as possible, these changes aren't always reflected on the public side of the website. This means you may call about a pet that has already been adopted and yet still showing up or it may mean we have the perfect dog for you but it isn't showing up yet. Please feel free to call/email any time to check on any pet you may be interested in or to see if we have something for you that isn't necessarily on the webpage. As I am trying to add this paragraph, I'm also seeing that text is affected too. Please excuse any missing letters/words!
Volunteer Efforts
We are trying to develop a comprehensive dog walking volunteer force. The more time the dogs can spend in the company of people, expelling their pent up energy, and learning basic manners, the better their chances for a successful adoption! We have two fenced areas to play with the dogs. Please let us know if you are interested in coming by on a regular schedule of your choosing to start walking/exercising/teaching dogs.
If you are physically unable to walk dogs or prefer to work we could always use volunteers to brush the dogs, greet visitors, take digital photos so we can add them to PetFinder, all sorts of things. If you have an interest, please stop in and visit.
When we have puppies, we need volunteers to help socialize young puppies by holding them on their backs to ward off potential dominance issues.
Emergency Flood Preparedness
After several floods in Carter County, we have realized the need for a large-scale, quick evacuation plan for the shelter should such an event occur in the future. We are looking for volunteers who could be called in just such an event. It is important that you have reliable, safe transportation such as a truck or other high-clearance vehicle. You will also be asked to maintain at least one large size dog crate on hand to contain each dog you are willing to temporarily house. Please call or email if you would like to be considered for this project. More information will be provided as plans evolve.
Our Facility and Hours
We are the Elizabethton Carter County Animal Shelter. We are located at 135 Sycamore Shoals Drive, Elizabethton, Tennessee.
From Broad Street, turn North on North Lynn Ave/US19E/Hwy37 and travel 0.6m. Turn Left on Watauga Highway 400S and travel 0.9m. Turn Left on Sycamore Shoals Drive. The shelter is the first driveway on the left.
The shelter is open Monday thru Friday from 12-4pm and on Saturday from 11a-2p. We are closed Sunday and all Carter County observed holidays.
Surrendering Your Pet
There is no charge to bring in your pet but there are not always cages available. Our facility only has 22 dog kennels and we are usually at capacity. Please call ahead to check availability if you need to bring in your own animal. Due to space constraints, we do euthanize.
Looking for Your Lost Dog or Cat
Please contact our shelter and other local shelters as soon as you lose your pet. Animals without tags (and remember your pet's tags can come off!) are only held for 3 days before it is available for adoption or euthanasia. All adoptions are final so you will not be able to reclaim a pet once it has been adopted.
Animal Adoption
The price will range from $15 to $70 depending on the animal adopted. This fee covers the adoption fee and the spay/neuter charge (if needed) at several area clinics.
We do reserve the right to transport any adopted animal to the vet prior to going home.
If you are an Elizabethton resident, there is a $3 animal license fee.
Most adoptions are on a first come, first served basis. .
Ongoing Needs
We are fortunate enough to have too much dry food at this time. Any extra we receive is given away to families in need. Please consider donating canned foods or items listed below instead.
Animal Supplies

Collars/harnesses
Dog shirts/coats (If you are handy at sewing (and it only requires about 4 straight lines!), we have two pattern sizes to make great dog shirts to keep our outside dogs more comfortable.)
Leashes
Crates and Carriers
Flea medications
Kitty Litter (cheap clay litter, not the clumping varieties)
Litter pans (We are working on stream-lining our cat room both for efficiency and kitty comfort. We would like to get the two standard sizes of litter boxes that are common in Wal-Mart and other discount stores. They must be stackable with our current inventory when not in use to save space.)
Stackable milk crates (These make great jungle gyms for kitten litters.)
Rawhides
Blankets (We need ones similar to baby receiving blankets so they can easily fit into the cat beds without too much bulk. We can use the small fleece throws for the small dogs, and large blankets of any type with the large dogs. We can't use pillows or other items filled with stuffing or feathers due to safety and plumbing concerns.)
Toys
Treats
Peanut butter (Please give us the empty but unwashed containers. The dogs love to lick out the leftover PB!)
Cleaning Supplies
General cleaning solutions (Windex, Lysol, Pinesol, etc)
Disposable Latex gloves
Sponges/Mops/Brooms
Bleach
Office Supplies
index cards (3x5 and 4x6)
small post-it type note pads
pens
red sharpies
stamps
Free Pedigree with Dog Adoption
Once you've adopted, click here to sign up.


Guardian Angel Program
If you can't adopt right now, you can sponsor a pet by paying the $35 spay/neuter fee for that animal. This would make it easier to find a home for it and help prevent more unwanted pets.

Low-Cost Spay/Neuter Program
E. TN Spay & Neuter transports animals to a regional low-cost spay-neuter clinic for owners who can't make the trip. Please contact them for more info on low-cost spay-neuter surgeries: 423-289-5548 or www.etnspay-neuter.org.

Carter County Humane Society
Carter County Humane Society supports our shelter, so please support them!
Meetings are the second Tuesday of each month, 7 pm, at the Doe River Baptist Church on Rt. 19E in Elizabethton (next to Elizabethton Lumber.)
They also offer spay-neuter assistance for low-income families. Contact them at 423-547-3031.

Elizabethton Carter County Animal Shelter
135 Sycamore Shoals Drive, Elizabethton, TN 37643
423-547-6359
animalshelter@cartercountytn.gov


---

[Home] [Information] [Shelters] [Search]