FOSTERS NEEDED!!!!!!! You provide the love and home care and we provide everything else (crates, food, leashes, vet care, etc.) There are many puppies/dogs in need of rescue! We are currently looking for volunteers to foster, help out during our adoption days, make phone calls, complete reference checks, and perform home visits. Any help would be greatly appreciated!
Bonnies Animal Rescue Kingdom
YOU MUST BRING IN A PRINT OUT OF THE APPLICATION TO OUR ADOPTION EVENTS AS WE HAVE NO WAY TO PRINT THEM OURSELVES AND YOU CAN ONLY MEET OUR PUPPIES AT PETSMART DURING ONE OF OUR ADOPTION DAYS ON SATURDAY OR SUNDAY - THERE IS ABSOLUTELY NO EXCEPTION TO THIS AS OUR PUPS ARE IN FOSTER HOMES DURING THE WEEK WITH WORKING FOSTERS. PLEASE DO NOT ASK FOR OTHER TIMES - YOU MUST COME ON THE WEEKEND DURING OUR EVENTS AND BRING THE APPLICATION OR FILL ONE OUT THERE AND MEET THE PUPPY OR DOG AT THAT TIME, THANKS VERY MUCH! ADOPTION EVENTS ARE HELD EVERY WEEKEND AS NOTED. PLEASE NOTE TOO THAT THERE ARE NO SAME DAY ADOPTIONS - WE CHECK ALL OF YOUR REFERENCES AND APPLICATIONS VERY CAREFULLY, ARRANGE A TIME FOR A HOME VISIT AND IF YOU ARE SELECTED TO BE A GOOD MATCH FOR THE DOG OR PUPPY YOU ARE INTERESTED IN AN ADOPTION TIME WILL BE ARRANGED WITHIN A WEEK - MORE INFORMATION AT THE BOTTOM OF THE PAGE, THANKS FOR YOUR INTEREST AND WE HOPE TO MEET YOU AT PETSMART SOON!
Please visit us on FACEBOOK to post any questions, adoption stories, photos, and/or videos and we are proud to be sponsored by Purina Pro PlanŽ Rally to RescueŽ
---
Our Featured Pet...
Snoops is 6 years old, pit mix, neutered, micro chipped, up-to-date on shots, housebroken, crate trained. He is independent, and loves his walks and stuffed toys. He was rescued from a shelter in NYC where he was about to be euthanized but thank goodness his foster parents rescued him in time! Please email Bonnie for more information and come meet me at our adoption fair in Petsmart Wayne on Saturday and Sunday afternoons from 1.30 to 5. He can't wait to meet you and be in his forever home!
---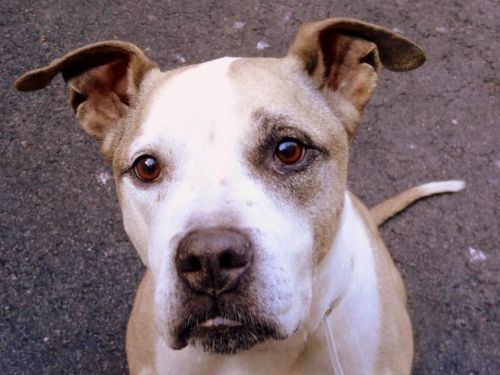 News
We want to give a shout out with our heartfelt gratitude to Victor for helping us when we ran out of fosters for our Haley, he came to our rescue and took her in at his wonderful Dog Resort and Spa in Waldwick, NJ, info below, check it out and thanks again Victor! Location: THE MADISON A Dog Resort & Spa 150 Franklin Turnpike Waldwick, NJ 07463 Tel: 201-445-PAWS Follow them on Twitter and Facebook!
---
NEW EMAIL!!!! - boniark15@gmail.com Old yahoo email was corrupted so do not use!!! NEWSLETTER - DECEMBER 6, 2013- HAPPY HOLIDAYS TO ALL! We have just returned with a bunch of adorable puppies and dogs this week and will load their profiles this week so take a look at our new additions on Petfinder! We have three baby St. Bernard puppies this time too, they are too cute! We want to, as always thank everyone who supports us, from our supporters to our volunteers to our adopters, we are forever grateful and wish everyone a very happy and blessed holiday season! We want to spread a touching Christmas poem to all this time on our newsletter to celebrate all the precious dogs we love who are looking for their forever homes: RESCUED DOG'S CHRISTMAS POEM (Author unknown) 'Tis the night before Christmas and all through the town, every shelter is full - we are lost but not found. Our numbers are hung on our kennels so bare, we hope every minute that someone will care, they'll come to adopt us and give us the call, "Come here, Max and Sparkie - come fetch your new ball!!" but now we sit here and think of the days we were treated so fondly - we had cute, baby ways. Once we were little, then we grew and we grew - now we're no longer young and we're no longer new. So out the back door we were thrown like the trash, they reacted so quickly - why were they so rash? We "jump on the children", don't come when they call", we "bark when they leave us", "climb over the wall". We should have been neutered, we should have been spayed, now we suffer the consequences of the errors THEY made. If only they'd trained us, if only we knew...we'd have done what they asked us and worshipped them too. We were left in the backyard, or worse - left to roam - now we're tired and lonely and out of a home. They dropped us off here and they kissed us goodbye..."Maybe someone else will give you a try". So now here we are, all confused and alone...in a shelter with others who long for a home. The kind workers come through with a meal and a pat, with so many to care for, they can't stay to chat. They move to the next kennel, giving each of us cheer...we know that they wonder how long we'll be here. We lay down to sleep and sweet dreams fill our heads...of a home filled with love and our own cozy beds. Then we wake to see sad eyes, brimming with tears - our friends filled with emptiness, worry and fear. If you can't adopt us and there's no room at your Inn- could you help with the bills and fill our food bin? We count on your kindness each day of the year - can you give more than hope to everyone here? Please make a donation to pay for the heat...and help us get something special to eat. The shelter that cares for us wants us to live, and more of us will, if more people will give. We thank you... ************************************************************************************
---
WE ARE AT PETSMART WAYNE EVERY WEEKEND FROM 1.30 TO 5.30. You can also write to Bonnie on any specific dog or puppy to find out exactly when they will be at our adoption fairs. REMEMBER YOU CAN ONLY MEET THEM AT PETSMART, WE ARE NOT ABLE TO MAKE ANY EXCEPTIONS. Thanks again for your support and love as we cannot do it without those kind souls who give our puppies homes and enable us to rescue more as the list is endless and many more are waiting on us to rescue them down in North Carolina. And as always we are desperately seeking new fosters so please if you can find it in your hearts and home to foster email Bonnie, thanks so much to all of you!
---
We are proud to continue to be sponsored in 2013 by Pro PlanŽ Rally to RescueŽ Check out their Facebook page at: https://www.facebook.com/rallytorescue........... Also remember to shop online at igive.com so free donations can be made to B.A.R.K. so check out their website. .............Also make sure you Like us on Facebook under Bonnies Animal Rescue Kingdom at http://www.facebook.com/pages/Bonnies-Animal-Rescue-Kingdom/112631865436013
---
As always, please consider fostering as the more foster homes we have the more lives we can go and save from the kill shelter. We provide all the food, crates, collars, and bedding for our fostered dogs. And for all new and continuing foster parents, those volunteers that spend their precious weekends at our adoption fairs, those that donate their time in any way, we thank you from the bottom of our hearts for your help and love, for, without you, we could not keep rescuing our precious pups! See you at the adoption events!
MISSION STATEMENT - Who We Are We are a small non-profit 501(c3) rescue group dedicated to rescuing abandoned, neglected, and abused animals. We are proud adoption partners of PetSmart and are committed to helping several high-kill shelters in North Carolina where euthanasia of highly adoptable pets can occur up to three times per week. We do our own transport every six to eight weeks and then we place the rescued animals in foster homes until they become adopted. We strive to find loving, caring, and responsible pet parents who will provide forever homes. We also assist with local animals in need of rescue due to families who can no longer care for them as a result of economic hardship. We promote and insist on spaying/neutering of all pets, as this in the only way to reduce the overpopulation of pets. All of our animals that are age-appropriate are spayed/neutered prior to adoption. We have a strict spay/neuter follow-up policy for those animals that are too young at the time of adoption. Adopting a friend
B.A.R.K. reserves the right to refuse any adoption application for any reason."We do NOT do same day adoptions.
Must be at least 21 years of age to adopt.
You must fill out an application, which we can email to you at your request.
A volunteer or the foster parent will contact you so that you may learn more about the pet you are interested in adopting and/or answer any questions.
After the application has been reviewed, you will be contacted (approximately 3-5 days) to possibly set up a home visit.
If you are a good match, a date will be set to meet at PetSmart for the adoption. Plan on spending about 30-60 minutes to fill out paperwork, as there are things to go over to ensure that your new pet will be happy in his/her forever home.
The entire adoption process can take up to a week to 10 days.
Come Visit Us!
Fosters
Foster homes are desperately needed. We provide food, crate, toys, treats, and all medical expenses. You only need to provide your time and a loving home! The more foster homes we have, the more animals we can rescue from being euthanized! It is an amazing and rewarding experience for anyone who loves animals! Fostering usually lasts only about 3 weeks for puppies and up to 2 months for older/bigger dogs.
Volunteers
We are a very friendly group. We are always looking for extra help with the animals on the weekend in PetSmart! Why not stop by and give us a paw!
Donations
Any donations would be greatly appreciated! We are currently in need of laundry detergent, dry dog food, and dry cat food. You can bring them to either location during adoption days! Due to difficult economic times, Caswell County Animal Shelter has been directed to reduce costs, which means reducing the number of dogs/cats being housed at the shelter. These items would assist them in reducing their weekly expenses!
---
Bonnies Animal Rescue Kingdom
Paramus, NJ 07653
Email: Boniark15@gmail.com
Click here for a list of pets at this shelter

---

[Home] [Information] [Shelters] [Search]