Main Content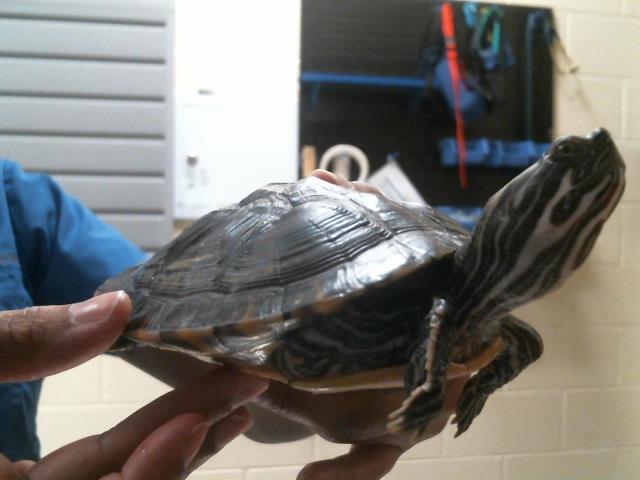 DONNASHELLO
Turtle
Turtle
Denver, CO
Petfinder recommends that you should always take reasonable security steps before making online payments.
Meet DONNASHELLO
Size: 6 to 12 inches in length. Life expectancy: 20-40 years Group or solo: Sliders are fine solo. They can be housed together if the following guidelines are followed; turtles are similar in size, monitor feeding to ensure all turtles are getting enough, have an extra-large or multiple basking stations, increase the enclosure size by 20 gallons minimum for each additional turtle. Diet: Sliders must eat in the water and food must be delivered into their water. Turtle pellets, a variety of fresh vegetables such as cilantro, collard greens, green beans, lettuce, kales, spinach, and chard, and protein such as turtle-safe feeder fish, fresh shrimp, worms, mealworms, and crickets should be provided. Un-eaten food should be removed from the enclosure after 10-15 minutes. Vegetables can be given every day, pellets 2-3 times per week, and protein 1-2 times per week. Habitat/Housing: Sliders should have an aquarium that is a minimum of 10 gallons per inch of shell length (a 6-inch turtle should have 60 gallons.) The depth of the water should be at least the length of the turtle's shell. Bigger is always better when it comes to enclosures, and turtles will continue to grow even if provided a too-small tank. Must have a basking station above the water with a basking light - temperature should be 95 degrees F at the basking station, the water should be 75 degrees. Use a water heater to maintain temperature. Lighting - UVB rays with full spectrum lighting for 10 to 12 hours a day is required. Incandescent lighting is needed for basking area. Substrate should be gravel, rock, or slate that is too large for the turtle to swallow. Tanks should be decorated with turtle-safe rocks, wood, hiding places, and plants. Tanks should have a filter that is suitable for the size of the tank and maintained regularly. Their water should be partially changed out as needed (every 1-2 weeks) and can be treated with a water conditioner. Take your turtle to an exotics veterinarian if you see any of the following; Eye, nose or mouth discharge, discoloration, bumps or spots on shell or skin, lethargy, changes in behavior or frantic swimming, abnormal feces, an overgrown beak, swelling. For more information: https://reptifiles.com/red-eared-slider-care https://thesprucepets.com/red-eared-sliders-1238387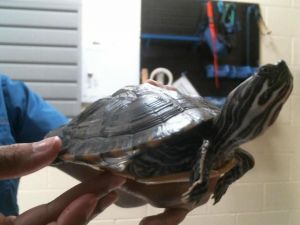 Please note that Denver Animal Shelter is not able to answer inquiries via email through Petfinder at this time.
You may call them with your inquiry at: 720-913-1311
You may also find more information about the organization on their homepage: https://www.petfinder.com/member/us/co/denver/denver-animal-shelter-co52/
Recommended Pets
Recommended Pets