Main Content
Skip carousel of pet photos and or videos
This is an inline carousel of images and or videos of this pet.
Adopted
Puppy

Male

Large

Tricolor (Brown, Black, & White)
About
Coat length

Long

Health

Vaccinations up to date, spayed / neutered.
Good in a home with

Other dogs.
Petfinder recommends that you should always take reasonable security steps before making online payments.
Meet Wolfgang
Wolfgang's Story
-Written by Wolfgang, a 12-week-old, 12lb male mini Aussie mix.
_______________________________________

I had the best mama. I remember her keeping me safe and making sure that I always felt safe and loved. Once I was older, I started hearing talk about rehoming me. I was so scared. I ran to my mama and begged her not to let them take me away. My mom licked my face and said don't you worry sweetheart. Finding a home will be a good thing. She told me stories about what my family would look like. That they would take me on adventures, that I would grow with them. That they would get me a fancy name tag and a nice collar. That I would have a bed of my own but possibly also get to come in bed with them. I went from being scared to super excited. I wanted all of that, my mom painted such a pretty picture. I talked about my new family a lot, and the day finally came. It turned out to be harder than I thought, saying goodbye to my mom was the hardest thing ever. I tried to put on a brave face and did my best to steal my family's heart. They seemed to like me. They kept saying how cute I was.

They brought me home and the first day was great. Everyone loved on me, played with me, and thought I was the cutest thing ever. As the days went by, they started growing distant. They kept getting mad at me when I had an accident. They got mad at me when I chewed on their hands wanting to play. They got mad when I jumped up on their legs asking for them to pick me up. It was so strange, I could actually feel a shift. I tried my best to please them but in the end, it wasn't enough. One day they cast me outside all alone and left me there. I went from being a part of the family to some animal that meant nothing. I kept waiting for them to let me back in...but they never did. I didn't want to be all by myself so I started exploring. To a 6lb puppy...everything seems so big and scary. I wasn't going to let that stop me though. I started exploring the neighborhood until I had no idea where I was and how to get home...not that my owners would care. I guess enough people saw me that before I knew it I was scooped up and brought to the animal shelter. Have you ever been in the shelter? Can you imagine being able to understand the screams and cries of the dogs begging for someone to get them out? Can you imagine what it feels like to be there all alone and learn that even as a puppy there is a chance that I may not make it out of the shelter alive? And all because the animals had the same stories as me. Abandoned by their humans. I was one of the lucky ones though. After my stray hold was up and it was obvious that my family wasn't coming for me, this rescue pulled me. I landed in an amazing foster family and now it is time to find my REAL forever family. The kind that my mama told me about. The kind she had hoped I had found when I first left her all those weeks ago.

I am sure that many of you saw that I had been adopted. They loved me very much but they weren't ready for the responsibility of me. I am a very active and playful puppy and was always on them to play and interact with me. I was too much for them and they ended up surrendering me back to rescue. I wish things would have gone differently, but things happen. In the end, their surrendering me back to rescue is what was best for all of us. I would really love to have another dog in my new home, I think that was probably one of the reasons it didn't work out. There was no one to help me get my energy out when my people couldn't. So, let's try this again! ;)

I want a home that has another dog to play with. I am the kind of boy who easily makes friends and am very social. I would love to have a couple doggie friends in my new home. Now if there are no other dogs in my home, there is one other thing that would please me. My family would need to be home most of the day. As in working from home, or being able to take me to work with them. It may have been a short amount of time, but I will never forget how alone I felt when I had no other dog or human by my side as I walked the streets. I never want to feel that again. So, please don't expect me to be okay while you work all day and I am home all alone. I need companionship. You probably think I am being a bit blunt...but I didn't get to pick my last family. This time I do, and they are going to be AMAZING! Now, I am not unreasonable. If you promise to be home a lot or have other dogs in the home then I will adjust my energy level to your home. I am very good about reading the room and will do my best to match it. If it is time to play, I am a ball of energy doing sneak attacks on the other dogs, pouncing on my toys, jumping onto your lap, and just having a blast. When it is time to settle down, I will pass out and chill until our next play session. If you are lucky, I may even pass out in your lap for some cuddles.

If you are the kind of family that loves to go on adventures...I am right there with you! My foster family is currently helping me prepare to go on walks with my new family. Before I can do that, I am facing my biggest challenge yet...the leash! Can you believe that my foster has the audacity to put this rope thing on me and expect me to walk on it? Forget that! I tend to plop down on the ground and try to chew the wretched thing. I have to admit that I don't have the best attention span and will start rolling around with the leash and play with it. So, maybe it does have its uses after all! Once I finally master the leash, I think hikes would be really cool. I am a smaller guy though so as much as I would love to, am not the kind of pup that would be able to handle endless hikes. A couple shorter ones here and there would be neat though. If you are into playing fetch, I may play with you. I like to put my own personal spin on it though. When you throw the toy/ball, I may or may not bring it back! I like to think it builds anticipation for you. Will I bring it back...or will I run under a bush and make you follow me under it to reclaim the toy. Don't worry, I will give you lots of kisses and be all up in your face when you are valiantly try to rescue the toy. I have not had the chance to go swimming but I do like water. When I am in the mood, I will splash my front paws in the water bowl.

I am about to tell you something that is going to blow your mind. Are you ready? I am potty trained! Now, before everyone starts applying for me..because who wouldn't want a puppy that doesn't make a mess in the house...let me edit my statement. I very much prefer to do my business outside but I am still young so if you don't let me out enough..I will have an accident. I cannot be potty trained if I am not let out enough. ? I am kennel trained and so far have not been a big chewer in my foster home. That stage may still come, so my new home does need to be puppy-proofed. I am not a barker unless you try to put me out by myself. I don't want to be alone. If you are kenneling me at night, put my kennel in the bedroom. If you have to go somewhere, make sure I can still see the other dogs otherwise I will cry and bark. I wasn't kidding when I said I want to be around other people and animals. I do believe that I would do well in an apartment setting with the right exercise plan. Oh, and don't forget to make sure that I have a set potty schedule and are able to commit to working with me on the leash some more.

Before I finish up my story, there are a few more things that I would like to share with you. First, I am an expert at untying shoes. If you are not careful, I will have them untied in seconds so hopefully, you don't wear shoes with laces ? I am excited to meet all people and have no reservations. I am a social butterfly and love to be in the middle of all the action. I am not a calm puppy, I am playful and am always ready to do something. However, after you wear me out I am really good about passing out for the next few hours. If you like your peace and quiet...I am probably not the pup for you. If you like a puppy that is always attacking your shoes, smothering you in kisses, is fearless with the other dogs and knows how to have a good time...get that app in for me!

I expected more of my last family but they never got the chance to know me. You on the other hand have that chance. You have an insight into my personality and who Wolfgang really is. So, if you apply to adopt me...it better be forever. I am not an until dog. Not until I grow up. Until I do something wrong. Until you have a baby. Until you move. If you cannot see me being by your side forever, please don't break my heart. Let me find the family that will stand by me no matter what because I will do the same for them. If you are ready to put a ring on it, then please fill out the paperwork at
https://www.pyrpawsandfluffytailsrescue.com/adoption-app

Once you have submitted your application, it will be sent on to my foster family for consideration.

I am being fostered in Tulsa, OK.
I do wonderful on car rides and tend to take a nap during them. So, even if you live in another state...if you think we are meant to be turn a key and I will be waiting for you when you get here!

My adoption fee is $300.
That will include two sets of puppy shots and wormings. I will also have had a bordetella. I will be micro-chipped, have a fecal done, be de-wormed, be spayed/neutered, and will be current on heart-worm and flea/tick prevention.
Recommended Pets
Recommended Pets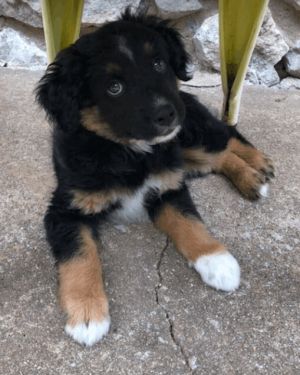 Wolfgang
Australian Shepherd
Puppy
Male