Main Content
Skip carousel of pet photos and or videos
This is an inline carousel of images and or videos of this pet.
Young

Female

Large

Golden

, Yellow / Tan / Blond / Fawn

, White / Cream
About
Coat length

Long

Health

Vaccinations up to date, spayed / neutered.
Good in a home with

Other dogs, cats.

Prefers a home without

Children.

Adoption fee

$250.00
Petfinder recommends that you should always take reasonable security steps before making online payments.
Meet Sasha
Get ready to fall in love with Sasha! ?
Sasha is one of the most unique dogs that I have met in a long time. Sasha is a 1.5-year-old female Great Pyrenees/Husky. The first unique thing about Sasha is her markings. She has one blue and one brown eye and both manage to pierce your soul and fall in loved with her. They are both so vibrant and full of hope and love. Her coat is a gorgeous mixture of grey, white, and golden, add in her smaller and more petite build and she looks like a cuddly stuffed animal! The next unique thing about Sasha is her personality. When I first brought her home, she would run from me. Yet, with every move I made she followed behind me. I absolutely had to be in her sight but she wasn't ready for me to walk up to her and pet her yet. That quickly turned into her coming up to me while I was standing still and letting me give her love. Now, she follows me around and lets me pet her with no reservations...most of the time. If she gets spooked, Sasha is much like a cat. She will jump back and it takes some encouragement to get her to come back to you. When Sasha wants attention she will often come up to you and will sit next to you while you pet her. Sasha's absolute favorite, even when she still didn't fully trust me yet are ear rubs. That is the quickest way to her heart! Sometimes when she is really excited, she will give you hugs, smother you in kisses, and her smile is a mile long.
I don't think Sasha ever truly had a place to call home, and if she did I don't think those in her past were very kind to her. Sasha's first instinct is to run. If she gets scared, her first and foremost goal is to get away without thinking it through. That is actually how she ended up with me. She jumped her first foster family's 4ft chainlink fence. We believe the neighborhood dogs barking would spook her, but luckily her overall intention was not to run away and would come back to her foster mom. She was then moved to a foster family with a 6ft fence in which case she chose to jump that in a matter of minutes. Yep...this girl is definitely a Husky mix! That foster family wasn't able to keep her, so she came to me. While I only have a 6ft fence, she finally met her match with me. I bought a wire cable to clip onto her collar and hook her to it before she goes outside and I have had absolutely no problems at all. She can move around a decent distance, and has no problem pottying on the cable. It doesn't take her long at all before she is back at the door pawing at it wanting in. I have slowly started trusting her to go outside without the cable with me watching her, and so far she has always come back. I think she is used to always being in flight mode and is finally starting to realize that she no longer has to run, and if she does have to run...she now has a home/house that she can run to. With that said, Sasha will still need a Husky proofed yard/fence or she will need to be on a cable or taken on walks. Eventually, I think she may respect a tall and no see through fence, but until you have worked with her and she truly knows you and her home giving her freedom of the yard unleashed is not an option because as past expereinces has shown, she can and will jump the fence. Sasha is still a bit nervous on the leash, and while she has warmed up to one for the most part she would probably do best with a harness although I have not tried one on her yet. Sasha was TERRIFIED of the leash at first, and would run and/or panic when you tried to put one on her. While she no longer panics, it is still not her favorite thing so a harness may help make walks more enjoyable for her, or with time and more training she may even one be fully comfortable on a leash.
The thing about Sasha is she wants to love. She wants to play. The first night I brought her home, I was quite surprised when she not only jumped on my bed but proceeded to plop down on top of me and smother me in kisses. This coming from the dog who was so nervous she didn't even want me to pet her yet. It only took a few days for Sasha to trust me, and I have to say...it is an incredibly special thing. As each day passes by, she flinches less when I got to pet her. Each day she starts acting more and more like a normal dog. She is excited to go out, she does the cutest and most hilarious dance for her food, and she continues to become more and more loving. She truly is one adorable and very special girl.
Sasha is good with other dogs and has recently started becoming more playful with them. I don't think she would ever become a "huge" player but I think she would enjoy having another mildly playful dog in her new home. She is unsure how to properly play so she will often dance around or nudge the other dog trying to get her to play, and then when she does get their attention keeps jumping away from them while circling them. It is pretty funny to watch but also a bit sad because I don't think this girl ever had the chance to play or just have fun in her past life. Sasha is good with cats, but like most dogs does want to give chase or play with them if they run. So, the cats in her new home should definitely be dog-savvy. I really don't know how Sasha would do with kids. On one hand, I think she would be their best friend and smother them in kisses but on the other hand I think they may make her nervous and she may get startled if the run up towards her or make a lot of ruckus. Because of this, I truly think the kids should be 8+ so they know to be gentle around her and not to chase after her while she adjusts to them and her new home.
Sasha rides well in the car and will surprisingly hop right in with only a little encouragement. With that said, she HAS to be buckled in. When you park she will try to come up front, or bolt out the door as soon as you open it(I told you, this girl has probably lived in flight mode for quite some time) so being buckled in prevents her from making a mistake and running away from her people. Remember, how I said Sasha is unique? Well, being out in public is another instance. You can tell that she likes to explore and enjoys being with her people, but if the slightest thing spooks her...she wants to try and run again. So, while I think she would enjoy going places with her people I don't think any places with tons of people or things going on would be her things. More secluded and quieter places would be the way to go with her. I really think she would enjoy going on hikes. Sasha also doesn't mind being a homebody. Now with that said, she does have more of a medium energy level. So, if she gets bored...she will get into things. Her new home will need to be puppy proofed and have lots of things around to keep her entertained otherwise she will go looking for things to get into. After all, she is still just a pup that is finally getting to be just that...a pup. Sasha is just about potty trained with a set schedule. She does still have some accidents here and there, but she is getting better about starting to alert you when she has to go outside. Sasha has never been kenneled, so I do not know how she would react in one. When I am away, she has free-roam of the house and does well. She has gotten into a few small things(which I find funny because I was positive my house was already puppy-proofed but Sasha is doing a wonderful job at letting me know that I didn't have things as puppy-proofed as I though ? ). Sasha loves to come on the bed for cuddles, and is definitely one of those dogs who will roll over you and smother you in kisses. However, once you tell her enough she is pretty good about moving to a different part of the bed and settling down for the night.
Sasha is slowly discovering what toys are, but has not had the chance to play fetch or in any water yet. Sasha is the type of dog that wears her emotions on her face. She has so many different facial expressions such as confused, curious, happy, smiling, nervous, and so many more.
Sasha is a very special girl. I don't know what it is about her, but she tends to steal people's hearts only minutes after meeting them. And that is with her being reserved at first...there is just something about her. Sasha will need a family that already has their yard escape-proof or someone who regularly walks their dogs several times a day. They will also need to be okay with giving Sasha her space when she first comes to them. Trust me, she will definitely follow you around and will be curious about every little thing you do but you can't "push" her into lovings otherwise she will get spooked and retreat into her shell. The thing about this girl is though, she doesn't want to stay in her shell. She is eager to open up, and is so ready to not only be loved but also share her love. She just needs time, encouragement, and to see that she no longer has to run. She is slowly realizing that she is truly safe and wanted now, and I expect her to only continue opening up in the right environment.
If you feel like this gorgeous girl could be the missing piece to your family, you can apply to adopt her at
https://www.pyrpawsandfluffytailsrescue.com/adoption-app
Once this app comes in, it will be sent to her foster family. This is to help ensure that it is not only a good fit for you but Sasha as well.
Sasha is being fostered in Tulsa, OK. If you have fallen in love with her and are out of state, how about a road trip? We don't send our fluffy butts on commercial transports. So, if you want one of our amazing fluffy butts, it is time to plan a trip to good ole Oklahoma ?
Her adoption fee is $250.00.
That will include his DHLPP, Rabies, and Bordetella. She will be micro-chipped, have a fecal done, be de-wormed, be spayed/neutered, and will be current on heartworm and flea/tick prevention.
Recommended Pets
Recommended Pets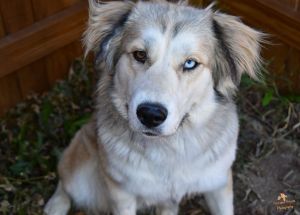 Sasha
Great Pyrenees
Young
Female