Main Content
Skip carousel of pet photos and or videos
This is an inline carousel of images and or videos of this pet.
Young

Male

Medium

Tricolor (Brown, Black, & White)
About
Coat length

Medium

House-trained

Yes

Health

Vaccinations up to date, spayed / neutered.
Good in a home with

Other dogs, children.

Prefers a home without

Cats.
Meet Keanu
This is a courtesy listing for another rescue group. See proper contact information within the written Bio. PLEASE READ ENTIRE BIO BEFORE CONTACTING RESCUE. PLEASE READ INSTRUCTIONS AT THE END. I DO NOT CARE FOR EMAILS WITHIN THE PETFINDER FORUM; JUST SEND A REGULAR EMAIL AS IF YOU WERE EMAILING A FRIEND. ALSO, PROVIDE THE INFORMATION REQUESTED. THANK YOU.

SEE VIDEO ALSO ON THIS PAGE! To view video on Petfinder or Adopt-a-Pet, click on the video icon within Petfinder or Adopt-a-Pet. To view video otherwise, paste this link: https://www.youtube.com/watch?v=I9OlzfrqyaU&feature=youtu.be in your address bar on top. Thank you!

Videos are made to show the best light of any dog. The bio attempts to give a more accurate description of the dog. The video and Bio can be combined to give a good idea of any dog:

Keanu is a loving and affectionate one-and-a half-year-old Siberian Husky/Labrador Retriever mix (he was DNA tested) who was rescued from the Moreno Valley Animal Shelter and weighs about 53 lbs. He is a strong dog with a stocky build. In his DNA test, he also has German Shepherd Dog and Dutch Shepherd in his line. Though there are ever-so-slight hints of the goofy found in Labs, and the sometimes mischievous and stubborn traits of Huskies, Keanu, as mix, is fairly even-keeled and mostly mellow, mostly obedient, non-destructive, and remains calm in the house. Actually, he is uncharacteristically mellow for such a young dog, in body and spirit, often wagging his tail only. Like most dogs, he loves to be near you and be involved in whatever is going on, but he also loves to position himself by the open doorway, keeping watch, and/or watching the world go by, or just chilling somewhere in the house while I get things done.

Keanu gets along very well with my three female senior dogs, but they are well-socialized, balanced, non-reactive, and fearless so it has worked out. He is crate-trained and potty-trained (though potty reinforcement is needed in any new environment) and when it is time for me to crate him, he crates wonderfully (at the rescue, dogs are crated to eat, sleep, and when I have to leave the house for a bit. Keanu whines just a bit when I leave, but once I tell him a few times to settle down, I just leave and all is well.) Keanu also knows how to use the doggie door or will go towards a door when he wants to go out.

Keanu has a playful side but it feels as if he is not quite sure what to do, and when he does play, it seems awkward, or results in overexcitement. Like many Huskies and German shepherd types, he does possess prey drive, so play should not encourage that, in my opinion. My sense with Keanu is that he is a loving dog who is inherently sweet, wants to love you and to be loved, but that someone mistreated him, nor was he exposed to some of the normal experiences (I suspect he was just thrown out in someone's backyard). Therefore, Keanu is seeking a confident, intentional, and calm leader to continue showing him the ropes. At first, I simply led him with a more or less removed, but calm leadership style (using the leash when necessary) until he fully trusted me and knew the day in and day out routine. Now, he mostly does what I ask by the mere sound of my voice and instruction. Overall, Keanu has responded favorably to my leadership style and has does well, with occasional corrections.

Keanu is protective. This is understandable to some people; others not. The truth is, many dogs in the working group can behave this way. Unrealistically, some people want a dog that instinctively knows if you are friend or foe. They want a dog that thinks "Hey friend!" when it is someone you love but is still a stranger to the dog, but then instinctively knows when it is someone coming to rob or kill you, and only then, will you relish in the dog's protective qualities. Many dogs will not know the difference unless properly introduced, and this does not make them "bad dogs." So, ultimately, Keanu is a dog that will have to be strategically introduced to people you want the dog to know, and be put away, for example, when the gardener, or gas man or pool man comes and there is no need to have a dog out. If one does not mind, or even relishes a dog that can and will be protective of his family, then we can discuss Keanu further for more details. Through working with him, there are reactions that I have helped Keanu to tone down, and I am happy to show anyone.

Keanu loves to be brushed. He will allow me to brush him but I am careful not to hurt him. He is not food aggressive and rides fine in the car. He has been fine at the vet, and since this rescuer (meaning me, not the dog!) has a health condition, he is not officially walked, but seems good with being on leash when taken to the vet and such and I believe he would enjoy a home where he can go on structured walks for training and exercise, given the proper tools and leadership style. Keanu also loves to chill in his yard, positioning himself close to the open door where he can access the house at will. He feels it is his "role" to "keep watch" and he is mostly relaxed, unless he sees a coyote or something out of place.

The best fit for Keanu is a home where the people have some solid experience with larger dog breeds and their training. He is easy 90 per cent of the time, with a small percentage whereby a more experienced handler is needed. Though Keanu has been fine with my own well-socialized pack of female dogs, the home I seek for Keanu is as an only dog in the home, and one that is not "grand central station," where he can continue to meet people, yes, but without setting expectations too high. (I MAY also consider a home with an older, non-reactive, and easy-going female dog of similar size.) As far as other dogs go, Keanu is basically friendly and non-reactive, but I have seen him react when the OTHER dog acts aggressively (or acts with fear or defensively towards Keanu), or, when first meeting any new dog that comes to HIS territory (again, protective), so again, I still believe his best fit is as an only dog, and with people who just want their one dog. I would love to see him get a home where he can take walks or even hikes (no running please) and on leash, he will comport himself well.

NOTE: I am getting many interests from people with young children, so let me clarify a few things. There are variables, above the Bio, where we are forced to answer "yes" or "no" to certain things like "Good with kids," "Good with cats," "Good with dogs." The reason I do not discuss kids in my Bios is because with FEW EXCEPTIONS, in my 11 years of doing rescue, have I been able to test a dog with kids due to no access. So it is my best guess based on what I think based on each person's situation. Typically, "Kids" does not mean infants and toddlers, and there are "young kids," as well as "older kids." If you have kids, this is something we can discuss on a case-by-case basis.

I am also getting a lot of apartments and condo people - very understandable. While I believe that Keanu will do best with his own private, secured yard to enjoy, I do not delineate "no apartments or condos" because depending on the situation, it could still be the right owner, and also, I try to keep an open mind. But generally speaking, I think a home with a contained area would be best.

For the most part, Keanu has been amazing and I have been able to work with him to teach him a few things and help socialize him. As I said, he is uncharacteristically calm for a dog his age. He is very loving towards his humans, sometimes seeking attention and connection from them; other times, just being content to chill and watch the world go by. Keanu is still an inherently sweet homeless dog that deserves a chance at a solid home in spite of hard beginnings. With the proper leadership, he has loads of love and loyalty to give you in return!

NOTE: We only adopt dogs as primarily INDOOR dogs. Dogs can go outside to play, potty, to sun themselves at will, but should never be excluded to an outside area. You do not need to give a dog the run of the entire house, and an appropriate sized wire crate works very well during a transitional phase.

Keanu is neutered, fully vaccinated, Front-lined, dewormed, micro-chipped, and has had a vet check. If you are interested in Keanu, email Angel's Heart Dog Rescue at: adopt@angelsheartdogrescue.com. In the email, please provide some information about your home, family, other pets, and dog experience. Please also check your spam folder for an email reply from the rescue. If you wish, provide a phone number. Angel's Heart Dog Rescue is a private, home-based rescue. We do have a process that involves some dialoging and an application (applications are not online); you can read about this process on my website: http://www.angelsheartdogrescue.com (go to the Adoption Tab). We seek stable homes that can provide a life-long environment for the dogs in our care. The phone number to the rescue is: 626-340-9316. There is no need to phone the rescue unless you do not receive a response from your email within 24 hours (evening to night emails may get a response the following morning).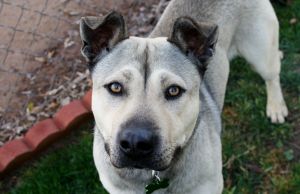 Ask About Keanu
Young
Male
Medium
Tricolor (Brown, Black, & White)
To
Downtown Dog Rescue
Recommended Pets
Recommended Pets