Main Content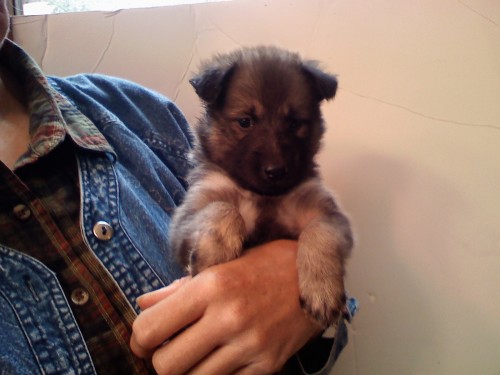 Meet Judy
Judah, Jonah & Judy
DOB 04/29/2010 READY 06/24/2010, However you still may apply 4 them.
$100.00 adoption donation plus a $50.00 spay/neuter deposit or pre paid appt at your vet.
There are a few pups not spoken for yet, course no one has actually come to see them yet and sometimes you think you want a certain pup then when you see them another one catches your eye. I believe in matching personalities of the puppies to their person or family lifestyle. A shy puppy would need more socializing and may not "fit" too well in a crazy lifestyle. An outgoing, bold temperament may not be the right choice for someone, so pictures alone are not the best way to pick a puppy. They are all adorable. I am the foster mom, I hunted down their momma for a month and finally live trapped her 2 weeks prior to her having the puppies. She had to have an emergency C section.:>( They are very sweet puppies. They get time in my kitchen to hang out and learn about household noises. I believe socializing is very important in the young lives. Some of the pups will be more German Shepherd type and some are more Sheltie, try colored. They are very pretty pups. Ears will should stand. They will be 6 weeks this coming Friday. If you'd like to see them, please call me.
If you are interested in adopting me, please copy and paste the following "online application" into a new email to nancy@vidafamily.com and then simply answer the questions. PLEASE MAKE SURE THE PET'S NAME IS IN THE EMAIL 'SUBJECT LINE'.

NOTE: Please be patient with us once you've sent this
preliminary application. We get several applications
and it may take a few days before we are able to
review it. We will keep your application in the order
it is received and if you are selected or the next
applicant on the list we will contact you.

FOLLOWING IS THE ONLINE APPLICATION---All questions must be answered COMPLETELY and you MUST be 21 years of age to be considered for one of our rescues:

Please provide your home address including the city
and what the closest crossroads are?

Could you please include a phone number that we may be able to contact you either during the day or evening and when it would be best to contact you.

Do you have children? if so, how many and their ages

Do you have a fenced in yard? if so, what type - privacy, cyclone, etc.

If you do not have a fence, how will you let the animal outside?

Do you own or rent your residence?

Is your residence a house, condo, mobile home, etc?

If you rent, are pets allowed at your location?

Have you ever owned a dog/cat or a puppy/kitten
before?

If so, what kind, do you still have them and if you don't, what happened to them?

If you have been a pet owner before, could you please
list your veterinarian(s) name and phone number(s)?

If you have been a pet owner before, was your pet
spayed or neutered, up to date on its shots and on
heartworm preventative?

If you are selected where will this animal be kept
during the day and where will it sleep at night?

While at work how long will the animal be left home
alone?

If housebreaking is needed, how will you do this?

Will you crate train?

If so, will you continue to use a crate?

Will you take this canine to an obedience class?

If you are married, have a significant other, have roommates, or have children, we will need to speak to the adults and meet all involved to make sure that everyone is in agreement and understands the commitment involved with adopting a pet.
Recommended Pets
Recommended Pets
Did You Adopt Judy?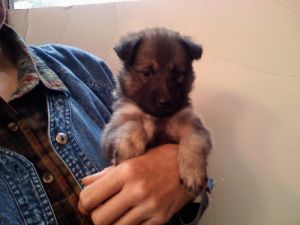 Judy
Shetland Sheepdog / Sheltie
Baby
Female