Main Content
Skip carousel of pet photos and or videos
This is an inline carousel of images and or videos of this pet.
Young

Male

Large

White / Cream
About
Coat length

Medium

House-trained

Yes

Health

Vaccinations up to date, spayed / neutered.
Good in a home with

Other dogs, cats, children.

Adoption fee

$250.00
Petfinder recommends that you should always take reasonable security steps before making online payments.
Meet Chief Rainwater
Chief Rainwater's Story
-Written by Chief Rainwater, a 2.5-year-old, 96lb male Great Pyrenees/Dogo Argentino
---------------------------------------------

I was born in the shelter. Before I was rescued I lost several of my siblings due to URIs...the shelter is no place for newborn puppies. Things even looked grim for me and my brother Rip even after this rescue found a foster family for us and pulled us and our mom Beth. Thankfully, we overcame it. We ended up growing up in a loving foster family, and I learned very quickly to live life to the fullest. I was so close to death only days after I came into this world because my owner had surrendered my mom to the shelter and never told anyone that she was pregnant. Maybe they didn't know....but maybe they did. Either way, because of their irresponsibility I lost some of my siblings and had to fight for my life when I didn't even have my eyes open yet. That kind of struggle will shape a dog. I wanted to make sure that every day I played my heart out and enjoyed everything about life. Then came the day that I got adopted. I was so excited! This was why I fought so hard. This was why I had given it my all..so I could be someone's forever and they mine!

I spent almost 2 years with that family. I was so attached to the 10-year-old in the home, we were the best of friends. I loved all people and have always been a total sweetheart with them. There were times when I tried to let new dogs that came over to the home that I was top dog which I know was a no no but I am a young teenager and am trying to find my place in this world. One day, I got into a quarrel with my fur siblings over something and that is the day everything changed. Suddenly, I was no longer part of the family. Suddenly, my owner was terrified of me and I had to go right away. Suddenly, there was something different about me since I was a puppy and my owner could no longer keep me. I needed to go and I needed to go right away. It didn't matter that the 10-year-old boy was crying when I was picked up by my foster family. It didn't matter that I was shaking like crazy. I was so scared that when my foster family brought me home I climbed under the outside bench and didn't want to come out. I was shaking so bad and was so confused.

I had grown up with my family, I wasn't perfect but I was by no means a bad dog. I was by no means a dog that my owner should claim they are terrified of and not listen to any suggestions or help. Instead, I was a stranger that no longer had a place within the family. Everything I knew gone. The worst was seeing how my owner had turned on me. How they no longer saw me as theirs and feared me. Even though I had never gone after a person. Never even harmed one and absolutely adored their child. It was like the past no longer mattered. I understand that sometimes it is not a fit and my owner had to do what they felt was best...but the way they did it was soul-crushing.

I had no idea what to expect at my foster home. It took some time for me to stop shaking and feel safe enough to climb back out from under that bench. When they took me inside, I took cautious steps. I had been with my last family since I was a puppy so everything seemed so new and scary. I came upon some super sweet kiddos aged 15, 10, and 7 and immeditely relaxed some. They were so nice and welcoming. I ended up making my way to my foster parents bedroom where I plopped down and passed out, the day had been so exhausting. Once I felt more at ease, I met the other dogs in the home and did great! I am a big ole puppy that doesn't have the best social skills...I have to admit. I am torn between wanting to be alpha and wanting to play with them. I get frustrated if I want to play and the other dogs don't want to play. I will do the play bows trying to get the other dogs to play with me, and sometimes don't stop when I should causing the other dog to get upset. I am learning that I can't get away with certain things and have been corrected by my foster and the other dogs and I am learning. I have already met my foster family's cats and they are quite interesting. We are pretty indifferent to one another and don't really pay one another any mind. Except for this cat that seems to just love me. The other day, she tried to cuddle and play with me! Can you believe that? I had to look at my foster mom because I had no idea what to do with that! My foster mom says my face was priceless! I do wonderful with kids but do like to play and can get a bit rowdy at times. So, the kiddos should be older in my new home. When someone comes over to the house I will let out some barks for good measure. As soon as the people enter my home, they will be greeted by my happy face with my tail wagging like crazy! I love making new friends.

I am an active and playful guy. I like to be moving around and monitoring things around the house. I spend most of my days looking out the window people watching and making sure that everything is as it should be. If you are in bed and the window is by you....no worries! I will climb on top of you and plop down so I can look out the window and watch the outside world. Just consider me your second blanket! I love to play in the backyard but am not leash trained. It is hard to believe considering I am almost two years but my foster family is helping teach me the proper etiquette of being a leash. Once, I get the whole leash thing I would definitely be up for hikes with my family. I am big on exploring and spending time with my people, so going for a hike seems like an amazing pass time! I know fetch is another common pass time for dogs and their people but I am not about it. I will however chase a thrown ball or stick. I won't bring it back though. Instead, I will taunt you with it and try to get you to play a game of keep-away with me! I love running around like a total clown while you try to catch me. Other than sticks and balls, I have not shown much interest in toys. I would love the chance to go swimming but as of right now I have no idea if I would enjoy playing in the water or not.

I am a well behaved boy indoors and am not a chewer. Now with that said, I have my mischievous moments and stole a sponge paint brush that was lying out, but for the most part let things be. I am also aware that the house is not my toilet and am fully potty trained ?. My last home used to kennel me, but I ran away from it in my foster home. I want nothing to do with it and since I am well behaved when outside the kennel, my foster family hasn't pushed me on the matter. When they are away, I stay in their bedroom and do well. At night, I like to sleep in bed with my foster mom's son. And if not in there will stay close by in the bedroom. I have to say that I am drawn to the son and feel the need to guard his room from the other dogs. I consider it "our" space, but am fine sharing all the other rooms and beds with the other dogs. Just not his room. I think that I would enjoy apartment life, it would be so fun to stay out the window and watch as other people and their dogs walk by. I would need a good exercise plan in place, I would go stir crazy if I were left to just sit in the apartment all by myself all day long. I definitely want to go on walks, meet other dogs and people, and see what the outside world holds! I do bark but it is usually to let you know when I hear something. Such as your 12th Amazon box for the week being delivered or if I hear people frolicking outside our home. And if the other dogs bark...of course, I have to join in! No way can I be left out of the action!

I know I am not perfect but there is no such thing. I am just going through my teenager stage right now and need a family who understands big dogs. Like most teenagers, I will sometimes see what I can get away with but take direction well. Positive reinforcement is my love language. I would do well with a firm and guiding leader in my forever home. I love to give kisses and explore the world around me. I love to play chase with the kiddos and dogs. I even like to chase soccer balls. I will sit when a milk bone dog treat is available. I will also join you at the dinner table if I think that I can get away with it ?

I didn't deserve the way things ended with my last family but in the end I know it needed to happen. I need a family that will love me for ALL of me. Someone who will continue showing me right from wrong and let me know when I need to be redirected but also not fear me. I have always loved people and despite me being close to 100lbs will happily try to climb on your lap. A lot of times, I think that I am the size of a 10 lb Chihahua!

I want a family that is okay with lots of kisses, hugs, and someone that will be their best friend. I have so much love to give and just want to find someone who will love me as much as I will love them! I don't want to spend almost two years with someone just for it to end like my last family. That was not fair to any of us. So, if you want to bring me home please be sure that you are ready for a dog that will walk on the back of the couch like a cat sometimes. Be ready for a dog that has no concept of personal space and will climb in your lap or plop down on top of you to look out the window. Be ready for a dog that will sometimes test you but at other times make you wonder how you ever lived without me! If that all sounds good to you, then please apply to adopt me at https://www.pyrpawsandfluffytailsrescue.com/adoption-app

Once you have submitted your application, it will be sent on to my foster family for consideration.

I am currently residing in Guthrie, OK.
If you have fallen for me and are out of state, please don't let thay stop you from bringing me home. I am a little nervous to get in the car, but once in will settle down and do great for the remainder of the trip. As long as you are willing to pick me up, I promise to try and be the best road trip partner around!

My adoption fee is $250.
Recommended Pets
Recommended Pets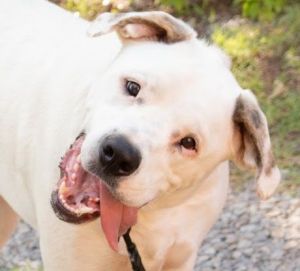 Chief Rainwater
Great Pyrenees
Young
Male