Main Content
Skip carousel of pet photos and or videos
This is an inline carousel of images and or videos of this pet.
Buckles of Sweetwater
Poodle Mix
Pacolet, SC
About
Health

Spayed / neutered.
Meet Buckles of Sweetwater
Thank you for your interest in dog who needs a new home. Adoption can be one of the most fulfilling experiences in your life and especially in the life of your new canine companion.

A note to those looking at CPR. We have no perfect dogs - but many of our dogs have proven to be perfect for a certain someone. Our job is to find those someone's. Our most successful adopters come to CPR not because they want a dog. They come to us because they want to give a dog a home. We urge all of our potential adopters not to fall in love with a picture. While we like to know what you like in looks, a dog is more than a pretty face. Our goal is to match you with the best possible pet for you and your home. We want to create furever families.

Our descriptions contain all that we know about this dog today. We'll update as more information is known.

Are you looking to adopt within the next 30 days? If so please visit our webpage at www.carolinapoodlerescue.org and complete the application. You'll find it in the menu on the left hand side. You'll also find a total listing of all our dogs available.

Just browsing but interested in poodles and poodle mixes? Please drop a note to applications@carolinapoodlerescue.org with your name, address and phone # and email. We'll add you to our mailing list.

thanks
the CPR Adoption team

Date into Rescue: 08/01/2015

Reason for being in rescue: Previous owner released her to a local shelter
Foster location: Dreamweaver Farms, Pacolet SC

Special Needs? Yes - Diabetes Insipidus. What does that mean? Buckles drinks water - all day - and urinates frequently as a result. This is a rare form of diabetes that is caused by a deficiency of the pituitary hormone (vasopressin) which regulates kidney function. This disorder is very uncommon and is not curable. To put it simply - her kidneys can accept water but can't process it correctly, so water passes through her body very quickly. Thus, she urinates frequently and must have 24/7 access to water. Buckles is currently on a hormone-replacement medication (given through eye drops twice per day). It does help some. We are working with her to find out what is the best dosage for her. The medication is about $120 per month.

Weight: 13 lb
Height: est 13 in
Spayed/Neutered: Yes

Adoption Fee: $I'm special!

Fence needed? Yes - Buckles is very active and loves to run.

What kind of home would be best for me? Buckles does have a "house training" issue only because of her condition. For someone who is retired and is home all the time, her house training isn't much of a problem. She must be taken outside every two hours, and her house training is basically controlled. She would love a house with a doggie door. She goes to the door in her foster home if she needs to go out. She wears diapers if her foster mom is going out more than 2 hours. Buckles cannot be deprived of water as it can be fatal to her.

What is my personality like? All that sounds frightening and it is but there is more to Buckles than bad plumbing. Buckles is spunky, friendly and loving. She is energetic and must have a fenced in yard to run in. She gets along with other dogs and cats and would be a great playmate to another dog her size or larger. Buckles is eager to please and bonds quickly.

How do I act when I first meet new people? Happy, friendly and gregarious.

Other Tips and Tidbits: Despite her condition, Buckles is a very happy girl and very adaptable! Her foster mom says she's the easiest dog she's ever had.

House trained? Dogs can be house trained if they are in the right environment and are allowed to follow a schedule as long as a physical reason doesn't keep them from being trained. A dog house trained in my home may not be in yours. We will help you teach your new dog this necessary skill and based on your schedule.

Please note - we do not ship dogs. If you are interested in adopting, please take a look at the distance between the foster home location and your location and make sure you are willing to make that trip. Most of our dogs are at our farm in Pacolet, South Carolina.

To apply, please visit our webpage at www.carolinapoodlerescue.org and visit the tab on the left that directions you to the online application.

Please note that when screening applications, we look at the entire home and then make suggestions based on what would be a good fit for your home. You are not being screened for a specific dog although we are looking to see what type of dog interests you - poodles or non poodles, color, age, etc. Others here may be a better fit for you. It is very difficult to get to know a living animal from a picture and a short description. Since we are constantly getting in new dogs, this may be a dog not in our listings yet. We want you to be very happy with your new companion and will make suggestions based on what you tell us about you.

Thank you for considering CPR.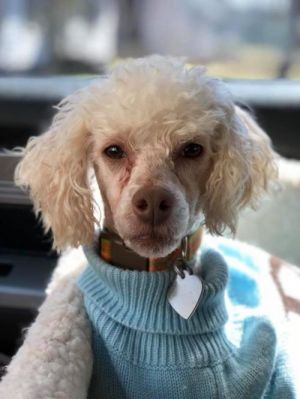 Ask About Buckles of Sweetwater
To
Carolina Poodle Rescue
Recommended Pets
Recommended Pets