Adopt a Puli
Family:
livestock, herding, gundog
Area of origin:
Hungary
Original function:
sheep herding
Average size of male:
Ht: 17, Wt: 25-35
Average size of female:
Ht: 16, Wt: 25-35
Other names:
Hungarian Puli, Hungarian Water Dog
•••••

Energy

••••

Exercise

••••

Playfulness

•••

Affection

••

Friendliness towards dogs

•

Friendliness towards other pets

••

Friendliness towards strangers

•••

Ease of training

••••••

Watchdog ability

••••••

Protection ability

••••••

Grooming

•••••

Cold tolerance

•••

Heat tolerance
Puli Dogs Available on Petfinder Right Now
Watch Video About Puli Dogs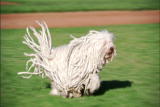 Dogs 101: Puli
Puli Dog Temperament
A mop on springs, the Puli is full of bouncing energy. He is busy and curious and needs daily exercise. This smart dog is also headstrong and tough. Alert and watchful, he is also protective of his family. He barks a lot.
Puli Dog Care
This is an energetic breed on the lookout for a job. He can be satisfied with a good walk or jog, or a lively game and training session, however. He makes an excellent house dog. His coat can hold debris. His nonshedding coat can be brushed or corded; if brushed, He needs brushing every one to two days. If corded, the cords must be regularly separated because the coat tends to hold dirt; bathing is time consuming and drying takes as much as one day. Pets can be clipped, but then part of the breed's unique appeal is lost.
Puli Dog Health
Major concerns: CHD
Minor concerns: none
Occasionally seen: PRA
Suggested tests: hip, eye
Life span: 12-16 years
Interested in the history of the Puli dog breed?
Around the 9th century, the Magyar tribes came from the eastern Urals to occupy the central Danube area, intermingling with Turkish people along the way. They brought with them various Sheepdogs, including the forebear of the modern Puli. The Puli's resemblance in body structure to the Tibetan spaniel has led some to surmise that the latter may have played a role in the Puli's development. Whatever the origin, the small dogs were agile sheep herders, able even to turn a sheep by jumping on its back. The black color was important so that he could be easily spotted by the shepherd among the sheep. Thus, the Magyar's larger dogs were probably used as nighttime guards, and the small black dogs as daytime herders. After the decimation of Hungary by invaders in the 16th century, the country was repopulated by people, sheep and dogs from western Europe. These dogs interbred with the native Pulik to produce the Puli, and then the Puli and Pumi were interbred to such an extent that the original Puli breed was nearly lost. In the early 1900s, an effort began to resurrect the Puli; the first standard was written in 1925. Around that time, Pulik in Hungary varied greatly in height from large 'police' through medium 'working' to small 'dwarf'sizes. The medium-sized dogs were most representative of the traditional herding Puli and were established as the desired size. In 1935, the U.S. Department of Agriculture imported several Pulik in an effort to improve herding dogs in America. This effort was thwarted by war, but the breed's working ability became known in America, and by 1936 the AKC recognized the Puli. The breed's fame spread farther throughout Europe as a result of Hungarians fleeing the war, bringing their dogs with them. The modern Puli remains an adept herder, but he enjoys only modest popularity as a pet or show dog.
Copyright © 1998, 2005 by Barron's Educational Series, Inc. based on
ENCYCLOPEDIA OF DOG BREEDS by D. Caroline Coile, Ph.D.
Shelters with Puli Dogs
Some animal welfare organizations with Pulis ready for adoption: