Adopt an Irish Setter
Family:
gundog, setter, pointer
Area of origin:
Ireland
Original function:
bird setting and retrieving
Average size of male:
Ht: 27, Wt: 70
Average size of female:
Ht: 25, Wt: 60
Other names:
red setter
••••••

Energy

••••••

Exercise

••••••

Playfulness

••••••

Affection

•••••

Friendliness towards dogs

•

Friendliness towards other pets

••••••

Friendliness towards strangers

••••

Ease of training

•••••

Watchdog ability

••

Protection ability

••••

Grooming

••••

Cold tolerance

••••

Heat tolerance
Irish Setter Dogs Available on Petfinder Right Now
Watch Video About Irish Setter Dogs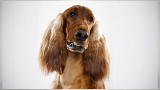 Dogs 101: Irish Setter
Irish Setter Dog Temperament
The Irish setter was bred to be a tireless and enthusiastic hunter, and she approaches everything in life with a rollicking, good-natured attitude, full of gusto and fervor. Given a daily outlet for her energy, she makes a pleasant companion. Without ample exercise, she can be overly active inside or become frustrated. She is an amiable breed, eager to please and be part of her family's activities. She is good with children. She is less popular as a hunter than the other setters.
Irish Setter Dog Care
The Irish needs exercise, and lots of it. It is not fair to take a dog selected for boundless energy and expect her to sit inside. A minimum of one hour of hard strenuous games and exertion a day is recommended. The is such a sociable dog that she does best living with her family. Her coat needs regular brushing and combing every two to three days, plus some clipping and trimming to looks her best.
Irish Setter Dog Health
Major concerns: PRA, CHD, gastric torsion
Minor concerns: epilepsy, megaesophagus, OCD, panosteitis, HOD
Occasionally seen: OCD, epilepsy, hemophilia A
Suggested tests: DNA for PRA, hip, eye, cardiac
Life span: 12-14 years
Note: With the advent of DNA testing for PRA, this problem should no longer be a concern if both parents have been tested.
Interested in the history of the Irish Setter dog breed?
The precise origins of the Irish setter are obscure, but the most reasonable theories consider this breed to have resulted from a blend of spaniels, pointers and other setters, mostly the English but, to a lesser extent, the Gordon. Irish hunters needed a fast-working, keen-nosed dog that was large enough to be seen from a distance. They found their dog in the red and white setters produced from these crosses. The first kennels of solid red setters appeared around 1800. In only a few years, these dogs had gained a reputation for their rich mahogany color. By the mid-1800s, Irish red setters (as they were originally known) had come to America, proving themselves as effective on American game birds as Irish ones. Back in Ireland, around 1862, a dog that was to forever change the breed, Champion Palmerston, was born. With an unusually long head and slender build, he was considered too refined for the field, so his owner ordered him drowned. Another fancier interceded, and the dog became a sensation as a show dog, going on to sire an incredible number of offspring. Virtually every modern Irish setter can be traced to Palmerston. Interest changed from field trials to dog shows, and emphasis changed from hunting ability to glamour. Despite this, the Irish setter remained a capable hunter, and dedicated breeders took steps to retain the breed's dual abilities. The breed increased principally in popularity as a show dog, however, and later as a pet. She eventually rose to a place among the most popular breeds in America in the 1970s, but has since plummeted in the rankings.
Copyright © 1998, 2005 by Barron's Educational Series, Inc. based on
ENCYCLOPEDIA OF DOG BREEDS by D. Caroline Coile, Ph.D.
Shelters with Irish Setter Dogs
Some animal welfare organizations with Irish Setters ready for adoption: