Main Content
Skip carousel of pet photos and or videos
This is an inline carousel of images and or videos of this pet.
Adopted
Valentina and Max (Bonded Pair)
Domestic Short Hair
Milwaukee, WI
Young

Male

Medium

Tabby (Orange / Red)

, Black
About
House-trained

Yes

Health

Vaccinations up to date, spayed / neutered.
Prefers a home without

Dogs, children.
Petfinder recommends that you should always take reasonable security steps before making online payments.
Meet Valentina and Max (Bonded Pair)
Say "Hi!" to Valentina and Max – an adorable pair of young cats Milwaukee Pets Alive rescued from Milwaukee Animal Control (MADACC) on separate occasions that came together and bonded as best friends and companions.

Valentina is a gorgeous, sleek, svelte, and elegant little panther of a black cat with just specks of white fur (like on her chest) scattered about her shiny coat – a perfect backdrop for her striking yellow/green eyes. Valentina is now 1 year and 2 months old, and she got her name because we rescued her on Valentine's Day in 2015!

Max is 9 months old and has beautiful red/orange tabby stripes with white "tootsies" and white accents on his chest and chin. He's a strapping young boy, and though 5 months younger than his older "sister" Valentina (who is full grown), has already surpassed her in size and as a kitten still, still has time to grow more! He's all boy, and the name "Max" just seemed to fit him, and suits him quite well.

Everyone has a story, and Milwaukee Pets Alive strives to show the world that every one of our animal companions does as well. And do Valentina and Max have a story to tell as to how they came to be a pair…

In early February of 2015, MADACC contacted Milwaukee Pets Alive to rescue a very scared little 2 month old kitten. With a commitment to those that need us most, of course we sprang into action and said, "Absolutely!" The little black kitten appeared to have had very little – if any – handling by humans prior to arriving at animal control. Also, the person who found her and brought her there said they thought they had witnessed her being hit by a car! This poor little dear needed our help and fast! Plans were put into motion to have one of our fosters who had several confident cats of her own foster her as while some animals may be scared or shy of humans, they often take to a more confident member of their own species to help show them the world is not so scary…and even fun!

Valentine's Day was the day we had coordinated to rescue her from animal control and bring "Valentina", as she would come to be known, into our care. As we pulled into MADACC's parking lot that day, our director simultaneously received a phone call that Valentina tested positive for FeLV (the feline leukemia virus). For a cat that truly has FeLV, it can be spread among cats. Cats truly with the virus often live shortened life spans (on average 2 years). Young kittens can test positive for the FeLV virus because they are carrying their mother's antibodies so it would not be certain to us for a while if Valentina was truly FeLV positive or not. We would need to wait until after she was 6 months old to retest her to see if she was truly FeLV positive or just carrying her mom's antibodies. But as we say at Milwaukee Pets Alive, every life matters and is deserving of love. If you are here on this earth, you should be loved, and it makes no difference if that is for 1 day or 20 years. A diagnosis or a test result never changes the love we have for an animal. Our commitment to Valentina was unwavering. But our plans on where she would be fostered needed to change to prevent the possibility of transmission to any other cats (if Valentina would truly be FeLV positive) and she would need to be fostered in a home without other felines - at least until we retested her when she was old enough. And that was what was breaking our hearts – a test result wouldn't allow us to utilize the help of other outgoing felines to help socialize Valentina. Other, more confident, animals of the same species are such an important resource when you have a scared or shy animal. Valentina was uncertain of us humans, but at least for now, it was us humans who would have to go it alone and convince her, slowly but surely, that we were nothing to be afraid of. Without the help from our feline companions, we knew we had our work cut out for us.

A foster home with no other felines opened their heart and home to the little black kitten. We had Valentina thoroughly examined by a vet and she didn't have any injuries in relation to the reported hit-by-a-car incident from her finder. Our vet explained that sometimes cars will roll over an animal and while it looks like they were hit, they actually were not. We started her out in a small bathroom (a small space is easiest, and best, for new cats to adjust to in a new home – especially shy or scared cats) to get used to the sights, smells, and sounds of the home in a less threatening way than having access to the whole home at first which is huge to a cat. Despite the already small space of the bathroom, Valentina found ways to make it smaller. She would hide in between the shower curtain. She would hide underneath her cat bed. Finally, she took up residence behind the toilet which was where it was likely you'd find her upon entering the bathroom.

While we managed to get in a few pets here and there, Valentina did not seem as thrilled about them as we were, so with the needs of our animals always our priority, we decided to change our approach to help Valentina. We would tap into her feline instinct to do what every cat is born to do – hunt – and for our pet cats, "hunting" comes in the form of play with all sorts of fun toys that resemble prey – and play is irresistible – especially to kittens!

With Valentina hunkered down in her safety spot behind the toilet, we used several wand toys to "extend the play" out to Valentina while keeping the humans who were still a little scary at a distance. For weeks, we'd extend various wand toys to Valentina behind the toilet. Valentina would watch (as we humans would play with the cat toys). To the untrained eye, and to those quick to dismiss (that work only on human time or what we call, "I need it NOW!"), it may have appeared that these weeks were a failure and would have lost hope – but those people would have missed the magic. While it's true, for weeks, Valentina just watched us play with the toys, but each day, her body and eyes softened. The tension in her body started to melt. We moved the toys back and forth in short, quick, jerky movements (like real prey would move) and eventually it seemed the dynamic had shifted from us trying to get Valentina interested in interacting with the toys with us, to her wanting to interact so bad with them (and she just needed to resign to the fact that in order to do so, the human would be involved in the process). That feline kitten was inside her, wanting to come out, and her humans were committed to waiting it out, wand toy in hand, until she was ready. Then one day, when the Cat Charmer toy slithered its way toward her behind the toilet, Valentina did something amazing. She lifted her paw up and then put it down, ever so slightly toward the toy. It was a little motion, yes, but it was a break through and would be the beginning of the blossoming of the kitten that was there just needing help to feel safe to come out. We quietly left Valentina's bathroom and once outside, jumped up and down with excitement! What may appear insignificant to most, was a huge victory for this little girl.

Each day from there on out brought little accomplishments for Valentina until one day, something really magical happened. Valentina was still calling her spot behind the toilet home base with toys needing to be extended to her. We had gotten a wand toy for her with a cluster of red feathers on the end arranged in almost a bloom. We extended the wand out to Valentina and decided to brush the sides of her face with it (to help her release some of her own natural, calming, pheromones). We rubbed the feathers against her cheeks, over her head, and under her chin…and Valentina came alive!!! She LOVED being draped in the colorful feathers and rolled over in delight, purring, making "air biscuits", and closing her eyes as if she was in her element. Who was this kitten we were witnessing be so confident? We were so happy, we broke into song! "Her name was Valentina. She was a showgirl." We started softly singing "Copa Cabana" to her (which only seemed fitting with her love of "wearing" feathers) and she came into her own even more! She liked us singing to her and it was so precious it was hard not to laugh at the cuteness of it all! Her inner movie star (or showgirl) came out and she was fabulous! Anytime we wanted to help Valentina remember the confident kitten we knew she could be and help her engage in play more and interact with us more, we brought out the red feather wand and a star was born! It was the cutest thing, and "Copa Cabana" became her official, and favorite, song.

Valentina's transformation was miraculous (especially because it was lead entirely by us once scary humans). Each day, she made more progress, and became less worried, and more like a care-free kitten. She would play vigorously with the wand toys behind the toilet and then started to come out to engage the toy as we moved it farther away from the toilet to encourage her to do so until she was out in the open. She would be really into play – and we would hold our breath trying not to squeal with happiness – and suddenly she'd pause as if she thought to herself, "Oh crap, my safety toilet is way over there. What am I doing?" and go running back to her hiding spot. It was brave, sweet, and endearing all at the same time.

As the weeks passed, Valentina grew more outgoing. She sat on the human laps that played with her, and the day she rubbed up against one of us, claiming us as her own, we melted. She spent months in the little bathroom and let us know when she was ready to explore more space in the home, starting with the bedroom attached to the bathroom, then adding the living room, and so on. We got Valentina a cat tree so she could be a part of the family in a new "safety space" where she could feel secure - and confidence it gave her! She would climb to the top where she would look off into the distance as if she was contemplating how far she had come. The cat tree would be referred to as Valentina's "Tower of Power."

We coordinated to have Valentina spayed, and retested for the FeLV virus at the same time, when she reached about 7 months of age. We had been anticipating this day for many reasons – including how hard it would be on this still shy kitten to be transported out of the home she was finally owning and getting used to – and take her away from her comfort to the vet, no less.

Valentina was so scared the day of her surgery. We had spent the past several months building trust and confidence and we were now the same ones trying to coax her into a carrier and off to the scary vet. It broke our hearts and our spirits that we might lose ground and trust. But the trauma of that day quickly turned to elation. A Milwaukee Pets Alive volunteer and Valentina's foster mom went to pick her up after surgery and Valentina's vet came out, trying to hold back a smile so as not to, we would learn, give away the good news before the words came out, and said, "Valentina tested NEGATIVE for FeLV. She was carrying her mom's antibodies." "No way!!!" we said in disbelief. "YES!" our vet reassured us. We slapped the reception counter top exclaiming, "Yes!" "Yes!" over and over. The vet staff all smiled and joined in on the happiness we all had for the little black kitten who had had so many obstacles in her young life and had come so far. This was a victory that filled everyone's soul that day. As aforementioned, we love our pets no matter, and no differently, if they are with us for 1 day, or 20 years, but Valentina's potential for life span went from an average of 2 years for a cat that is truly FeLV positive, to the possibility of any cat of 20 years, plus. And, being FeLV negative, she could now have the feline companionship that is so important for all young cats' and kittens' development in teaching them "how to cat" that we humans can't teach them alone. She could now have one of her own kind by her side reminding her daily of how sweet and fun this life is. And that was reason to rejoice.

We longed for this for Valentina and our wishes came true. We were so excited to begin our search to rescue a friend and playmate for Valentina. Personality matching is the most important thing in bringing animals together. Because Valentina was so timid and unsure, she needed a buddy with just the right mix of qualities to help build her confidence and bring her out of her shell. Had Valentina had any feline littermates before we rescued her that she used to play with? We don't know if she had any experience with other felines besides mom before, so we needed a kitten that was an extra easy going, go-with-the-flow kind of boy. One who was silly and all about play so if Valentina wasn't sure how to play with another cat, he would continue to try to engage and encourage her until she got it.

In September there were so many cats and kittens looking for rescue at MADACC. The little one we would choose would have a big job to help another feline in need. There was one that was front and center in his cage, paw sticking out as if volunteering, "I will help if you help me!" He was orange and white and your typical young boy cat. He played with his toys in his cage as if he was having the best time ever, and not in the very scary place that he actually was. He was silly and funny and tried to reach out to play with us through the cage bars and stood on his head and did a somersault when he couldn't quite reach. He was about 5 months younger than Valentina, but not much different in size, and his personality was perfect. There was no doubt we had found the perfect friend for Valentina. We'd call him Max, and "Valentina and Max" had a nice ring to it.

Max was the "new kid" so started out in Valentina's old bathroom. The very night he came to his foster home, Valentina slinked over to the bathroom door to peer under it, trying to get a glimpse of who was in there! She was curious, and we were so excited about it.

We did slow and proper introductions and Max and Valentina "danced the dance" to get to know each other, to communicate what were acceptable interactions with each other, and what was too much. When Max gained full access to the home, he was like a kid let loose at Disney Land – he had to try out everything – including the cat tree, or "Tower of Power", that once was only occupied by Valentina. Little Max tried to go on the top level, but Valentina let the little guy know, that was her spot. Max obliged and accepted his place on the perch below her.

Only a week after introductions were complete, we witnessed the culmination of 7 months of trying to give Valentina everything we could to live her best life, and all of our hopes and dreams for her were realized. One evening we saw Max go trotting through the living room. For the first time ever, about 2 feet behind him, prancing like a little deer in pursuit of her new friend, happy-go-lucky and carefree like a kitten should be, was Valentina. We had never seen her like this, though it's all we ever wanted. She was who she was always meant to be with Max showing her the ropes. Never underestimate the power of friendship.

Valentina and Max's original foster mom had to move out of state for work shortly after Max's arrival but a nice family that could offer them a quiet and calm environment stepped forward to help the duo and became their new foster family. Moving residences was very difficult on Valentina, but with the patience, support, and calm of their new foster family, Max and Valentina have thrived and flourished in their home!

Valentina is, and likely always will be, a little shy with people. She needs to be given time to trust and takes to the calmest, gentlest personalities best. Valentina bonded with her human foster sister who emulates these qualities and enjoys laying on the bed with her where they will watch TV and take naps. Valentina's human foster sister nicknamed her "Tina".

When Valentina is hanging with her human foster sister, Max keeps himself busy. He is a very active boy. Max plays hard…and then sleeps hard. We have a series of photos of him we like to call, "the many sleeping positions of Max." He will fall asleep anywhere, in the funniest positions. The cutest may be when he is tired and his human foster sister lifts him up and he lays back, reaching his arms over his head, making himself as long as possible, and will just stay like that, expecting his humans to support his body in this extension. We call this "kitty yoga." Everyone that meets Max calls him a ham. He's very photogenic, too (as you can see). In Max's spare time he enjoys playing in cardboard boxes and empty paper grocery bags, drinking from the faucet (Max is fascinated with the sink and where all that water goes), and showing his athletic prowess. Max loves to jump up high to swat at glitter balls tossed into the air. His leaping ability gained him the nickname "Super Max". We hear the Packers may be interested in drafting Max as a wide receiver.

While they may be off doing their own things occasionally, Max and Valentina are usually together getting into some kitten antics. Their favorite activity together is using the long hallway in the house as a raceway to chase each other up and down, taking turns on who chases who. They do love to wrestle each other as young cats do ("Wrestlemania" as their foster family calls it) and though Valentina can be shy with people, she is not with Max at all! She initiates Wrestlemania just as much as Max. Max may be sleeping, a cute ball of orange fur, and Valentina decides it's time for him to get up and play, so the games begin! Valentina and Max love, love, love playing with wand toys and glitter balls with their humans – you will tire out before they do (a hidden treasure of glitter balls can be found under the fridge and other furniture where they bat them and then can't get them out, so make sure you are stocked up on these favorites). Valentina and Max still battle it out for the top perch of the cat tree on occasion, but sometimes they just call a truce and squeeze together on the top level to nap. They also like to sleep together in their soft cat beds where there is barely enough room for them both – but that's what makes it cozy. When it's time for a more mellow activity, Max and Valentina can be seen sitting together, looking out the windows watching the birds, squirrels, and other wildlife – a favorite pastime for them both.

Both these kitties LOVE to eat – especially wet food. They'll come running for it! Max tends to "inhale" his food, and moves on to Valentina's when he's done with his, so best to occupy Max while Valentina finishes her meal.

Max likes to come sit in between his foster dad's legs when he reclines back in his favorite chair. On occasion, Valentina has done the same! Very brave of her! Both cats can be regularly found sitting or sleeping next to a member of their foster family, usually on one of their favorite fleece blankets.

Valentina and Max are so important to each other – companions, playmates, and best friends forever. The day Max went to his neuter appointment, Valentina paced the home meowing, sad and lost without her side kick – even for just those few hours. An adorable, precious pair, these two are obviously so bonded and looking for a home together where they'll never be apart.

Valentina and Max need a calm and quiet home with not a lot of human activity (no young children, please) so Valentina can continue to live her best, most confident life with Max by her side – similar to the environment they have in their foster home. It takes Valentina awhile to get comfortable with new surroundings, so a forever mom and/or dad that doesn't move residences often would be best for them. This bonded pair would also prefer a home without dogs.

Valentina will likely always be a more cautious kitty, and she doesn't like when humans tower over her. She appreciates that when you approach, you do so at her level (by crouching or sitting down) so you don't seem as imposing. She is very comfortable with her foster family (especially her human foster sister who has such a peaceful energy about her) who is respectful of her need to feel secure. Their care in helping Valentina to feel most confident by being patient with her and letting her blossom on her own schedule has helped Valentina to learn to come out and spend time with some regular guests (friends and family) who are also respectful to go slow with a shy kitty. Valentina's human foster sister is really her "person" and with her present, Valentina feels extra safe, and will even come play with some wand toys with visitors that she doesn't see that often! The support system her foster family provides her is wonderful for both Valentina, as well as all the people who are then lucky enough to meet and interact with her, because they have offered her such a nurturing environment to feel confident in. Valentina will take time to get comfortable in a forever home, but if Valentina is given all the tools to succeed described above, and you allow her to do so on her terms - and with Max's guidance of course - you will make such a difference in the lives of 2 amazing cats that have had quite the journey to be ready for a forever home of their very own.

Your heart will be warmed in watching the interactions of Valentina and Max. Will you provide a loving forever home to these cute kitty friends?

Companion animals are family. They are not "less than", "below", "beneath," or any different from human family members. They are one and the same to us and we seek those adopters who share the same philosophy and feel the same way about these, the most amazing beings we are so privileged to share our lives with. The adoption fee for this bonded pair is $130 and, like all MPA adoptables, Valentina and Max are spayed and neutered (respectively), microchipped, and vaccinated. If you live in the Milwaukee Metro Area, if you have what Valentina and Max are looking for in their forever home and will promise to love them always (and know you're lucky to have the opportunity to do so), contact us today!

About Milwaukee Pets Alive

Milwaukee Pets Alive is a 501(c)3 nonprofit organization dedicated to ending the killing of Milwaukee's homeless pets through comprehensive programs and resources benefiting and serving the people and companion animals of Milwaukee first. Our top priority is that all healthy, treatable, and rehabilitatable animals at Milwaukee Area Domestic Animal Control Commission (MADACC) achieve live outcomes.
Recommended Pets
Recommended Pets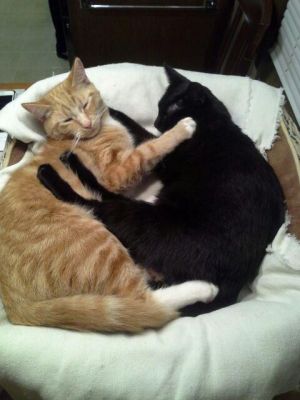 Valentina and Max (Bonded Pair)
Domestic Short Hair
Young
Male