Main Content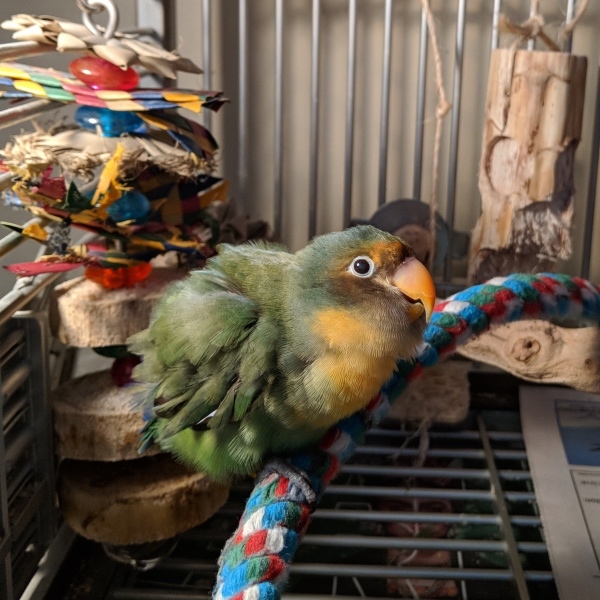 Adopted
Coquito
Parrot
Lovebird
Asheville, NC
About
Health

Special needs. Coquito needs flat surfaces and perches low in the cage as his balance and grip are not great. So, a tabletop cage that has a lot of horizontal space is preferable for him.
Meet Coquito
Coquito is a 15+ year old lovebird, looking for his retirement home. He isn't fond of hands, and is a pretty easy keeper. He just wants shreddable toys to destroy, and good foods. He loves healthy pumpkin bread made for parrots (without sugar), and millet as a special treat. His favorite toys to destroy include Wesco kabob toys. He has a special cage set up, with low perches, so he can get around easily. He's had a physical exam and bloodwork done, and everything came back fine. He tested negative for beak and feather disease. He's just an older bird who wants projects to keep him busy, good food, and to take a few naps through the day. He cannot fly, but does some flapping exercises on his own each day to stay fit. Coquito is currently in a foster home near Asheville, NC.

Interested in learning more about Coquito?

The best way to learn more about him is to complete our parrot match application, found under the "Adoption" tab on our website, www.phoenixlanding.org and send it in so you will be connected with the adoption coordinator for your area. Attending one of our core parrot care classes is also required in order to adopt a parrot. A list of them may be found at https://www.phoenixlanding.org/events.html. Those classes that count as part of the adoption process are noted with an icon beside their title.

Phoenix Landing offers educational classes and facilitates parrot adoptions in Maryland, D.C., Virginia, North Carolina, and northern Florida. Phoenix Landing does not ship birds.

Recommended Pets
Recommended Pets
Did You Adopt Coquito?