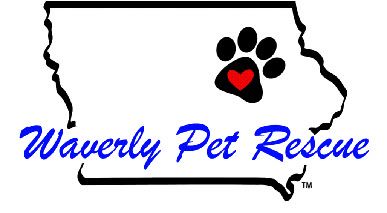 PO Box 291
Waverly, Iowa 50677
waverlypetrescue@mchsi.com
Waverly Pet Rescue is NOT closing.
The recent announcement by Waverly Humane Society that they are closing
their operation in December, 2010 has caused some confusion.
Waverly Pet Rescue has never been associated with Waverly Humane Society.
We are totally separate organizations.

Waverly Pet Rescue is an all volunteer, no-kill rescue based in Waverly, Iowa.
Our adoptable animals live in loving foster homes.
Waverly Pet Rescue is a 501(c)3 non-profit organization.
Your donations are tax deductible.
CLICK HERE to see our available Cats.
(updated daily)
CLICK HERE to see our available Dogs.
(updated daily)
CLICK HERE to see our available Rabbits.
(updated daily)
CLICK HERE for our online adoption application.
(please scroll down and read the "Adopt A Friend" section
before completing the application)
CLICK HERE

to see our adopted "Happy Tails".
---
**Cat Special**
We have had these kitties for a long time and would love to see them in
forever homes.
Their adoption fees have been reduced to $50.00 each.
Please consider adopting one of these kitties today:
2012: Oreo, Midnight, Payton, Gypsy, Esme.
2013: Mystery, Tinkey, Bentley Girl, Mystic, Piper, Thunder, Misty, Bridgette, Christopher, Julia Ann.
Senior kitties with $25 adoption fees are: Diamond, Skylar, Sweet Charity, Felix, Squeakers, Sally Ann, Blackie, Bowie & Iggy, Zeke, Missy, Sammie, Phoenix, Bubba.
**Our Featured Pet**

Felicia!
You can visit her at PetSmart, 1506 Flammang Drive in Waterloo.
Please see pet list for her profiles and pictures.

Kittens!


You can visit them at PetCo, 1237 Flammang Drive in Waterloo.
Please see pet list for their profile and pictures.

**NEWS!**

Waverly Pet Rescue thanks Krissi Lea Photography for volunteering to take photos of our adoptable animals.
website: www.krissileaphotography.com

Deciding whether or not to declaw your kitty can be difficult. You certainly
don't want kitty using your new sofa as a scratching post, but there are
alternatives to consider before you go to the extreme measure of declawing.
Keeping claws trimmed and directing kitty to an appropriate scratching post is an
option that works in many cases. You could also consider the "claw covers" available
at your local pet store and online. After trimming kitty's claws, put a dab of the adhesive
included with the claw covers on the claw and position the soft cover. As kitty's claws
grow, the covers will eventually come off and you can repeat the process. The covers
are available in several different colors so let your creative side shine!
As always, find a veterinarian you trust and ask him/her about various alternatives
to declawing. Your kitty will thank you!

**Our Organization**

Waverly Pet Rescue has been in continuous operation since August, 2006.
The organization was conceived and is operated by a fifth generation Waverly
native with a passion to help homeless animals.
Waverly Pet Rescue primarily serves small towns in northeast Iowa without
animal shelters or other means to care for homeless animals.
Waverly Pet Rescue animals live in loving volunteer foster homes until
adopted… no matter how long that takes.

Waverly Pet Rescue finds homes or suitable no-kill placements for
approximately 500 homeless cats and dogs each year.

During the past eight years, Waverly Pet Rescue has grown into a network of
foster homes, caring veterinarians and other volunteers, each bringing their
own skill set and love of animals to the organization.

Waverly Pet Rescue operates solely from donations and adoption fees.
We do not receive any grants or funding from the communities we serve.

Our administrative expenses are minimal, but the veterinary bills for our
animals are significant. Each animal is fully vetted before entering a foster
home and we always give our animals the care they need…sometimes at great
expense. Often, the adoption fee for an animal does not begin to cover the
actual cost to Waverly Pet Rescue for that animal's expenses.

**Donations Needed**

If you would like to help, monetary donations are greatly appreciated
and are used to help pay medical expenses for the animals in our care.
Please send your donation to the address at the top of this page.

Donations via credit cards are accepted with PayPal.
Please click on the button below to make a much needed and much
appreciated donation.

We always urgently need volunteer foster homes for the many animals we
would like to help. If you are interested, please email us for more information.

Donate your Iowa 5¢ returnable cans and plastic bottles
to help the animals in our foster system.
NORBY'S FARM & FLEET 1901 4th St. SW, Waverly
Drop off bin located just inside the gate, during business hours.
Monday - Friday 7:30 am – 6:00 pm; Saturday 7:30 am – 5:00 pm;
and Sunday 10:00 am – 4:00 pm.
WALGREENS 320 West Bremer Avenue, Waverly.
Drop off 24 hours a day in bin on the south side of the building.
**Adopting a friend: IMPORTANT**
1. Waverly Pet Rescue does not hold pets. If asked for further information,
you should provide it as soon as possible or another home meeting all qualifications may
be chosen to adopt the pet you want. Please arrange to see the animal you
want as soon as possible because again, we do not hold them.
2. We do not adopt on a first come, first served basis. We select the best home.
3. We reserve the right to refuse anyone a pet, for any reason. We are devoted
to the animals in our care and do all we can to make sure they are placed in good
homes.
4. Waverly Pet Rescue is operated solely by volunteers. Please be patient with
our response back to you.
5. All prospective adopters are required to complete the application and interviewing
process before adoption approval.
6. No dogs will be adopted if they will be kept strictly outside. Cats will only
be adopted if they are to be kept strictly inside. If not already done,
all animals must be spayed or neutered within 30 days of adoption.
**Come Visit Us**
Waverly Pet Rescue is not a shelter; all our animals are in foster homes.
To be eligible to visit an animal, you must first fill out an application; then we
can arrange for you to meet the pet you are interested in.
If you would like to adopt one of our pets, please click on the online application link
at the top of this page or email us at waverlypetrescue@mchsi.com and an application
will be mailed to you.
---
Waverly Pet Rescue
PO Box 291
Waverly, IA 50677
Email: waverlypetrescue@mchsi.com