Save Our Strays, Inc.
Click here to see our adoptable animals!
---
We will be having an OPEN HOUSE this SUNDAY SEPT. 28, 2014 from 11am-2pm. Stop by to meet our quirky cats and sweet dogs!
ADOPTION HOURS
Please consider our hours of operation and arrive about 20-30 mins before we close. We want to make sure that you will have time to view the animal you are interested in. If you cannot make our adoption hours, please call or email us to see when an appointment may be scheduled.

Monday -- By Appointment
Tuesday -- 5:30pm-7:00pm
Wednesday -- CLOSED
Thursday --By Appointment
Friday -- By Appointment
Saturday -- 10:00am-1:00pm
Sunday-- By appointment, serious inquiries only.


---
Meet MAIZIE!!!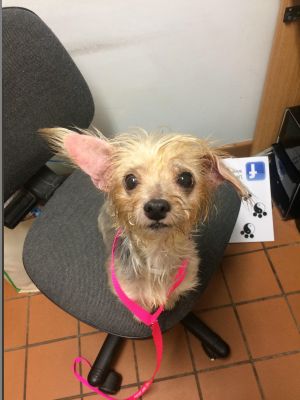 Maizie along with 3 of her brothers/sisters were dumped by their "human" at a dead end street. They were left confused and scared while she drove away. Luckily, for them some good samaritans saw what happened and gathered everyone up and called animal control. Now Maizie and Nellie are left while everyone else has found a home. Maizie came to us in bad shape. She barely had any fur, cherry eye, and obviously has had puppies. Well now Maizie is all fixed up and ready to go. Maizie is up to date on vaccines, tested negative for heartworm, she has been spayed and has had her cherry eye fixed. The only thing that is left is her skin condition which she is receiving medicated baths for. Maizie is a real sweetheart and has not let her past hurt her good spirits. Maizie is the kind of dog who likes being around you, so someone who is home a lot would be ideal. She loves going for walks but also loves to hang out close to you and sit in the same chair and share your space! Come in and meet this little gem! For hours please check our website.


---
Meet COTTON!
Cotton is our newest cat. She is pure white, very cute and she knows it! At about 5 years old she was found on the streets of New York and made her way to us. Cotton is a skinny girl right now so she could use to gain a couple pounds. She is friendly and affectionate to people; she often reaches her paws out to us as we're walking by -telling us to show her some love! She would do best in a home with no other animals due to her fearfulness. Come in and meet her as she is looking for her furever home!.



---

Who We Are Save Our Strays, Inc. is a non profit animal welfare organization. SOS was founded by Dr. Joan Poster over 20 years ago. Our facility operates out of Poster Animal Hospital in Westport, Connecticut. Our lucky rescues receive the best of medical care along with lots of love from Dr. Poster's wonderful, compassionate staff as well as time with our dedicated volunteers. We are committed to the welfare of all the animals in our care and community.



---

The Adoption Process Save Our Strays, Inc. takes our responsibility very seriously when it comes to adopting out our animals. We hope that as you review the following information, you will understand, appreciate, and support why we feel such a process is necessary. The prospective adopter must complete an adoption application before meeting any of our animals. An interview with an adoption coordinator and the prospective adopter and his/her family is required. At this point, a $25 Non-Refundable deposit will need to be made so we may check your references. We will verify veterinary references and need proof of landlord permission (if applicable). We would like to advise you that the whole adoption process can take anywhere from an hour to a few days, depending on the circumstances. Lastly, a non refundable adoption donation will be requested (minus the $25 application fee). This helps to cover the cost of the medical care, feeding, and boarding of our animals.

The donation fees are as follows:
-- Adult Cats--$150.00
-- Kittens (up to five months)--$175.00
-- All Dogs-- $300.00
All donations must be paid by either cash or credit card. All of our adoptees are current on age appropriate immunizations and spayed or neutered before placement, unless their age or health requires it be done at a later time. If the animal has not yet been altered, an Early Spay/Neuter Agreement must be signed and the alteration is covered in your donation fee.

NOTE: As a general rule, we cannot hold animals for anyone. If you are interested in a particular pet, you need to ensure that you are available to see that pet as soon as it is ready for adoption. Also if you are approved for adoption, the animal needs to go home the day they are ready. If you cannot pick them up that day, you may need to pay additional boarding fees, because we need to make room for new animals!



---




Save Our Strays is proud to participate in the Maddies Fund Pet Rescue Project. Please click the following picture for more information on Maddies Fund:





---




To continue helping these animals, money is a necessity. If you can not adopt or foster an animal, please consider donating!! If you would like to sponsor or donate please click the DONATE button below or e-mail us at adoptm@aol.com. Your donation will help pay for veterinarian expenses, spay/neuters, shots, food, and other necessities we need in order to keep the dogs and cats healthy and happy! Save Our Strays is a 501 (c)(3) non-profit organization, which means all donations are tax deductible. Save Our Strays, Inc. also has a contributor that made The Muffin Fund. This was created in honor of her previous diabetic cat named Muffin. The funds donated towards The Muffin Fund is used strictly for felines needing medical attention, and to assist people in keeping their cats. If you are a cat lover, then donating to The Muffin Fund would be a great cause!



---


Save Our Strays, Inc.
1677 Post Road East
Westport, CT 06880
(203) 255-0514
Email: Adoptm@aol.com






---




Click here to see our adoptable animals!