Featured Pets...
Hi, my name is Brownie.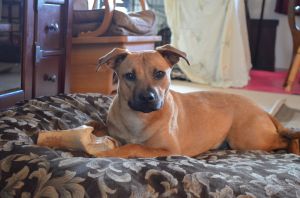 Brownie is a spayed 7(-ish) month female puppy. She's 18 inches at the shoulder and 33 pounds. She has not grown any taller in the last month and only put on another pound. She is free fed Taste of the Wild venison puppy chow. She is a fun, eager to please, loving, high energy, very intelligent and protective dog. She is a little cautious (almost timid) on first meetings and new situations but once she accepts you it's all fun & games. Brownie has been fostered with very involved children (6yrs & 18 months), a rescue cat, a rescue chicken, a rescue dog and her litter mate for he last four and half months in our home. Her litter mate became very jealous and dominate, so we have had to keep them separated. We felt Brownie was the more adoptable of the puppies and that's the only reason why we are letting her go. Brownie is housebroken, crate trained and uses the doggie door freely. Walking on a leash is a work in progress and she is frightened of loading up into a vehicle. She calms right down for the ride and travel. Please contact 928 551-0051 or email wardandtonya@aol.com to find out more about Brownie.

See our animals available for adoption!

Please help us pay for veterinary services for our foster dogs! There is an easy to use PayPal donation button below. We are an all-volunteer group, and 98% of our funds go towards the animals.


Who We Are
Blackhat Humane Society is a non-profit organization established in 2000. We are dedicated to rescuing and finding homes for abandoned animals and livestock. We are one of the very few Humane Societies on the Navajo Reservation (an area roughly the size of West Virginia). We have a tremendous problem with pet overpopulation. Cats and dogs are allowed to breed freely and survive on "what they can catch". Puppies and kittens are routinely dumped at local gas stations and grocery stores. Parvo, distemper, mange and untreated injuries are the cause of death for most companion animals. It is rare to see a dog or cat over 2 years of age. Once the backbone of the Navajo economy, horses, sheep and cattle now roam the open range, foraging for food.

Our goals include; education for all ages but concentrating on school-age children and a mobile clinic. We also need volunteers to help produce videos (in English and Navajo) which will be shown in the local chapterhouses and in our schools.
We are in need of volunteers and donations. Blankets, food, dog houses and crates, vet supplies and medications are helpful to our cause. Our greatest need is for more foster homes on or near the Navajo Nation. If you are interesting in fostering a pet, please contact us for details. Our foster volunteers are supported with vaccinations and spay-neuter reimbursements for their foster animals.
Adopting a Friend
Rescued animals are fostered in the homes of our volunteers. Here, they are given vaccinations, spayed or neutered, and taught the "social graces" neccessary to living in our world. Please contact the foster family of the animal in which you're interested for information. Our adoption fee is $75. Get an adoption application at our website: http://www.blackhathumanesociety.org.
News!
---
Blackhat Humane Society
P.O. Box 3123
Durango, CO 81302
Phone: (724) 355-9053

Email: blackhathumane@gmail.com



EIN# 86-0982150


---