Featured Pets...
Hi, my name is Benji.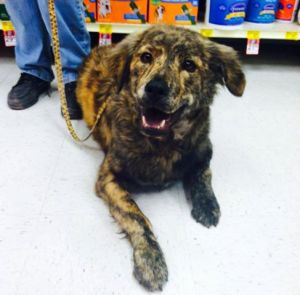 Meet Benji! He's a playful lab/pittie mix who was found on his own, hanging around a gas station in Sanders. No more cold, hungry nights for this boy! He is very playful and really likes attention from people. With looks like that, he should have no trouble attracting attention wherever he goes. He likes playing with other dogs whenever he gets the chance. Look at that face.......it just says "fun", huh? Benji is currently about 6 mos. old and will probably be mid-sized to large when he's all grown up. If you think he might be the boy for you, please contact his foster mommy, Chris, at (928)245-3890. The adoption fee for Blackhat Humane is $75.00. All animals will be up to date on vaccinations and spayed/neutered as age allows. We may be able to help with local transportation in the 4 corners area.

See our animals available for adoption!

Please help us pay for veterinary services for our foster dogs! There is an easy to use PayPal donation button below. We are an all-volunteer group, and 98% of our funds go towards the animals.


---
Blackhat Humane Society
P.O. Box 3123
Durango, CO 81302
Phone/Text: 970-317-9253

Email: blackhathumane@gmail.com



EIN# 86-0982150

2013-14 Officers

Please welcome and congratulate the new Blackhat Humane Board Members and Officers:
xxxxxxxx, President
Maggie Gruschow, Treasurer
Michaela Brady, Secretary

Members at Large:
Skip Radau
Mary Vitt
John Schnetzer

Southern Foster Contact:
Maria Bahr
Eastern Foster Contact:
Jasmine Mayne

A big ahehee to all of our friends for all your love and support! Thank you!



---
Who We Are
Blackhat Humane Society is a non-profit organization established in 2000. We are dedicated to rescuing and finding homes for abandoned animals and livestock. We are one of the very few Humane Societies on the Navajo Reservation (an area roughly the size of West Virginia). We have a tremendous problem with pet overpopulation. Cats and dogs are allowed to breed freely and survive on "what they can catch". Puppies and kittens are routinely dumped at local gas stations and grocery stores. Parvo, distemper, mange and untreated injuries are the cause of death for most companion animals. It is rare to see a dog or cat over 2 years of age. Once the backbone of the Navajo economy, horses, sheep and cattle now roam the open range, foraging for food.

Our goals include; education for all ages but concentrating on school-age children and a mobile clinic. We also need volunteers to help produce videos (in English and Navajo) which will be shown in the local chapterhouses and in our schools.

We are in need of volunteers and donations. Blankets, food, dog houses and crates, vet supplies and medications are helpful to our cause. Our greatest need is for more foster homes on or near the Navajo Nation. If you are interesting in fostering a pet, please contact us for details. Our foster volunteers are supported with vaccinations and spay-neuter reimbursements for their foster animals.
Adopting a Friend
Rescued animals are fostered in the homes of our volunteers. Here, they are given vaccinations, spayed or neutered, and taught the "social graces" neccessary to living in our world. Please contact the foster family of the animal in which you're interested for information. Our adoption fee is $75.
Tshirt color is gray, and tshirts cost $15., which includes shipping and handling. Please order tshirts by using the PayPal Button below, or you can send a check, plus the size, and your shipping/mailing address to: Blackhat Humane, P.O. Box 3843, Chinle AZ 86503. Please make sure to note on the check that it is for a Tshirt!
News!
If you would like to receive an electronic copy of our newsletter, instead of a printed and mailed copy, please email Skip at blackhathumsoc@gmail.com. Thank you!
Update from the Carter Family in November: Minion's Homecoming!


When Michelle and I began looking for a dog back in the summer, we both agreed there was more to it than finding our perfect pooch. We believed that special match comes when the dog chooses you as well.

We searched the internet, read the paper and met several great dogs. However, the connection wasn't there. Then, we saw a listing from Blackhat. In that listing was a cute puppy with a one of a kind face... Minion. We went to meet her at PetSmart in Flagstaff and instantly fell in love with her. Better yet, Minion fell in love with us. While there, we were also informed that Minion would need major surgery to remove her back, left leg as the result of serious injury some time ago. What stuck with us was Minion's personable and loving demeanor, even though she couldn't use her injured leg.

After talking with our boys, we decided Minion was "the one". It was decided to let Minion recover from surgery with her foster before coming home to us. Those four weeks seemed to drag on and on.

When the day came, we all rushed over to the adoption fair and saw Minion for the first time since surgery. She was as happy as ever! We were excited to get to bring her home.

She has been with us for nearly two months now. She quickly established herself as a part of our family. She continues to show her outgoing personality and loving character. She loves her boys and looks for them when they are not here. We love her being here. She is truly a member of our family.




We have attached a picture so you can see how big she's getting! Thank you Blackhat for all the great work you do! Thank you for helping Minion pick her forever family!
Late October Adoptions!!
Spartan headed to his forever home with a doggie sister, 4 kitties and a miniature horse to play with!


A home for Hakatai! We're so happy, and we wish you a wonderful life together!
September PetSmart Flagstaff Adoption Day a Big Success!
Plath was the first puppy to be adopted September 14, and was literally only in the store for 10 minutes! Her new family immediately fell in love with her, and had been looking for a companion for weeks. Now this dainty little girl lives in a houseful of women who will treat her like the lady she is!
Edgar was finally adopted by a loving family with 2 little boys to keep this active and loving cat busy! Edgar was surrendered at the Soul Dog clinic after being attacked by a group of dogs and was in Blackhat care for 2 months!




Due to generous donations from loving Blackhat supporters, Minion was able to have her back leg amputated! After her surgery and recovery, Minion was finally united with her wonderful adoptive family, where she is already spoiled rotten!



Thank you PetSmart Flagstaff and PetSmart Charities for making these awesome adoptions possible, and thank you to all of the families who are now part of the extended Blackhat family!







Spock's Story, by foster Michaela Brady

It's hard to believe that it has been over a year since I convinced a very young, scared, German Shepherd blonde beauty into my apartment. At first, Spock was very skiddish and terrified of even my friendliest advances. After a few weeks, however, he slowly began to come out of his shell. Months went by, and even though Spock was trained, quiet, and friendly, he still wasn't receiving interest from potential adopters.

In November of 2011, the annual fall adoption day was taking place at the PetSmart in Flagstaff. I decided to take Spock and one of my foster puppies. Of coarse, as we were leaving, tricky little Spock decided to escape the fenced in yard. Due to Spock's fear and anxiety, he was a very difficult dog to coral and get into a car. A half hour went by and I was about to give up since I was running late, but after a last ditch effort, I got him...and thank goodness I did!

Story continues here...