Rabbit Rescue Inc.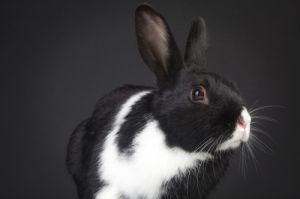 Our Featured Pet...
CHANCE IS OUR BUNNY OF THE MONTH!!
Chance was rescued by a team of RR volunteers. He was dumped outside by his previous owner and left to fend for himself. Chance is very social and very active. He loves people and runs to greet anyone that comes to visit him. More info to come as his foster family gets to know him better. Update: Chance was neutered in Aug '11 .
IN THE NEWS
URGENT! Foster homes, supplies and donations are desperately needed!
If you think you would to foster for Rabbit Rescue, please contact us through this link.
Rabbit Rescue rescues hundreds of animals each year. While we primarily rescue rabbits, we also take in a gerbils, hamsters, mice, chinchillas, hedghogs, degus & sugargliders!!
Not sure if a rabbit is right for you? 'Test Drive' a rabbit today - we are always looking for foster people to love our bunnies until permanent homes can be found. We will teach you all you need to know about rabbits. This is a great way to help a rabbit in need and to see if a rabbit is right for you!
Who We Are
Rabbit Rescue Inc. is a REGISTERED CHARITY (BN 86095 9824 RR0001) that helps find new homes for domestic rabbits that are unwanted, abandoned, abused or neglected. Rabbit Rescue works with a number of animal controls, shelters and individual owners around the city to find these rabbits new loving homes. Rabbit Rescue Inc. is a no kill organization.
The Objectives of Rabbit Rescue Incorporated are to develop and provide programs and services that educate the public regarding animal welfare, and to provide protection and adoption services for domestic animals under risk of cruelty.
100% of donations go directly to the rabbits and we are happy to issue tax receipts for donations received
Wish List
Colour Copier
Foster Homes
Volunteer Drivers
Monetary Donations for medical and daily care
Cages of all shapes and sizes including dog crates
Animal carriers of all shapes and sizes
Water Bottles
Litter boxes all sizes
Yesterdays News/Daily Scoop litter, WoodStove Pellets
Timothy hay, alfalfa hay, pellets
Rabbit Toys
Large Containers for storing food & supplies
Grooming supplies - brushes, nail clippers
Canadian Tire Money
Office Supplies
Adopting a friend
All adult rabbits come spayed or neutered & health checked.
Sponsor a Bunny Today
Can't adopt a bunny but still want to help? For a small donation, you will receive a certificate of sponsorhip with a photo of a bunny you helped save, and info on your bunny. You will also receive a tax receipt. Please email for more information.
Come Visit Us!
Foster homes are located across the GTA, North York, Thornhill, Bolton, Hamilton etc... Arrangements can be made to visit any of the rabbits, or we can have them brought to you! Please inquire for more information.
Click here to see our Happy Tails!
---
Rabbit Rescue Inc.


101 Holiday Inn Drive, PO Box 29143 Hespeler, PO, Cambridge, ON, N3C 0E6
Phone: 519-651-2345

Website: www.rabbitrescue.ca

Email: haviva@rabbitrescue.ca
Click here for a list of pets at this shelter

---

[Home] [Information] [Shelters] [Search]