Maranatha Farm's Animal Sanctuary & Treatment Center
Who We Are Maranatha Farm's Animal Sanctuary is a 501(c)(3) non-profit Animal Rescue Organization with a lifetime commitment care Sanctuary for un-adopted, retired, and special needs animals. At present, we are lovingly caring for the lifetime needs of over 50 animals including dogs, cats, horses, and a rooster! Our compassionate outreach includes working alongside pet owners and other animal rescue organizations to find loving, permanent homes for adoptable pets and farm animals. Another equally important component of our mission is to promote the many wonderful emotional, physical and mental healing aspects of the human/animal bond through community outreach activities to individuals, groups and organizations such as Scouts, Nursing Homes, Schools, Churches, and other Social Service organizations. Our Goal is to bring a network of people together to provide resources for informative, educational programs to include the most up to date information on such topics as disease prevention, nutrition, homeopathy, veterinary medicine, and training techniques. To do this we need your support! If you feel a calling in your heart to help us please know that we, together with the animals, will be forever grateful!
Our Featured Pets...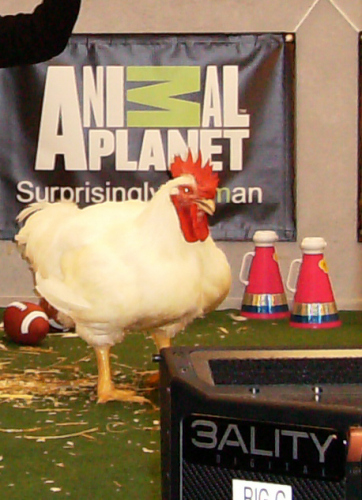 Maranatha's "BUCK-BUCK" who was one of the a stars of ANIMAL PLANET's PUPPY BOWL VII will celebrate his 3rd birthday on June 21st!
Our adoptable Pet of the Week
LEAH

One of four adorable fuzzy puppies born on July 9th, Leah is full of energy. She loves to play and should be a fun companion for an older child. She is crate trained, up to date on vaccinations, micro-chipped and spayed. Please adopt Leah...she will provide you with lots of love and fun! ***Special note Leah has recovered fully from surgery to correct an injury to her hip. She is now ready and waiting to be adopted by her new forever family. Will that be you? ***


Thank you for your interest in adopting a rescued pet!


---
We are always in need of monetary donations to help us care for our rescued animals. Veterinary services, food, and supplies are very costly. If you would like to make a donation to help, please select one of our pets and click on the SPONSOR ME button. Thank you! We (especially all of our animals) are forever grateful!
Please send us your Redner's grocery store receipt tapes. It is a great way to help the animals at Maranatha Farms Animal Sanctuary! By using your Save-A-Tape card at any location (please obtain one from the Cashier if you don't already have one), Redner's will donate 1% of the total amount of your grocery purchase (excluding milk and tobacco products) to us.
Please mail your Redner's receipt tapes to the following address:
Maranatha Farms Animal Sanctuary P.O. Box 712 Lebanon, PA 17042-0712 Thank you for your help! Donations of horse blankets, halters,leads, hay, horse clippers, easy boots, and saw dust/shavings. Donations of can cat food, dry food, cat litter, and cat toys. Donations of dry dog food, dog crates, dog beds,dog coats, and dog toys. We also welcome donations of old towels, pillowcases, paper towels, and blankets so that each pet can sleep on something soft. Foster Homes needed! Many DOGS,CATS and HORSES are in need of a temporary safe haven. Please call or email us today to become a FOSTER PARENT! The rewards are priceless! We are forever grateful to the following people whose help, support and expert services enable us do what we do...rescue and care for animals in need! DR. JEAN LOVELAND, D.V.M.and staff, Bliss Haven Animal Clinic, Hamburg, PA 19526 DR. C. EDGAR SHAEFFER, D.V.M., Palmyra, PA ( http://clarkvetclinic.com/aboutus.html ) WILLIAM MATTESON, Farrier; Boyertown, PA ( http://williammattesonfarrierservice.webs.com/) Healthy pets need a healthy immune system. Probiotics are an important part of vibrant digestive and over all health and wellness. Please call or email us for information about Conklin's Fasttrack Probiotic Gel or Powder for the health of all of your animals. You may also contact us to speak to our Veterinarian about it. For more information on how to keep your pet healthy visit 1800Petmeds
---
Maranatha Farm's Animal Sanctuary

Orwigsburg, PA 19526

Phone: 610 207-2013

E : mfasatc@yahoo.com
Click here for a list of pets at this shelter

---

[Home] [Information] [Shelters] [Search]