When you shop through IGIVE at your favorite stores, a percentage is donated to rescued animals. Buy from IGIVE sponsored links, choose Noah Project as your cause, and Noah will receive a portion of each purchase. Just click the picture below to check it out.

NOAH PROJECT IS funded solely by donations and fundraisers. By donating to Noah Project, you can make a difference in the life of homeless and abandoned pets.! EVEN A SMALL DONATION CAN MAKE A BIG DIFFERENCE!
We Are a 501(C)(3) organization, so your donation is tax deductible.
Thanks to the support of our many friends, Noah Project has been rescuing homeless animals for 13 years. Please help us keep our door open until there are no more homeless pets to rescue!
NOAH PROJECT IS ALWAYS LOOKING FOR VOLUNTEERS - IF YOU LOVE ANIMALS AND WANT TO HELP NOAH'S MAKE A DIFFERENCE, PLEASE CALL 231-865-1264 OR E-MAIL info@noahprojectmuskegon.org - You must meet age requirements.
~~~~~~~~~~~~~~~~~~~~~~~~~~~~
"A dog is the only thing on earth that loves you more that he loves himself" - Josh Billings
~~~~~~~~~~~~~~~~~~~~~~~~~~~
COOKBOOKS ~WE ARE HAVING A SPECIAL ON THEM! Available at Noah's with recipes from our volunteers. We think they are great! Stop in and see them - our price has been lowered to $5.00 - and they make great gifts and are full of great recipes! Get them while they last!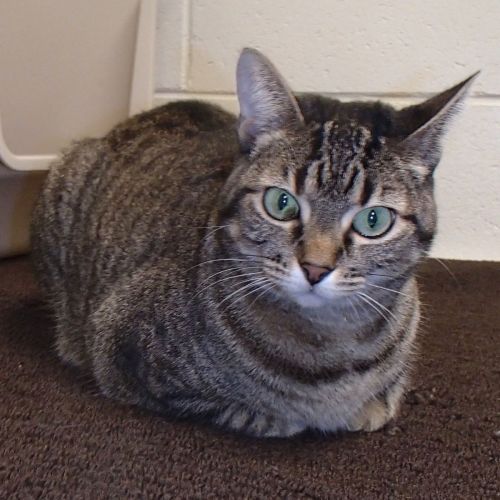 BELLE NEEDS A FOREVER HOME!!!
Belle is a beautiful, front de-clawed tiger. She is a little independent but friendly when you give her attention.
Belle prefers to watch everything that is taking place from a high perch atop the cages.
Sometimes tigers are hard to recognize because they all have stripes, but Belle's eyes are strikingly beautiful, and they distinguish her from the other tigers.
Belle is available for adoption @ Noah Project!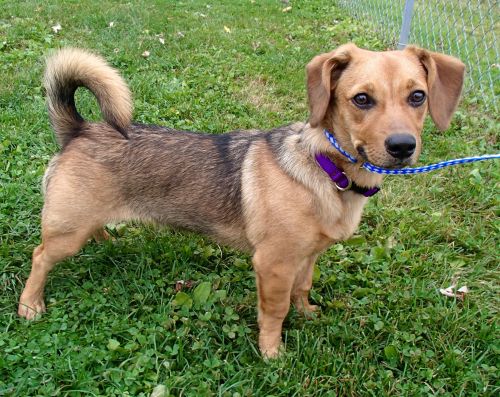 ~ROXIE~
Roxie is a cute and active Corgi mix.
She loves attention and she loves to play - she would love a home with a fenced-in yard and someone to play with.
Roxie is about 1 1/2 years old and will make a great pet for an active family.
Roxie is available for adoption @ Noah Project!
OUR PET LIST
Just the Dogs <<<< >>>> Just the Cats
ADOPTING A FRIEND FROM NOAH'S...

TO ADOPT A PET FROM THE NOAH PROJECT, YOU MUST HAVE A VETERINARIAN REFERENCE THAT MEETS THE REQUIREMENTS OF THE NOAH PROJECT. This requirement includes: all pet vaccines are up-to-date, dogs are on or have always been on Heartworm Preventative and all pets are neutered and have regular check-ups with their veterinarian.

Same day adoptions do not usually happen. Approval of applications may take anywhere from 3 to 10 days. If you find a dog or cat you are interested in, stop by during our open hours to visit that pet. We do require that all our pets "visit" with you here at Noah's to see if you really want to become their new forever home.

We do adopt to out-of-state parties. HOWEVER, YOU MUST COME TO NOAH'S TO VISIT AND FINALIZE THE ADOPTION. You may call us or e-mail us for more information about our pets. Then if you find a dog or cat you are interested in, please arrange a visit to the Shelter during our open hours. Also, if you are an out-of-town or out-of-state potential adopter, you MUST have a current veterinarian from whom we will need references on current and previous pets. This can all happen prior to a visit so that possible same day adoption upon approval of your application might happen.

Once an application is submitted, it may take 5 to 10 days for us to complete the process.

MINIMUM ADOPTION DONATION UPON APPROVED APPLICATION includes HW test, Rabies shot, DHLPP shot & Neuter and Microchipping

ALL DOGS - $150
CATS - All cats & kittens that have been at the shelter for one year or less - $80.00. All other cats are can be adopted with a donation, if possible!




***********************

Donations are always needed at Noah Project to continue to allow us to help our furry friends.

Need low cost neuter? ...call West Michigan Spay & Neuter Clinic at (231) 366-7067 located in Muskegon or C-Snip located in Grand Rapids at (616) 455-8220. Both are reduced-cost, non-profit spay/neuter clinics. Transportation for the animal from Muskegon to C-Snip is also offered.

---

***** WHO WE ARE***** We are a no-kill, nonprofit organization dedicated to the rescue of abused, abandoned, and unwanted animals. Our mission is simple. We will not allow a healthy, adoptable dog or cat accepted at our center to be destroyed. Our goal is: NO MORE HOMELESS PETS! Any cat or dog accepted at The Noah Project will be neutered when age appropriate and will be current on their vaccines prior to adoption. We will make every effort to find a good, safe adoptive home for our pets. If a home cannot be found, that pet will live a safe, happy life at the center where loving volunteers will care for them as long as they live.

***** Pet Posting *****

We can post your dog or cat if you need help in finding a new home for your pet. If you would like to have your dog or cat posted, please send the pet's information and a picture to: info@noahprojectmuskegon.org
A donation for posting your pet would be very much appreciated. Your donations are always needed at Noahs!

======== Directions: ========

We are located in Michigan, between Muskegon and Fruitport, which are near Lake Michigan.


Map to our shelter


We are located on Airline Road just north of Sternberg Road.

From Muskegon, take Airline Road east of US31 towards Fruitport. Drive approximately 2 miles-- and we're on the right side just past the blueberry fields and next to the VFW.

From Grand Rapids and east, take I-96 to the Airline Road exit (Exit #4). Turn left onto Farr Road, and go to the stop sign. Turn right onto Airline Road. Drive approximately 2 miles, and we are just past Sternberg Road on the left.

From Ludington and north,take US 31 south to the Airline Road exit. Turn left onto Airline Road. Continue on Airline, through a traffic light at Hile and Airline, driving approximately 2 miles-- we're on the right side just past the blueberry fields and next to the VFW.

From Grand Haven and south, take US31 north to the Sternberg Road exit. Turn right onto Sternberg Road. Drive 1.5 miles to Airline Road. Turn left, and we're a quarter mile on the left.

The Noah Project
5205 Airline Rd.
Muskegon, MI 49444
Phone: 231/865-1264