Bichon Frise Rescue of NNJ
PLEASE DONATE

BFRNNJ is currently experiencing an overload in surrendered and abandoned dogs. All of these dogs need vetting, food, supplies, transport and more. Our rising costs have drained our rescue accounts of donations. We are in desperate need of funds to continue to run the rescue properly. Please consider a donation of ANY amount. All donation amounts, large and small, are greatly appreciated. please click the photo to be directed to our Go Fund Me fundraiser page. or visit our website at www.bichonrescueNJ.com and click the donate page.

---
Our Featured Pet...
Our Abby
---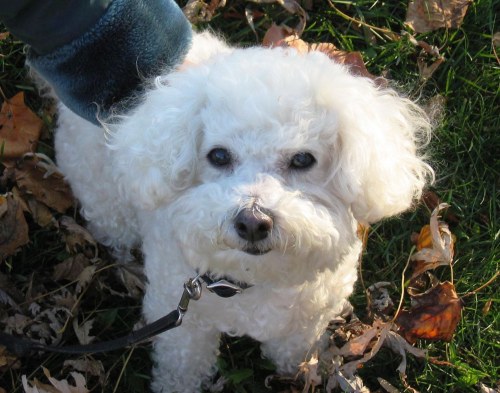 Abby is a loving 17 year old. Abby was adopted at approximately 12 years of age and has been our joy for 5 years and still going strong. Abby loves to go for walks with her brother and sister and to have her belly rubbed. She is a gentle soul who is loved by all she meets. Please consider a senior Bichon, they have a lot of love to give and deserve to spend their senior years with love and comfort. Most Bichons (when healthy) have a life span of 17-19 years.

ADOPTING A FRIEND
If you would like to apply for a dog, we require vet references, and a home check made prior to adopting one of our dogs. All of our dogs are companion animals and must be kept inside the house. Adoption donations range from $100.00 to $400.00 depending on the age, condition and temperament of the dog. This donation helps to off set the cost of veterinarian care, and helping sick and neglected Bichons return to a happy and healthy condition.
Bichons are notorious for being difficult to house train. If you are unwilling to accept an accident in the house, please consider another breed. Being uprooted and placed in a new home is often difficult on a dog and they will need an adjustment period. Every dog will need a basic refresher in house training, but with a regular schedule and a lot of positive re-enforcement, the dog will fall back into good habits.




"ONLINE APPLICATION!"



---
Please note, we do not ship dogs and prefer to place dogs within two hours of West Orange, NJ.

Want to see past rescue friends? Click here to see Alumni!
Bichon Rescue of NNJ is a 501(c)3 corporation and ALL donations are tax-deductible. The adoption fees collected never exceed the cost of vet services for our collective rescues. We are able to exist due to the generous donations of people like you who support Bichon Rescue.
Join Rescue! The Bichon Frise Rescue of Northern NJ is an organization that rescues and re-homes Bichons, both purebred and mixes, who are given up due to hardship, death of the owner, abandoned or found as strays. Our rescue is a NO KILL Rescue and we pride ourselves on finding loving homes or fosters for every dog we take in.

All the dogs we take in are or will be fully vetted, microchipped and spayed or neutered (if they are not already). Any dogs that have emotional or behavioral issues, we work along with dedicated trainers and experienced fosters to help correct and manage any behaviors we feel need to be addressed.

We are a small group of volunteers dedicated to saving the lives of as many Bichons as we can and rely solely on the generous donations of our supporters.

Bichons and Bichon Mixes make some of the most wonderful companions. They have great temperaments, they are very smart and easy to train, however the males do have some housebreaking challenges. But with proper training and reinforcement they are trainable! If you are NOT OK with occasional accidents inside... then the male Bichon may not be the dog for you.


If you would like to become a volunteer or a foster home, we would love to hear from you!

---


Bichon Frise Rescue of Northern New Jersey
Sponsored by The Bichon Frise Club of Northern New Jersey, Inc.
PO Box 136, East Hanover, NJ 07936
Web Site: www.bichonrescuenj.com
Email for Rescue NNJBichonrescue@Yahoo.com Click here for a list of pets at this shelter


---





[Home] [Information] [Shelters] [Search]