Leavenworth Animal Control Shelter

2019 S. 3rd Street (we are directly behind Price Chopper grocery store)
Leavenworth, KS 66048
Phone: 913-682-0268
Who We Are
Leavenworth Animal Control Shelter, a division of the Leavenworth Kansas Police Department

is located in the extreme northeastern corner of Kansas. We are near Kansas City, Missouri., and Kansas City, Kansas.




SHELTER HOURS
Monday - Friday
9:00 - 5:00,
2nd Saturday Monthly
10:00 - 2:00



This is a great time to come visit your local animal shelter. You might even find your next best four-legged friend.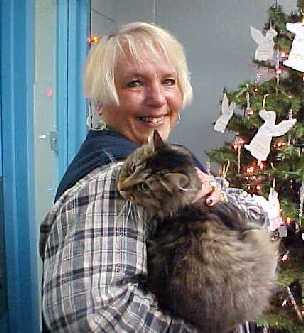 Adopting a friend

ADOPTION FEES: If the animal you are interested in has already been altered, (spayed or neutered), the adoption fee is a flat $20.00. If the animal has not been altered we charge the $20.00 adoption fee and an $85.00 alter bond for a total of $105.00. The adopter has 30 days to sterilize the animal unless it is a puppy or kitten. Upon a veterinarian receipt showing your adopted animal has been altered, the City of Leavenworth will refund your $85.00 alter bond.

If your pick is an animal that is already altered from the shelter, it is only the $20.00 adoption fee with no rebates or refunds from the City of Leavenworth.

We do not place "holds" on any animals. We are a first come first serve facility. The animal you select will go home with you the same day you adopt. Please bring at least a leash with you for a dog, or a pet taxi for a cat as we do not furnish either.




Our Wish List
Our Wish List is constantly changing due to the wonderful people that have been so generous in bringing in donations. We almost always need quality canned food for the dogs and cats, and it sounds crazy, but laundry soap! We provide as much comfort as we can to the critters staying with us, and each likes to have a soft place to place their head. That's ALOT of laundry! Paper Towels are always welcome too for general clean-up of the shelter. Leashes are another highly prized commodity in the shelter and we would love it if someone might donate some of those too :-) Thanks to all for your wonderful loyalty and kind generosity!

Things that our canines and felines need or enjoy:




Clay kitty litter!
Clay kitty litter!
and more Clay kitty litter!
Canned Cat Food
Paper Towels
Treats for cats and dogs <
Puppy Safe Toys
Baby Sized Blankets
Canned dog and cat food
Collars or Choker Chains
Leashes
Flea Treatment (Frontline Plus or Advantage)
Laundry Soap
Dog Chew toys (please, no rawhides)


Cash donations for medical treatment and animal care are VERY MUCH NEEDED!

Thank you to everyone who has donated to the animals in the past,
from everyday newspapers to kennel beds and everything inbetween!
Adopting a New Family Member

If you see a Pet you are interested in please come in as soon as you can.
We work on a first come, first serve basis.
We encourage you to bring along your family, including the 4
legged, to meet the newest family member and make sure
everyone is going to be happy with the decision. If everything goes
well we will have you sign a contract and allow you to take your new
friend home the same day.

Come Visit Us!


We are located in Leavenworth Kansas. We encourage everyone to come in and meet all of our animals in person. We try very hard to keep our adoption pages current, but we may always have additional animals that are not photographed and on the web yet.
Leavenworth Residents Please Read: LICENSE LAW: All dogs over four months of age are required to be rabies vaccinated and licensed with the city. New residents or new dog owners have thirty days to comply.
LEASH LAW: All dogs are required to be confined to your property by a fence or a tie and when off your property they must be on a leash.
MAXIMUM NUMBER PERMITTED PER RESIDENCE: It is unlawful for any person in charge of a residence to house or care for more than four dogs or four cats over 120 days of age, or any combination of such animals exceeding six in number.


A CURRENT CERTIFICATE OF RABIES IMMUNIZATION IS A PREREQUISITE FOR PURCHASING CITY TAGS; ALL LICENSED VETERINARIANS CERTIFICATES ARE RECOGNIZED.

PURCHASE CITY TAGS: Annual Renewal Date: March 31; Late Fee = $10.00

CITY TAG FEES: Altered = $10.00, Unaltered = $20.00

CITY TAGS MAY BE PURCHASED AT ANY OF THE FOLLOWING:

Animal Control Shelter
1720 S. 2nd Street
Leavenworth, KS. 66048
913-682-0268

City Hall
100 N. 5th Street
Leavenworth, KS. 66048
913-682-9201

Dog & Cat Clinic
1101 N. 5th Street
Leavenworth, KS. 66048
913-682-7424

Pioneer Animal Hospital
3525 S. 4th Trfwy.
Leavenworth, KS. 66048
913-682-6000

Lowemont Veterinary Service
33511 Santa Fe Trail
Lowemont, KS. 66020
913-682-3507

Hope Veterinary Clinic (inside Kansas Country Store)
728 Cherokee St.
Leavenworth, KS. 66048
(913) 651-7335
---
---
Leavenworth Animal Control Shelter Staff


Supervisor
Cindy Dressler ACS
Email

Animal Control Officer
Les Cline ACO
Email

Animal Control Officer
Jesse Barnhart ACO
Email

Kennel Attendant
Susan Biotti
Email



Receptionist
Pam Hill
Email


Rescue Groups that save lives here!

Town & Country Humane Society
Beagles & More
Great Plains Mastiff Rescue
St. Louis Samoyed Rescue
Leavenworth Animal Welfare Society
Safe Harbor
Furry Kids Orphanage
Furry Friends
LL Dog Rescue
Kansas City Siamese Rescue, Inc.
Forever Friends Animal League
The Pet Connection
Animal Haven, Inc.
American Brittany Rescue
Wayside Waifs
Humane Society of Greater Kansas City
Heart of America Humane Society
English Springer Spaniel Rescue
Humane Society of Atchison
Foxwood Animal Rescue
Happy Dogs Rescue
Golden Retreiver Freedom Rescue
Riley County Humane Society
Rocky Mountain Great Dane Rescue
Lawrence Humane Society
Mid-America Bully Breed Rescue
K-9 Kast-a-ways Dog Rescue and Adoption
Illinois Bird Dog Rescue
Western Missouri Basset Rescue, Inc.
Nebraksa Rescue, Inc. (JRT Rescue)
Paws to Lov
St. Louis Samoyed Rescue
Midwest Rottweiler Rescue
IMPS MinPin Rescue
Heartland Weimaraner Rescue, Inc.
Animal Rescue Foundation
Foxx and Hound Enterprises
Dogwood Animal Shelter
CPR Fund Rescue
Akita Rescue
Chicagoland Bully Breed Rescue
Doberman Rescue of Nebraska, Inc.
Fort Leavenworth Veterinary Clinic
... and countless volunteers that help transport animals and spend many hours planning, emailing, and calling, to rescue dogs and cats from this facility. Your efforts, and the efforts of every rescue group is so very much appreciated! Thank you for all that you do!


Can't find what you are looking for? Try doing a Pet Search!!
---

[Home] [Information] [Shelters] [Search]