LAKE COUNTRY SPCA ANIMAL SHELTER is a no-kill, private shelter located at 7577 Hwy. 58 (Virginia Ave.), Clarksville, VA 23927 in Mecklenburg County. (434) 374-8076. Email lakecountryspca@yahoo.com.
Make money for the shelter with your Food Lion card.
If you shop at Food Lion, there is a simple way to raise money for LCSPCA that won't cost you a penny. Register your MVP card to benefit our charity. A portion of the proceeds from qualified merchandise you buy will be put in our account and given to us 3 times per year. Qualified merchandise is all Food Lion brand products which include Healthy Accents, Home 360, Nature's Place, Smart Options, Taste of Inspirations, Butchers Brand Beef, Holly Farms, and On The Go Bistro. Shopping on the 10th of the month doubles the reward points. We get credit only for Food Lion brand purchases. Our organization code is 252004, should you need it.
Lake Country SPCA, founded in September 2002, is a non-profit, no-kill animal rescue group based in Mecklenburg County, Virginia. It started with a group of Clarksville residents who were tired of seeing hurt, lost, abandoned or feral animals roam the streets. They held public meetings to organize a rescue group. Over the years LCSPCA has blossomed from a handful of people fostering animals in their yards and homes to an actual brick and mortar shelter which processes over 1,000 pets per year, and is open to the public 7 days a week.
At Lake Country SPCA, we are dedicated to housing, medically treating, spaying/neutering, and finding placement for abandoned, neglected, or injured pets, as well as litters of puppies or kittens people cannot care for or place. We also help pets relinquished due to owner foreclosure, eviction, fire, hospitalization, nursing home admittance, or death, as well as take as many transfers as we can, from County Pounds when their time is up and they are scheduled to be put down.
To care for the animals, board members, staff and volunteers, feed, water, walk, and play with them. We clean cages and kennels, administer medications, greet customers, assist with adoptions, transport pets for medical treatments and spay/neuters, process adoptions and transfers, do state required paperwork, organize and attend fundraisers, and give talks at schools, churches, hospitals, and civic groups. We took in 1,092 animals in 2008, 1,224 animals in 2009, and 1,490 animals in 2010 but typically never have more than 200-300 animals in custody. That means we are finding placements for many animals each year!
Private shelters get no state or local funding, so continually fund raise to keep the doors open. It costs $10-15,000 per month to run our shelter. This shelter offers an alternative to County Pounds which have to euthanize regularly due to lack of space, and helps save the lives of many companion animals each year. It also helps keep overpopulation of pets down in the area by getting strays off the streets, and spaying and neutering them. Volunteer board members run the shelter and manage direct care volunteers and several paid employees.
We would like someday to own a larger parcel of land and have a new shelter but for now, all of our animals are located in our leased shelter building at 7577 Hwy. 58, Clarksville, VA 23927, or in foster homes. Our long range goals include fund raising and grant applications for new land and building, and for a low cost spay/neuter clinic or a program to help people get pets altered who cannot afford it. Without more spaying and neutering in this area, we at the shelter, are just plugging holes in a sinking ship by continually taking in new litters of puppies and kittens and finding placement for them. We need a huge on-going spay/neuter all pets campaign to stop the continual flow of unwanted puppies and kittens going to pounds and shelters every year.
Kuranda has durable cots that are fairly chew and rip proof. They will let people purchase cots at a discount to ship to the shelter of your choice. Please help us out and supply a bed for a dog or cat today. Go to kuranda.com. Click on "Donate a Bed." Choose "Lake Country SPCA----Clarksville, VA" from their list of participating shelters and then choose a cot and add it to your shopping cart and pay. They will send us an email notification about your donation. We typically have about 70-100 dogs and 75-100 cats at the shelter as well as many more in foster care. Having something to lay on to get them up off the cold, hard and sometimes wet concrete, will make their homeless kennel experience more tolerable. In turn this will make the animals happier, less stressed, and show better when prospective adopters come through the shelter, which will get them into homes quicker! One person CAN make a difference when you add all those ONES up. By buying 1 dog or cat a bed, you can make a big difference in the quality of a shelter animal's life and possibly be aiding in it's adoption, without even setting foot in the shelter.
Buy an animal rescue t-shirt, tank top, sweatshirt, or hoody. MANY different cute cat and dog ones to choose from. LCSPCA will get $5 per shirt.
THE PLIGHT OF BLACK DOGS AND CATS
Did you know that despite being typically friendly and social, black dogs and cats are the least adopted color pets at animal shelters and pounds across the country? They are routinely passed over for more colorful breeds. Do something great in the universe today and adopt a big ol' black lab or a pretty black kitty! Odds show, if you don't, the next guy may not either, and some of these wonderful animals will spend years with us, or may never get out of the shelter at all. Black dogs and cats are often extremely social, tolerant and playful, and usually very good with children.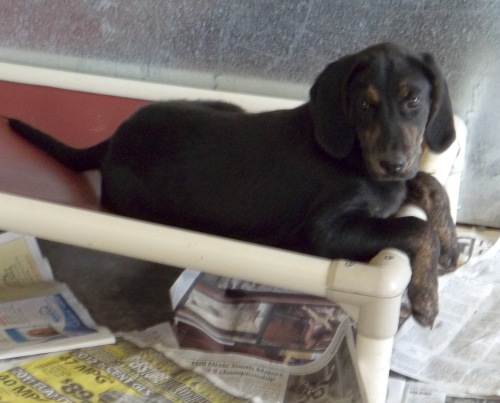 Nicholas is an adorable little puppy who wants a home so badly.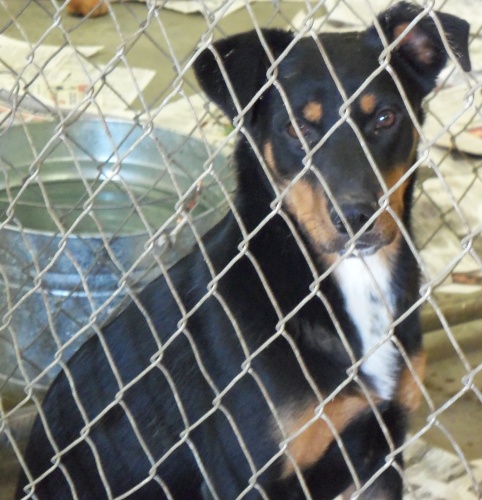 Merifield is a sweet puppy who was cheery and goofy when she first arrived but she's starting to get depressed living at the shelter. She was abandoned in an upscale lake subdivision.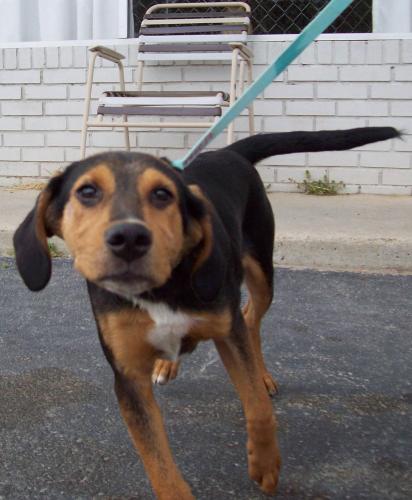 Leilani, sister to Leila, is a really sweet and silly 1 year old pup who is very friendly. They have been with us for most of their short lives, poor things. They came from Mecklenburg Co. Animal Control as strays.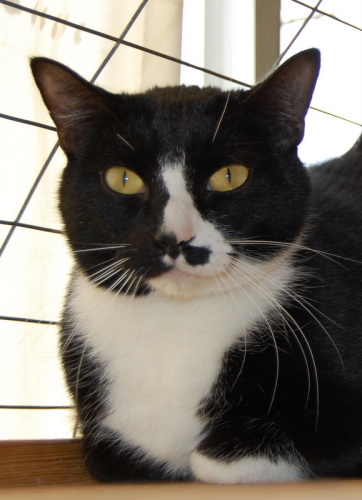 Stripe is a cute black and white tuxedo kitty who was an orphan living at a vet's office. The vet closed her office and now he is with us. Stripe is neutered, UTD on shots, and microchipped.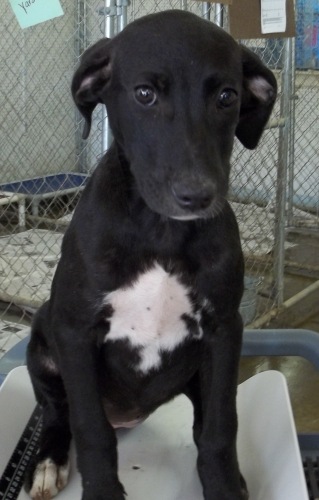 FARROW is a little puppy who along with his whole litter came from a trailer park. Sadly, Animal Control has been unable to catch the poor mama dog who they think was abandoned by someone in the park who moved away. These pups were covered in fleas and ticks and starving when rescued.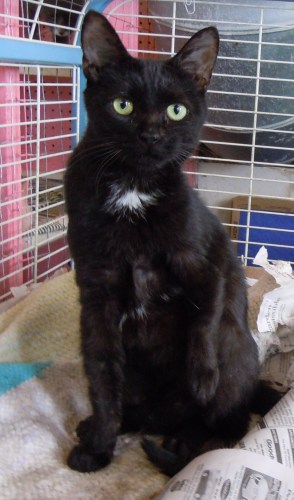 Callula is a young female kitty who is very pretty and sweet.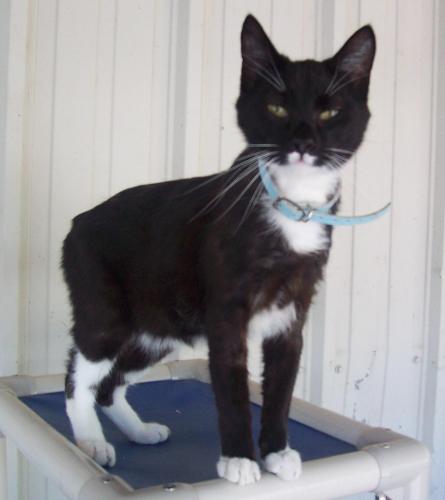 Robbie is a beautiful and friendly, young black cat.
---
YOU DON'T NOW WHAT YOU'RE MISSIN' TIL IT'S A HOUND DOG YOU'RE A KISSIN'!
Did you know hounds and beagles can have an even tougher time than black dogs and cats making it out of a shelter or pound? Despite being lovable, clownish, sweet, playful, loyal, fun, and handsome, many adopters pass them by, thinking they are "just hunting dogs." In Southern Virginia, many hunters use foxhounds, coonhounds, beagles and other sporting breeds. Many of these dogs, when released to chase prey, get injured or lost. Some are also abandoned if they do not hunt well or do not return from the hunt right away. Certainly there are some responsible hunters who treat their dogs well and properly care for them, but sadly, many do not. Many hunting dogs in this region are fed little, thought of as expendable property, receive little or no vet care, have inadequate or no shelter, and are not spayed or neutered. Thus, when they get lost or abandoned, they wander around starving, injured and reproducing. Shelters and pounds in this area are brimming over with hounds and beagles, particularly during and right after hunting season in the fall and winter. Most of these dogs will be euthanized if they end up at County Pounds. The ones lucky enough to make it into a private shelter such as ours will get medical attention, food, water, love and housing, but likely will spend the rest of their lives at the shelter.... UNLESS YOU DECIDE TO MAKE A DIFFERENCE. Give a hound dog a chance to know what a full belly feels like, to chase a ball, to sleep at the foot of the bed, to rough house with your child, and to be a part of a family. PLEASE MAKE A DIFFERENCE AND HELP A HOUND GET OUT OF THE POUND!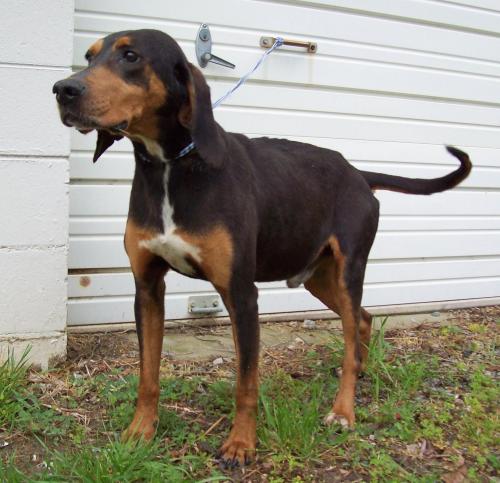 Mac is a wonderful adult Coonhound who is surprisingly quiet. He is calm and laid-back and would make a wonderful dog for kids or elderly people.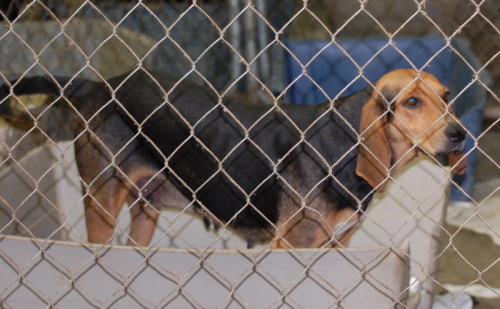 Pippy is an older Coonhound female dog who was found scrounging for food at a dumpster. She is currently in an outdoor foster home with several other hounds but would love a home of her own. She gets along well with cats and dogs and likes adults and kids.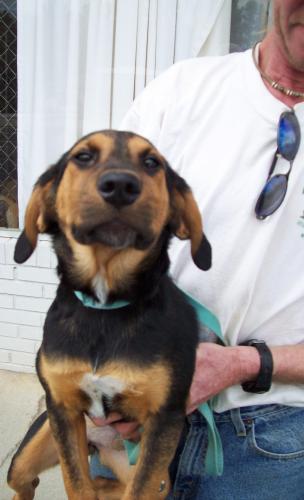 Leila and her sister Leilani who looks much like her, are sweet, goofy and smart. They are both about 5 months old as of March, 2011. These poor girls have made the rounds. They started out as strays, ended up at Mecklenburg Co. pound, then came to us to a puppy fosterer and stayed in small kennel areas for quite a while, and then got transferred to our shelter but are still in kennels and pens everyday. We would love it if someone would give them a home before their whole puppyhood is wasted in cages and pens.
---
REMEMBER WHEN BULLY BREEDS WERE APPRECIATED AND NOT EXPLOITED AND MISUNDERSTOOD?
Did you know in the 1920's and 30's, American Pit Bull Terriers were one of the most popular family pets? They adore their masters and will do anything to please them. In recent decades, people taking advantage of this trait, and training and forcing the dogs to fight each other, have destroyed the breeds' reputation.
As a shelter volunteer, I had no idea Pit Bulls were so loyal, loving, affectionate, silly and playful until I took Petie home to foster. Like many other people, I thought Pit Bulls were fighting dogs and could not be trusted. But Petie, at age 4-5 months, was so adorable and had such a great personality, I brought him home to my pack of 6 other dogs and 5 cats....just temporarily. That was over 3 years ago. He is now our best and most loyal friend.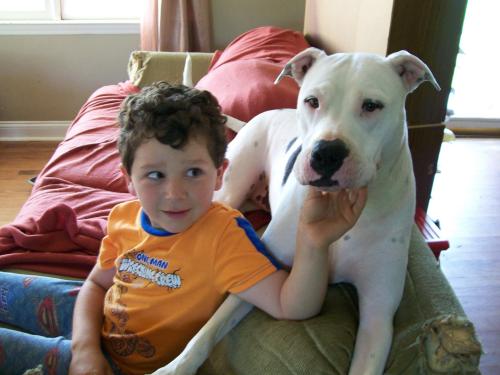 Okay, yes, he did eat this couch when he was a puppy, but he grew out of chewing thankfully, and the new couch is looking good. Plus we owe him a couch as a chew toy anyway. Petie once thought my son was drowning in the lake and swam out to save him. In actuality, my then 5 year old was just horsing around but Petie swam circles around him and let him ride his back into shore. Petie rides in the golf cart, sits next to my son while he fishes, follows him and his friends everywhere, and is part of the gang. You do have to train young Pit Bulls and Boxers not to play too rough or knock little kids over though, as they are so muscular and love to rough-house and adore kids. Or in my case, train the kid not to be too rough with the Pit Bull when wrestling. Bully breeds and Boxers excite and frenzy quicker than other breeds and need exercise and training but are very smart, quick learners, and obediant once they understand what the owner's rules are and one teaches them what is and is not acceptable. They usually calm significantly after age 2, like most young dogs.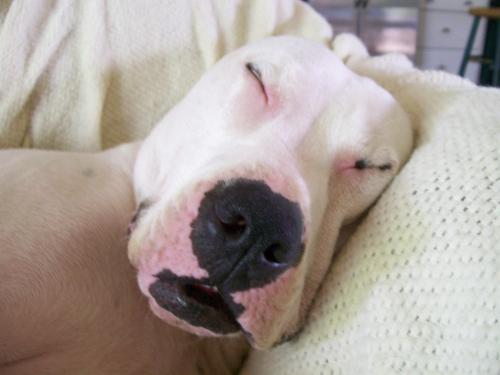 Don't assume Bully and Terrier breeds just want to run and bark all day and be hyper. Although they do love exercise, they love their sleep too. They make wonderful, calm house dogs and snooze quite often, when there is no need to serve and protect that is...and no one is driving the golf cart to the lake or pond. They don't shed, you can't make 'em fat, they are fun and affectionate, and will protect you with their lives if an intruder comes in. Please forget stereotypes, and open your heart to consider a Bully breed. They are awesome but so few people of today's era know this secret.
BUY A PITTY T-SHIRT
Buy an animal rescue t-shirt, tank top, sweatshirt, or hoody. MANY different ones to choose from. LCSPCA will get $5 per shirt.
---
ADOPT AN ADULT OR SENIOR DOG OR CAT
Everybody loves an adorable puppy or kitten but an adult or senior dog or cat can sure have benefits! Many of them may have been brought to the shelter because their owners are ill, in a nursing home, have passed away, or lost their homes due to fire or foreclosure. Many of these wonderful older animals are house broken, out of the wild puppy and kitten stage, and may not chew or scratch or bark a lot. They may also be good on leashes, know basic commands, be good with kids, or good in the car. They may be well socialized and obediant. Please consider adopting an older dog or cat. When you pick the puppy or kitten, they are cute but they grow to full size in just a few months and the honeymoon period ends. Consider the merits of a full grown pet today. Puppies and kittens often get adopted fairly quickly. Older pets often lanquish in shelters for months or years, or never get adopted.
---
NEWS
Improvements to the shelter
Thanks to so many of you, we now have numerous donated Kuranda cots throughout the shelter. Although we still need many more, the cats and dogs are really enjoying the cots we have gotten so far. We have purchased many new wire pens for the dogs over the past couple of years and their spaces are now larger. Other improvements include two fenced areas for the dogs to play in during the day. In addition, we have heat and air conditioning in the front room and a new furnace in the back room for the dogs. And most recently, we revamped the cat room and they now have larger enclosures and a huge screened porch with a pet door!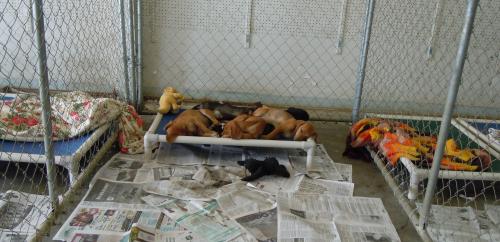 NEW PET COTS ARE HERE! Four puppies snooze on a sea of stuffed animals and a blanky.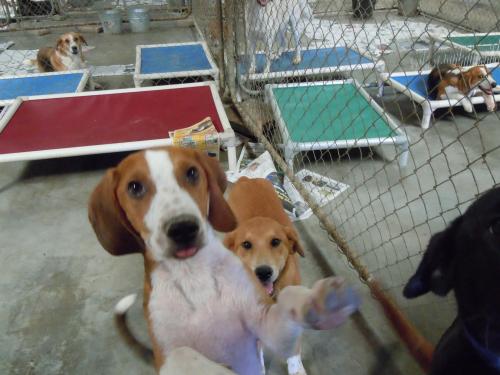 Cots all around!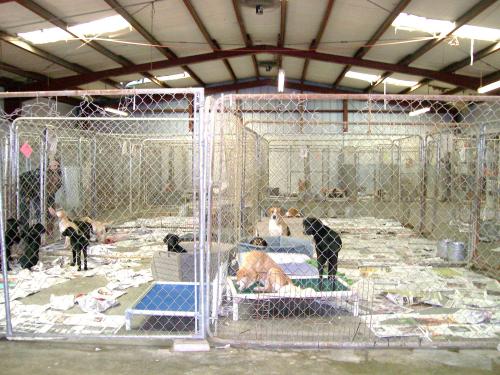 LARGE 10'X10' DOG ENCLOSURES IN BACK ROOM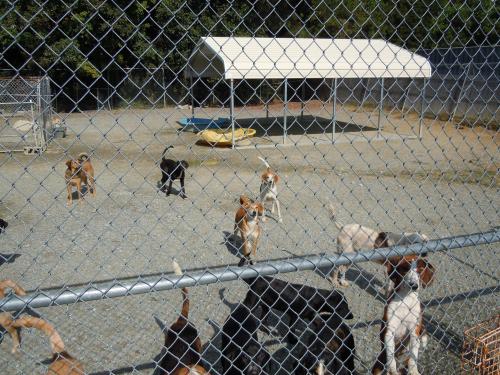 ABOVE & BELOW ARE PICTURES OF FENCED PLAY YARDS

"WHAT, WE'RE AT A SHELTER??? I THOUGHT THIS WAS SUPPOSED TO BE A DAY SPA!"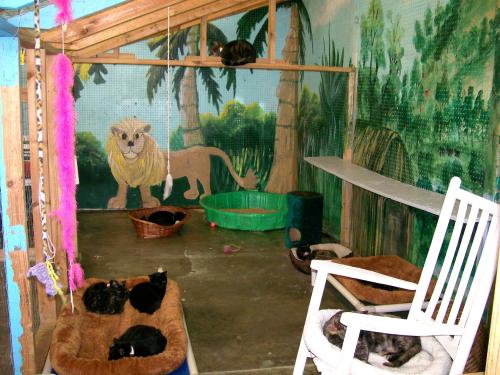 CAT ENCLOSURE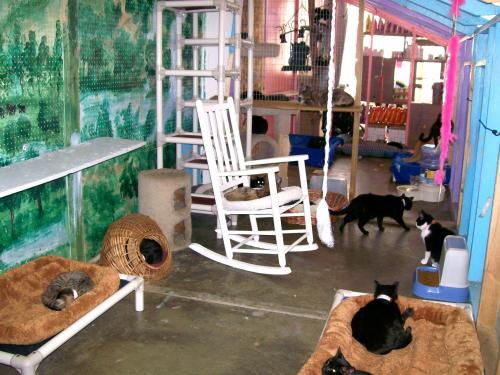 CAT ROOM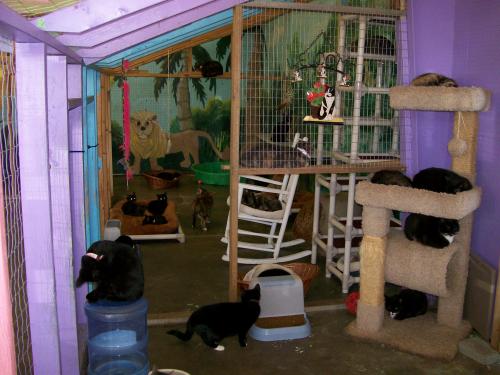 CAT ROOM WITH CAT TOWERS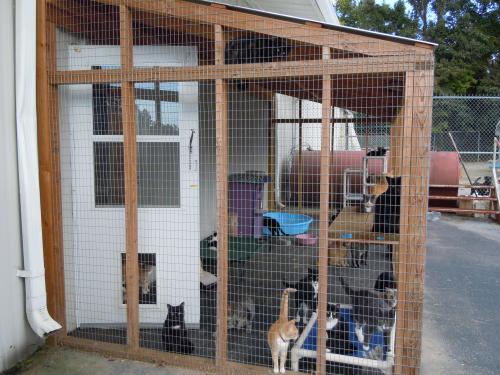 FRESH AIR FOR FELINES ON THEIR NEW PORCH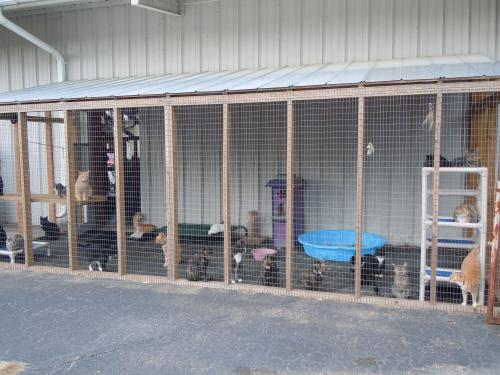 Our cats love visitors and will come to the porch to get your attention if you are outside in the parking lot.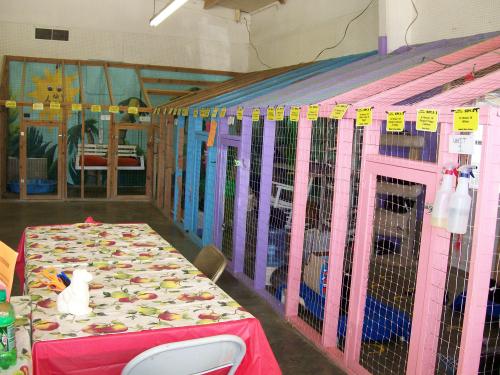 RECEPTION AREA & CAT ENCLOSURES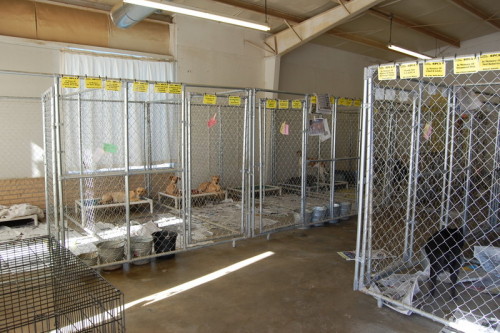 NEW DOG PENS & COTS IN FRONT ROOM
SPONSOR A CAGE OR KENNEL to help us keep the shelter going
You can help our animals by participating in the Lake Country SPCA Sponsor a Cage program. Your sponsorship donation will contribute significantly toward funding the cost of caring for the animals at LCSPCA. Cage or kennel sponsorship is a great way for you to help all the animals you would love to take home, but canít.
Our annual sponsorship rates are $50 for a cat cage and $75 for a dog kennel. Your cage or pet enclosure will have a special 4x6 plaque with the wording of your choice. IN THE ABOVE TWO PHOTOS, THE YELLOW PLAQUES CAN BE SEEN ON THE TOP OF CAT ENCLOSURES AND DOG KENNELS. Please contact us if you are interesting in participating. Mail donations to LCSPCA at P.O. Box 14, Clarksville, VA 23917 and give the information you would like on your plaque. For example, a plaque might say, "In memory of Fluffy, the best cat in the world. John & Jane Smith." Or you could advertise your business name, address and phone number, or honor a human, living or deceased. If you would like to make a straight donation to us, we also have gift cards we can mail you or whomever you are making a donation in the name of. We have cards for "in memory of," or "in honor of," for example. You may also pay by going to http://www.lakecountryspca.org and clicking on "donate" to use Paypal with debit or credit card or e-check. Then send an email to lakecountryspca@yahoo.com to tell us you paid and what you want on your plaque.
---
LEND A HAND-"VIRTUALLY" ADOPT A DOG OR CAT

Can't take them all home; or even one for that matter? Sponsor a pet of your choice by doing a "virtual adoption."
You will be sent a progress report when it finds it's forever home. Feel free to drop us a line from time to time to check in on your pet, or stop by and visit it in person to brighten its day. Tell connections about your new virtual pet on social networking web sites and perhaps you will help find it a brick and mortar forever home!
Meanwhile, your $50 or more donation will help pay for vet bills, food, supplies, and medicines, which will help offset our costs while the pet is with us. It typically costs about $11-15,000 or more to run the shelter each month. Private, no-kill shelters get no state or local funding. Without continual donations, we cannot afford to get the animals already in custody quickly vetted and adopted out, and also take new pets in. We do ask for a donation at the time a pet is adopted to it's forever home, but it is often not enough to cover what it truly cost to take care of the pet while we had it.
Even if a certain pet has already been sponsored, you may also choose that pet to virtually adopt. One or more donation on a certain pet will help that pet plus others get timely vetting and the care they need. To participate, email lakecountryspca@yahoo.com with the pet you would like to virtually adopt. Updates will be sent to you about your pet. To pay the $50 or more, click on "donate." Use PayPal with a debit or credit card or e-check and they will send us an email about your donation. Or you may mail the donation to LCSPCA, P.O. Box 14, Clarksville, VA 23927 with a note explaining what it is for.
---
BECOME A MEMBER FOR $10
Stop by the shelter or email us to pick up a membership form and pledge $10. You will receive our newsletter when it comes out.
---
How You Can Help LCSPCA
Items Needed
Wear items continually need replacement and recyclables bring us money. We can always use the following:
Old sheets, blankets, towels, pet beds or pet cots, etc. for cats and dogs to sleep on. We need newspaper to line pens and cages and aluminum cans to recycle for money.
Dry or wet kitten or puppy food have always been needed. We used to get cat litter donated, and adult dog and cat food donated by large pet product manufacturers but due to the poor economy and them tightening their belts, we can no longer count on if or when they will give us any again. So we are now having to buy pet food and litter and welcome any donations you can drop off at the shelter at 7577 Hwy. 58, Clarksville, VA 23927.
We can also use used items, such as carriers, crates, cages, collars, leashes, cots, beds, food bowls, etc. that you may not need anymore. DOG AND CAT TOYS are also much appreciated!

Puppies enjoy donated toys.
---
JOIN OUR PLEDGE PROGRAM

STAYING AFLOAT EVERY MONTH IS A BALANCING ACT.
The task of keeping the living spaces of the animals at the shelter is a monumental job that must be done 7 days a week, come rain or shine, holiday or not. We have several staff to pay, and utilities, rent, meds, supplies, vet bills, food, litter, etc. to buy every month. This is an expense that LCSPCA has trouble continually meeting since we survive strictly on donations. It typically costs $10-15,000 or more per month to keep the shelter running. Grants are nearly impossible to qualify for, and local, state and federal funding is not available for private no-kill facilities.
YOU CAN HELP by pledging a tax-deductible dollar amount on a regular basis to help offset the expense. Payments can be made monthly, quarterly, semi-annually, or annually.
Please send your name, address, amount and frequency of pledge, and your check to LCSPCA, P.O. Box 14, Clarksville, VA 23927. Or click on "donate" to use Paypal to send donations to us. The dogs and cats, and occasional rabbit, hamster, mouse, or bird, say, "Thank you!"
VOLUNTEERS NEEDED

CAN YOU LEND A HAND?
There are so many things you can do to help. Cleaning cages or kennels not your thing? How about helping out by volunteering at a fundraiser or coordinating volunteers to work at a fundraiser, doing handyman work at the shelter building, providing obedience training, transporting animals to the vet, taking pictures, doing paperwork, or walking or playing with dogs or socializing them or cats? You can walk dogs, answer phones, greet customers, or help with adoptions. Many of the shy dogs or the ones afraid of men need people to come in to work with them to socialize them.
**CHILD VOLUNTEERS UNDER THE AGE OF 14 NEED TO BE ACCOMPANIED BY AN ADULT PLEASE. We do not have enough adult staff or volunteers per shift to babysit child volunteers. Kids can be great help but they can also be distracting and a liability issue for us.**
Do you have your own website? Post a link to our websites. This will help advertise the pets available for adoption.
---
---
DOG WALKERS, TRAINERS AND PET SOCIALIZERS NEEDED
Our staff and volunteers are so busy cleaning, feeding, watering, helping customers, etc., we rarely get a chance to walk or play with the dogs or give them obediance training. The cats crave attention and petting and some need socializing. All of the animals are desperate for attention and exercise. If you or family members have free time and would like to come pet or play with the animals, teach them how to walk on leashes, how to fetch, sit, etc., please come on in and volunteer! Children must be accompanied by a responsible adult able to watch them and manage the pet they are working with though please. Call 434 374-8076, email lakecountryspca@yahoo.com or just stop by the shelter anytime at 7577 Hwy. 58, Clarksville, VA 23927 next to Ace Hardware.
WE OFTEN HEAR THAT POTENTIAL VOLUNTEERS STAY AWAY FROM THE SHELTER BECAUSE THEY THINK IT IS TOO SAD OR THEY WILL WANT TO TAKE EVERYBODY HOME. PLEASE DON'T. IT'S REALLY NOT THAT WAY. YOU LEAVE FEELING GOOD THAT YOU THREW A BALL TO A DOG OR PETTED THE CATS. THEY REALLY APPRECIATE THE COMPANY AND ENJOY VISITORS. THE MORE YOU COME IN, THE MORE OKAY YOU FEEL ABOUT GOING HOME AND LEAVING THEM BEHIND BECAUSE YOU MADE A DIFFERENCE GIVING THEM A CLEAN BLANKET TO LAY ON OR A PAT ON THE HEAD OR A DOG BISCUIT, OR TALKED TO A CUSTOMER ABOUT THEIR MERITS AND AIDED IN AN ADOPTION. IT'S VERY REWARDING AND THERE IS ALSO A SENSE OF COMRADERY AMONGST THE STAFF AND VOLUNTEERS LIKE JOINING A GROUP YOU HAVE THINGS IN COMMON WITH. PAY IT FORWARD. IT FEELS GOOD.
You can't save them all and you can't take them all home but for the time they spend at the shelter, you can make it a decent experience for them, and feel good about helping in some part to get them into someone elses home. You get used to letting them go and when they leave, you help the new guys in. It's a constant revolving door and it takes a lot of people together doing their small part to give the shelter animals a decent quality of life while they are there and to help them get into permanent homes. You can do it! Pick up the phone or come in to the shelter today. YOU, just one person, might end up being responsible for getting a pet out of the shelter and into a home. You might socialize it, or teach it how to walk on a leash or get it used to kids. You might answer an adopters phone call when everybody else is too busy, or talk to a customer passing through and say just the right thing that gets one animal adopted. Saving one animal may not make much of a difference in the world, but it makes a world of difference to that one animal.
There are only 1,400 people living in our tiny town, but we took in almost 1,500 pets in 2010. We really are making a difference but we need your help to continue. Some of our old timers and regulars are tired out and could use help from new volunteers.

---
THERAPUTIC FOSTER HOMES NEEDED
Lake Country SPCA has some animals, both cats and dogs, who are in need of temporary foster homes where they can learn what it's like to be loved, held and played with. We do our best here to socialize each and every animal, but some come in so scared and damaged that only one on one work will help them recover from what they've been through. This is not long term foster care, this is socialization and behavioral work to aid the animal in becoming happier, healthier and more adoptable. If you are interested in helping with this program, please contact the SPCA at 434-374-8076 or stop by the shelter at 7577 Hwy. 58 in Clarksville, next to Ace Hardware. IN ADDITION, we also have some dogs who have been with us for years, who are wonderful loving animals, but sadly, due to age over 3-5 years, breed, or medical conditions, are unlikely to ever be adopted. They need loving, long term foster homes. LCSPCA takes care of living and medical expenses. For more information, please contact the shelter 434 374-8076.
---
ADOPTING A FRIEND
The majority of our animals are located at the shelter, with some in foster homes. Please check out our pet list online, email, call us, or visit the shelter, seven days a week if searching for the right pet. If interested in a certain animal, contact us to see if it is available. If it is, and you would like to adopt, we have no preapproval application to fill out but will ask you via phone, email, or in person, to tell us a bit about you, your family, other pets, your home and yard, and why you want a pet or pets, to determine eligibility. Home checks are sometimes required. Out of the area adoptions will be considered on a case by case basis and are often approved. If initial information is adequate, we can email you adoption paperwork or you can fill it out in person. You will be asked to provide personal information, references, and ID. You must also pay a deposit or in full via Paypal on our website or in person to hold a pet til you can pick it up.
Adoption donation for an older puppy (6 months and up) or adult dog is only $100, young puppy (2-6 months old) $125, and a cat is only $60. Depending on how long we have had the animal and it's age, it may already be spayed or neutered and have all shots, including rabies vaccination, making the adoption economical and hassle free. If a puppy or kitten is sexually immature when you adopt, you will need to get it spayed or neutered at age 6 months as VA law dictates. Currently, we have no funds or grant money for spay/neuter vouchers or assistance but many cities do have no cost or low cost spay/neuter clinics which you can find online. With low donation requests, we hope to move as many pets into permanent homes as possible, while still being able to cover basic operating expenses. Donations above and beyond this, are of course, very welcome and will help us to help many more animals. LCSPCA took in 1,092 animals in 2008, 1,224 animals in 2009, and 1,490 in 2010. We hope, with your support, to be able to continue to help animals and the community for years to come.
We have no transport system but can occasionally find volunteers to drive a pet part or all of the way to it's new home depending on which pet it is and which direction you live in. We do not fly or ship animals far away.
We do not have a credit card machine at the shelter so if you want to pay with credit, click on "donate" and use Paypal. Otherwise, we take cash, money orders, or checks. If you are from out of the area, cash is preferred. Local checks are fine.
---
INTAKE POLICY-STEPS TO TAKE
Since we are a no-kill shelter, we do not have room to take in every animal people find or need to relinquish. We must wait until we adopt out or transfer enough of the pets already in our care, in order to free up space for new animals. LCSPCA typically takes in over 500 puppies per year (589 in 2010), and a total of about 30% cats and kittens, and 70% dogs and puppies. We cannot take in feral cats unable to be handled, touched, medicated, and that are wild and unsocialized. We do not trap, spay, neuter and release. We cannot take in dogs that are dangerous, unsocialized, bite, or do not get along with most other animals or people. We understand that strays may come with very little information but if it is your own pet you are relinquishing, we appreciate it if is up to date on shots and has been spayed or neutered and that you bring it's medical records with it. If it is not up to date on medical, we still may be able to take it in. If you can afford it, when bringing us an animal, we may ask for a donation or relinquish fee, but understand if you cannot provide one. There can be exceptions to the above, but in general, this is what we ask.
---
Two uncontrolled breeding cats, plus all their kittens and their kittens' kittens, if none are ever spayed or neutered, will reproduce and turn into: 1st year: 12 cats, 2nd year: 66 cats, 3rd year: 382 cats, 4th year: 2201 cats, 5th year: 12,680 cats, 6th year: 73,041 cats, 7th year: 420,715 cats, 8th year: 2,423,316 cats, 9th year: 13,958,290 cats. You can help end this needless tragedy. Please spay or neuter your pets and pass the word along.
---
PROTOCOL TO REPORT STRAYS OR NEGLECT
Lake Country SPCA is a private shelter and does not have the staff, volunteers or juristiction to investigate claims of animal neglect, abuse, abandonment, or to pick up strays. For these instances, call Mecklenburg County Animal Control at 434 738-6191 or Animal Control in the county where the incident has occurred. If we have room at our shelter, Mecklenburg County Animal Control will often transfer the pets to us after picking them up, but we are not the front line of defense. Lake Country SPCA saved hundreds of animals from euthanasia at several surrounding County Pounds this year by taking them in as transfers before their time was up. With your help and continued support, maybe we can save even more next year. Sadly, hundreds more who did not make it into a no-kill private shelter like ours, died at County Animal Control facilities this year due to lack of space.
---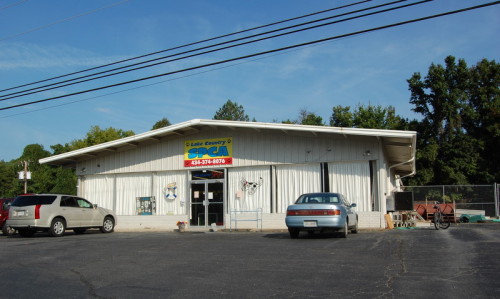 7577 Hwy. 58, Clarksville, VA 23927. We have several thousand square feet of pens and enclosures for cats and dogs, 2 fenced areas for day time play, and a screened porch for the cats. Come visit us and take a look around.
---
COME TO CLARKSVILLE TO ADOPT AND MAKE A FUN TRIP OUT OF IT
Clarksville is a small town in Southern Virginia, close to the NC border, and it fronts the largest lake in Virginia, known as Buggs Island Lake or Kerr Lake. With 50,000 acres of water, numerous restaurants, motels, B&B's, state parks, antique, novelty and collectible shops, wonderful weather, and friendly people, making a day or weekend trip here to pick out a pet can be a great experience.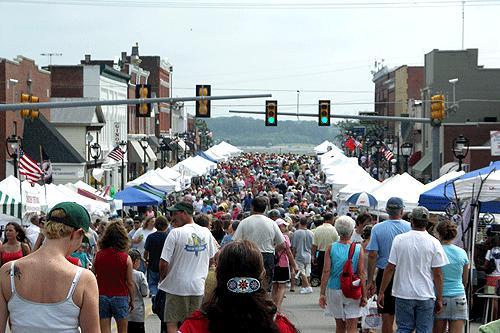 Clarksville hosts sidewalk sales & lake festivals
Harvest Days sidewalk sale time

Annual Hydroplane Challenge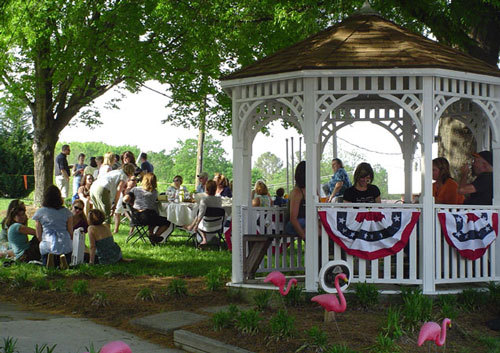 Wine Festival
Jazz By The Lake at Occoneechee

Occoneechee State Park Pow Wow
Kinderton Golf Course
Good fishin' anytime of the year!
Water ski, tube, jet ski, or sail.
Clarksville- Come see us and stay a while.
To visit our Chamber of Commerce web cam and check out the town and upcoming eventsClick Here.
To check out Clarksville's 3 live web cams of the main street & lake, plus a slide show of area picturesClick Here.
Take a look at U.S. Army Corps. Parks & Recreation information about the LakeClick Here.

Clarksville
LOTS OF PLACES TO STAY WHEN YOU COME TO TOWN:
Best Western on The Lake is 434 374-5023, or http://www.bestwesternvirginia.com/hotels/best-western-on-the-lake/. Has pool and lake view. Town dock close.
The Lake Motel & Efficiencies is 434 374-8106 or www.conradusa.com/lakemotel. Has pool and lake view. Efficiencies have docks. Town dock close.
Coopers Landing & Travelers Inn Tavern is 434 374-2866 or cooperslandinginn.net. Pool, hottub, bar, restaurant, no lake view or access.
Slagle's Motel is 434 374-8820. No lake view or access.
Bayview Efficiencies is at 434 374-9216 or bayview@kerrlake.com. Partial lake view and marina access.
Springfield Properties is at 434 374-8216 or springfieldpropertiesinc.com. Lake view, access, and dock.
Occoneechee State Park is 434 374-2210 or dcr.virginia.gov/state_parks. Lake view camp sites and cabins, bike trails, visitor center and historical Indian history, and artifacts. Boat ramp.
Longwood Park 434 374-2711 or us-parks.com/camping/va/longwood-park-campground. Lake view camp sites, swimming beach, and boat ramp.
Buffalo Park Campground 434 374-2063 or saw.usace.army.mil/jhkerr/maps. Lake view camp sites, swimming beach and boat ramp.
Rudds Creek Park Campground is 434 738-6143 or http://www.us-parks.com/camping/va/rudds-creek-park-campground.html. Lake view camp sites, swimming beach and boat ramp.
North Bend Park Campground is on the sandiest, widest part of the lake, has bike trails, lake view camp sites, boat launches, and swim beaches. Call 434 738-6143 or go to http://www.recreation.gov/camping/North_Bend_Park_Va/r/campgroundDetails.do?page=details&contractCode=NRSO&parkId=73293&topTabIndex=CampingSpot. Picture of this park is shown below.
North Bend Park
---
MAP DIRECTIONS TO THE SHELTER
We are located 60-90 minutes north of Raleigh/Durham, NC, 90-120 minutes SW of Richmond, VA, 3-4 hours SW of DC area, 3 hours west of Virginia Beach, and 90 minutes SE of Lynchburg, VA. Some maps have us as 7577 Hwy. 58 & others as 7577 Virginia Avenue, Clarksville, VA 23927.
---
VISIT OUR HAPPY TAILS SUCCESS STORIES

Leaving the shelter. Now that's success!