Video produced by JetSet Social Media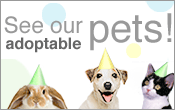 Holbrook Haven Hospice
OUR PRIMARY GOAL IS TO FIND EACH AND EVERY FURKID THEIR VERY OWN SPECIAL HOME!

---
NEWS!!!
UPDATE MAY 2013-

Well, Summer is most definitely here! Our temperatures have finally risen and we are no longer freezing to death! We're now wearing our little t-shirts and trying to keep from getting sun-burned! And Mom has put nice cool pillow cases and towels into our kennels to keep us nice and cool! We always look forward to any donations we can get as we're in need of towels, blankets Pillow cases, sheets, and anything to lay on that will keep us nice and comfy! So if any of you are thinking of throwing out your old towels, or linens and pillows, even baskets ( we do love sleeping in baskets) please think of us and send them here!

There are a few of us in need of our "furever" homes! We do have a few youngsters here now that are looking for their furever homes and don't forget that we seniors make great companions and have lots of love to give and life yet to live!! We're hoping that those of us up for adoption will impress someone and find a wonderful home of our own where we don't have to share so much! LOL Mom says her health has been bad lately so she isn't taking any more furkids into the Hospice. We really need to find some of us our very own "furever homes"!
---

Remember, we do have some special rules for adopting all of our little cuties, but nothing that difficult to handle. Please be prepared to give us your vet's name, number, and location, along with your address, phone number, and a couple of references!
---

Looking for a wonderful kitty companion?? Please don't hesitate to phone us (928-297-2258) as we have lots of different cats here looking for forever homes. We'd be more than happy to tell you all about them if you phone us. "OUR GOALS"
Holbrook Haven Hospice is dedicated to rescuing small senior and "special needs" dogs and cats. A private, single person run sanctuary, we provide a safe, permanent retirement venue where formerly homeless animals and shelter rescues can spend their Golden Years. We try to rescue any animal who is in need of some love and TLC and who, for some unknown reason, have been abandoned, abused or neglected in one way or another! So be sure to take a look at all the wonderful little furkids here who would love to be someone's companion!
We also work to promote humane education with an emphasis on the care and benefits of older animals. In our own small way, we wage a daily battle against society's view of pets as being disposable.
We have an excellent track record of getting these little seniors homes of their own!
These precious little seniors still have plenty of life left in them and a whole lot of love to give! They are, indeed, very special little furkids! We do our best to see that their final years are years of love, of compassion, and of being part of a family!
PLEASE REMEMBER: If you have questions or would like to inquire about any one of our furkids, take notice of any "special" email address listed in his/her bio as not all of our furkids are in the same foster home!!
"DONATIONS TO HELP THE FURKIDS"
We want to thank all of those who made donations or volunteered to help us out in the past. Without your wonderful donations of blankets, towels, and money for medications, our furkids wouldn't have such a wonderful life! We so depend upon you all! PLEASE.... keep those donations coming!
If you'd be interested in "SPONSORING" one of these little furkids medically, PLEASE just give us a call as we are in desperate need of medical sponsors!!! We'll be happy to tell you all about the wonderful help of those who are currently in our SPONSOR PROGRAM. Our goal is to find each and every one of these furkids their own sponsor to help them to receive all of the medical care they deserve and need! We'll even keep you updated with our newsletter!
The Haven operates strictly on out-of-pocket money and donations from the public. We're not a large organization, nor do we have a large overhead. But we DO have large veterinary bills, dog and cat food bills, medical bills, etc. In order to continue to rescue these furkids, we depend upon the support of the public.
Call today with any questions!! 928-297-2258... And if you have anything you would like to donate to the wonderful little furkids here such as kitty litter or food, linens and such the address is: 1211 Westover Ave Holbrook, AZ 86025
If you would like to make any type of monetary donation by mail, please send them to:

Holbrook Veterinary Clinic
Abbie Reidhead D.V.M.
P.O.Box 283
105 Airport Road
Holbrook, Az. 86025
(be sure to write that it's for Holbrook Haven
c/o Tera McGinness)

REMEMBER..... it's tough for ANY abandoned animal, whether they are outside on the street waiting for rescue or in a shelter. So PLEASE.... try to do your part to help with your local rescues and shelters. Just dropping by to give a furkid an ear scritch can make you a hero in their eyes!
"All furkids LOVE these wonderful beds!!! Please click here so another senior dog can sleep in proper comfort!"
Adopting a Friend
Be sure to check out the amazing rescue stories at the wonderful website link below: FlyingPaws.org! This organization is one of best there is! Their pilots volunteer their time and fly their own planes to pick up and deliver any animal that is in need of transport due to any medical emergency! They also make sure that any furkid in need of transport to their forever home, gets there safe and sound and with lots of TLC along the way! You'll love reading the incredible stories of all the rescues these folks and their "Wings of Love" have accomplished!
Flying Paws Pet Transport