Adopting is for Life!
We at Have A Heart Guinea Pig Rescue are committed to finding loving forever homes for our furry friends. Although guinea pigs are considered "small animals", there is nothing "small" about the decision to bring one of these little ones home with you. There is much more involved when adopting an animal besides just filling out an application. Here are some helpful thoughts to mull over before you adopt rather than becoming overwhelmed with more responsibility than you and your family are ready for.
Have a family discussion if a guinea pig is the best pet for your family and who will be responsible for its daily activities: grooming, feeding, watering, providing exercise, veterinary bills, and simply just paying attention to it.

If there is any chance you might move from your current location, keep in mind that it is extremely difficult to find a new home that is as welcoming to pets as others may be. Remember the first day you set eyes on your perfect piggie and imagine how much stress they had to endure when being moved to a new home, a new family… Are you ready to put yourself and your pet through that unneeded stress all over again?

Guinea pigs are full of personality and have their own personal quirks and attitudes. Keep this in mind if you are considering a piggie. Some guinea pigs are more geared towards a quiet life, contently caged with minimal human interaction enjoying long naps and fresh veggies. Others can be extremely active, loving the feel of the carpet between their toes as they dash from room to room looking for dropped carrots.

Little piggies grow up to be big. As with every animal, that cute little runt of the litter can end up being the size of a monster and go through salads like they're going out of style! As they grow, so does their need for space. Are you prepared to give up your favorite corner to make room for a cage the size of a large ottoman?

Allergies: Oh the woe of waaaaaaaaaaaaaaaaaaay too many – both from adopters and admirers from afar. Guinea Pigs themselves can trigger allergies in both young children and adults even if they never showed symptoms of an allergic reaction before. If you find someone in the household is suffering from allergies, instead of deeming the piggie to be the culprit right off the bat, you need to look at every factor – is the allergy to the bedding? The timothy hay? The food? One of the toys?

If you have children (or even yourself) that have never owned a small animal, you might want to consider "baby sitting" a piggie for a friend. This gives you the chance to see how your body or your child's will react to a guinea pig in a smaller setting (not just a pet store). It also gives everyone in the household a chance to see how a piggie will react in a new setting. It will make a mess, spit out seeds or leave spinach buried under the bedding. Is it getting enough attention from the family? Is cutting up fresh fruits and vegetables cute in the morning or just another painful task to add to your morning list of chores?
There are many other factors to consider before adopting a guinea pig, or any other animal. The harsh truth is that adopting is for life, not for convenience. If you have any questions in regards to our piggies up for adoption or about guinea pigs in general, we would be happy to answer them for you! An educated piggie owner is the best kind of owner there is!
---
We're on Facebook! Like Us!
WHO WE ARE
Have-A-Heart is a guinea pig rescue based out of Burlington, NJ. It was founded in June, 2001. The rescue works together with the foster homes to rescue guinea pigs and on occasion other small animals from kill shelters and find them loving, forever homes. Have-A-Heart is also dedicated to the prevention of unwanted litters. All proceeds from merchandise and donations go toward our rescued animals veterinary care. Our pet list includes guinea pigs and other companion animals who are in need of loving families! We also can provide a loving forever home for hermit crabs!**
There are currently 141 piggies in our rescue with 4330 that have already been saved!
See our available pet list at Have A Heart on Petfinder!
Have a Heart uses House Paws Mobile Vet for the medical care of our rescue pets. If you are looking for an excellent vet to care for your pet, please contact Lisa(SHE IS OUR VET, SO PLEASE ONLY CALL FOR VET APPOINTMENTS. EMAIL US AT GPLOVER78@YAHOO.COM IF YOU ARE INTERESTED IN ADOPTING, FOSTERING OR TURNING IN AS THEY DO NOT KNOW ANYTHING ABOUT ANY OF THE ANIMALS LISTED ON OUR SITE) at drlisavet@gmail.com or her number is 856-234-7719(SHE IS OUR VET, SO PLEASE ONLY CALL FOR VET APPOINTMENTS. EMAIL US AT GPLOVER78@YAHOO.COM IF YOU ARE INTERESTED IN ADOPTING, FOSTERING OR TURNING IN, AS THEY DO NOT KNOW ANYTHING ABOUT ANY OF THE ANIMALS LISTED ON OUR SITE). Let them know that Have a Heart Guinea Pig Rescue referred you!
---
Our Piggies of the Month for May are...
TENNA, GRACE, BABY & TINA!!!!
The girls came into the rescue on 10/17/12 when their owners could no longer keep them. Tenna, Grace, and Tina were all about 3 years old when they came into the rescue. Baby was about 3.5 years old when she came into the rescue. Baby does have ovarian cysts, but please don't let that deter you from adopting this sweet girl.
---
New News
9/22/12!!!! HORRIBLE AUCTION!!! Have a Heart Attending a "livestock" auction as we were told that they do have guinea pigs there. What we saw was HORRIBLE! The conditions in which these animals are treated is just awful. All the animals there, not only piggies were treated so bad. They had the guinea pigs in one gallon juice jugs and crammed into small boxes and when we won an auction for a "four pack" of pigs, they litterally threw the box on the bleacher where we were sitting. Thankfully we were able to rescue 8 piggies there and got them out of that horrible place. They are all now safe and sound enjoying their clean cage with lots of hay, veggies and pellets.
SAD NEWS AT HAVE A HEART......
7/21/12 was the day that we lost sweet Hummingbird. She was a sweet piggie that was born on 2/14/12. Sadly, her owners allowed her to become pregnant at a very early age, even worse, by her brother. On 7/19/12 she gave birth to five stillborn babies. Due to complications from delivery, she lost her battle and passed away two days later. PLEASE, for anyone considering breeding their pig, please know that horrible things like this can happen. There are enough homeless piggies that people should not be breeding and the outcome is not always good. Now because of the carelessness of her past owner, this baby lost her life at only 5 months old.....
WEST CHESTER, PA!!! Another bad case of cruelty and neglect.... about 27 piggies were confiscated from West Chester, PA. All 27 were living in one rubbermaid container and only fed raw potatoes(which is very bad for piggies) and were forced to breed over and over again. Thankfully with the wonderful work from the cruelty officer, all 27 were rescued and split between 3 rescues. All are safe and sound. The males are for adoption now but the females that did not give birth in the rescues yet, will not be available until after 7/28/12.
LANCASTER RESCUE AGAIN!!!! 7/16/11!!!!! 56 pigs were rescued from a barn in Lancaster after being irresponsibly bred as always with the barn cases.... Between 3 rescues all the piggies are now safe and never to be bred again. The males are up for adoption but the females will not be until 9/22/11 as they may be pregnant.
NEVAEH WAS ADOPTED ON 10/9/10!!!!! Another case of animal neglect. Poor Nevaeh came to the rescue after her owners were going to let her loose outside in this heat in Philly, PA after they gave us next to nothing notice that they wanted her out! Didn't care what happened to her, just wanted her gone. Thankfully with the help of a new foster home, we were able to get her into the rescue. Poor Nevaeh is only about 1 year old, already had a litter of babies, has never had a water bottle, and was fed only rabbit pellets, not guinea pig pellets. She also came to us with SEVERE mites and is bald in most spots, has several scabs and is bleeding in some spots. Thankfully we started treatment for the mites as soon as we got her and gave her a bowlful of guinea pig pellets, fresh veggies and timothy hay. Please keep Nevaeh in your thoughts for a quick recovery!
APRIL 6th, 2008!!!!! 61 GUINEA PIGS RESCUED YET AGAIN! 61 Piggies were rescued YET AGAIN from the same home where the July 17th, 2007 piggies came from. Thankfully, this home is cleared out of piggies and will hopefully NEVER be able to do this again. Pictures to come soon and please consider adopting a special needs piggie. They need love too.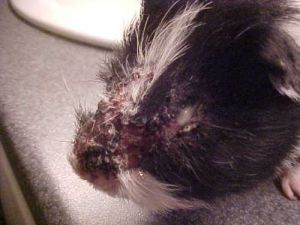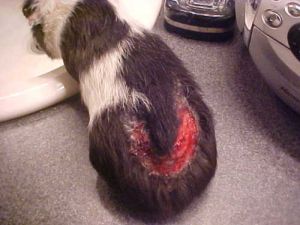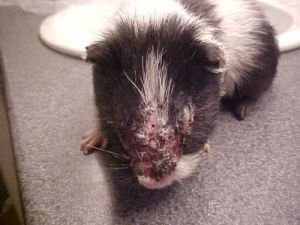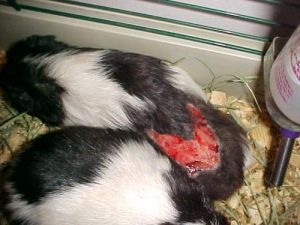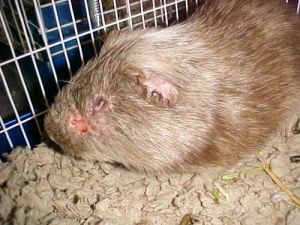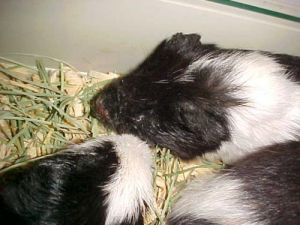 ---
Adoption Notices
ZOYA WAS ADOPTED ON 5/16/13!!!
TEDDY&BEAR WERE ADOPTED ON 5/11/13!!!
ONION WAS ADOPTED ON 5/11/13!!!
JETHRO WAS ADOPTED ON 5/11/13!!!
---
Upcoming Events
Have A Heart will also be at the Willingboro Public Library on May 11th from 11-3 for a pet awareness day they are hosting. The address of the library is 20 Willingboro Way Willingboro Township, NJ 08046
Have A Heart will be at the 6th Annual Dog Walk and Pet Fair on May 19th at 10 am at Parker Press Park 428 Rahway Ave, Woodbridge NJ - hosted by the Woodbridge animal shelter.
---
---
PIGGIE FOSTER HOME LOCATIONS
! A SPECIAL THANK YOU TO ALL OF OUR PIGGIE FOSTER PARENTS FOR OPENING YOUR HEARTS AND HOMES!! WE CURRENTLY HAVE FOSTER HOMES IN AREAS OF DELAWARE, NEW JERSEY, NEW YORK, AND PENNSYLVANIA. SEE BELOW TO FIND A FOSTER HOME NEAR YOU!!
| DELAWARE (3) | NEW JERSEY (32) | NEW YORK (6) | PENNSYLVANIA (8) |
| --- | --- | --- | --- |
| BEAR (1) | ABSECON (1) | BROOKLYN (2) | ALBERTIS (1) |
| NEW CASTLE (1) | AUDUBON (1) | LEVITTOWN (1) | COPLAY(1) |
| SEAFORD (1) | BELLE MEADE (1) | PORTER CORNERS (1) | DINGMANS FERRY (1) |
| WILMINGTON (1) | BERLIN (1) | QUEENS (1) | MEDIA(1) |
| TD> | BORDENTOWN (1) | YORKTOWN(1) | PAOLI(3) |
| | BURLINGTON(1) | | PHILADELPHIA(1) |
| | BROWNS MILLS (1) | | |
| | CHATHAM (1) | | |
| | CREAM RIDGE (1) | | |
| | GLASSBORO (1) | | |
| | GLEN ROCK (1) | | |
| | LUMBERTON (1) | | |
| | MANTUA (1) | | |
| | MANVILLE (1) | | |
| | MARLTON (1) | | |
| | MIKLETON (1) | | |
| | MOORESTOWN (1) | | |
| | MT. EPHRAIM (1) | | |
| | NEW BRUNSWICK (1) | | |
| | PEMBERTON (1) | | |
| | PENNSVILLE (2) | | |
| | PHILLIPSBURG (1) | | |
| | PINE HILL (1) | | |
| | POINT PLEASANT (1) | | |
| | ROCKAWAY (1) | | |
| | RUNNAMEDE (1) | | |
| | UNION (1) | | |
| | WATCHUNG (1) | | |
| | WEST DEPTFORD (2) | | |
| | WHITING (1) | | |
| | WYCKOFF NJ (1) | | |
CREATED WITH THE .
---
Ways That You Can Help Make A Difference

Fostering: We are ALWAYS in need of new foster homes!!! We will supply the cage, water bottle, food bowl and of course the piggies. We also handle all the medical should it arise as well as the phone calls and emails so you wouldn't have to deal with the public. There is also no commitment with fostering. You can foster as long or as short as you would like. All you would have to do is supply the bedding, hay, veggies and pellets.

Adopting: We are in desperate need of forever homes. Our homeless piggies need love and attention and a place to call "home"! These loving little creatures make great pets for both the experienced and first time pet owner! They are smart, fun to play with, and most are even great with kids! They tend not to bite or sleep a lot unlike other small animals so they're sure to keep the whole family entertained! Most animals are saved from local animal shelters where they are in danger of being euthanized. There is every color you can imagine, male and female. Only same-sex pairs or singles will be adopted out. Feel free to contact us about any of our animals that you may be considering so we can provide you with additional information at GPLOVER78@YAHOO.COM

Donations: DONATIONS ARE ALWAYS APPRECIATED and go toward veterinary costs and supply costs that we incur for the proper care of our rescued piggies. Remember... even the smallest donation goes a long way in the eyes of our little furry friends!

Our Wish List
Neat Idea Storage Cubes and Choroplast to build cages like www.cavycages.com
Bedding - WoodyPet, Yesterday's News, Aspen, Carefresh or Cell Sorb
Guinea pig food
Timothy Hay
Water bottles
Food dishes
Veggies
Vitamin C drops or tablets
Piggie houses
Treats
cages
plastic grocery bags
Cleaning supplies
Ivermectin
Check out our Amazon Wish List! Piggie Holiday Wish List!

Add iGive to your desktop and make donating easy!

iGive!

---
MERCHANDISE!!!!!!
GUINEA PIG AND OTHER ANIMAL HUTS, BEDS AND OTHER ITEMS!!!! Please visit her website at www.jenscustomscrafts.com
Have a Heart has personally order huts, beds and hammocks from Jenny from Jens Custom Crafts and the animals LOVE them! Jenny is VERY rescue friendly and donates a portion of her proceeds every month to pet rescues around the country. If you would like to order and have your proceed go directly to Have a Heart, let her know! TONS of colors and patterns to choose from for every kind of animal in your life :)
Check out www.cozycavy.com for GREAT piggie beds and other products! They are also VERY rescue friendly and have donated generously to our rescue.
SMALL CAGES FOR SALE: We have quite a few small used cages for sale that are ideal for travel cages. They are not good to house guinea pigs in permanantly, but they are great for short periods of time. If you would be interested in buying one, please email us for more information.
---
Pet Sitting Services Now Available!

Going away on vacation and nobody will be home to watch the little critters??? Have a Heart is now offering pet sitting while you are away. Email for prices and more information.

---
MANY THANKS...
MANY THANKS TO MY MOM who help out a TON with the rescue. A special thank you to Suzanne in Wallingford, PA for helping us tremendously with paying off our vet bill and to the Singh Family in Memory of Charlotte Regeler for her special love to all the animals she opened her home to.
SPECIAL THANKS TO OUR DONATORS!!!
January 2013Im Memory of Hammer from Hippo, Panda, and Lancaster in Spencerport, NY, Andrea in Woodside, NY, Lisa in Bensalem, PA, PetMeds graciously supports our cause.
February 2013Karen in Trenton, NJ!!!!
March 2013Julie in Far Rockaway, NY, Claire(In Memory of Leroy) in Mt. Royal, NJ, Emily(In Memory of Roy) in Blaine, MN!!!!
April 2013In Memory of Bubbles from Harley, Hippo, Panda and Lancaster in Spencerport, NY,
May 2012Marlene in Staten Island, NY, Beth(In Memory of Ruffles) in Hainesport, NJ, and Karen in Trenton, NJ!!!!
June 2012Christopher(In honor of Peter and Julie's wedding) in New York, NY and Thea in Philadelphia, PA!!!!
July2012Sandra in Atlantic Mine, MI, Kristin in Smithtown, NY, Carol in Croydon, PA!!!!
August 2012Jodi in Congers, NY, Jeff(In Memory of Frizzle) in Sudbury, MA and Karen in Trenton, NJ!!!!
September 2012 Karen in Trenton, NJ, Kelly in Pt. Pleasent, NJ!!!!
October2012Kelly in Bayonne, NJ, Connie and Caryn!!!!
November 2012Stephanie in Westville, NJ, Gloria in Lakewood, NJ, Nicole in Sewell, NJ, Tabitha in Memory of Merlin, Karen in Trenton, NJ and Marlene in Staten Island, NY!!!!!
December 2012Karen in Toms RIver, NJ, Lisa for donating all the blankets, snuggle sacks and liners to the rescue, Ryan for donating the piggy beds, Karen in Trenton, NJ, for donating the piggies beds, Hippo, Panda and Lancaster in Spencerport, NY, Marlene(In Memory of Devo and Robbie) in Staten Island, NY, Linda from Blankets for Buns, MaryAnn in Berlin, NJ, Ray in Morgantown, PA, Kristi in Anoka, MN, Lisa in Bensalem, PA and Julie in Far Rockaway, NY!!!!
---
FELLOW RESCUERS!
Pit Bulls - Pit Bull Rescue Central
CATS & DOGS - Burlington County Animal Alliance

---
IN MEMORY OF PETS THAT CROSSED OVER THE RAINBOW BRIDGE!
Bubbles, Leroy, Roy, Hammer, Buddy, Robbie, Devo, Merlin, Frizzle, Ruffles, Thisbe, Murphy, CoCo, Stripe, Skit, Choca, Latte, Bandit, Marie Antoinette, Ashley, Mary Kate, Pumpkin, Pointsetta, Mogley, Alvin, Penny, Coco, Ramona, Mandy, Lisa Marie, Caramel, Emily, Little One, Christy, Hobbs, Princess, Sylvester, Church&Maddie(AKA Matilda), and Duncan.
IN LOVING MEMORY OF OUR DEAR FRIEND GIN.
Thank you for all the support and love you gave to the rescue. We will forever miss you....
---
See our available pet list at Have A Heart on Petfinder!
Thank you for visiting Have A Heart Guinea Pig Rescue!
---

[Home] [Information] [Shelters] [Search]