Helpful Links
Adoptions
Would you like to adopt? Please download this application. Download or copy & paste this onto your computer, fill it out, and e-mail it to us when you are finished. You will get a reply when approved, as well as the next steps in bringing your new friend home. You may also bring your filled & printed out application to us during our open house day, Saturdays
Did you know? Here at Heavenly Angels, we have an entire downstairs full of pens where our bigger dogs can romp and play! Because the dogs are out playing, this room is Employees Only, which means that if you drop by without checking our adoptable pet list first, you might not see all of the animals we have to offer!! So donít forgetóif you are looking to adopt a dog, make sure you visit our list of adoptable animals before you come to visit, and if you love one of our babies that is downstairs playing, we will be more than happy to bring it up for you to meet!
For Our Adopters: When you adopt a dog from our center, you are eligible for discounted dog training sessions with our dog trainer. The ACQ trainer is still offering low-cost training for issues such as leash walking/pulling, potty training, aggression, etc. So give us a call if you need a dog trainer, and take advantage of this offer!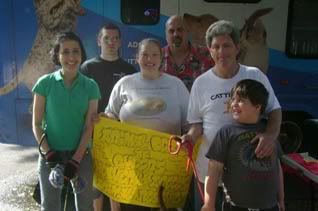 Current Events
Astoria peeps, please visit Vitality & Health Market located at 46-03 Broadway if you are buying a Christmas tree, for every tree sold they will donate $2 to HAAR. They will also be collecting blankets , food, toys , and supplies for our animals as well, and there will be a giving tree located in the store, all proceeds will go to the animals. Click HERE for the flyer.
You are cordially invited to come celebrate the 1 year adoption of brothers: "Billy Mays" & "Jack Frost" at the Fido Fitness Club at 910 Railroad Avenue in Woodmere, NY on Sunday, December 8th. Click HERE for the flyer. There will be other adoptable dogs at this event, as well as Richie Schwartz's (from Pet Photography) appearance to photograph your pooches!
We will be at the Barnes & Nobles at Austin Street, Forest Hills for a Holiday Gift Wrapping event. Click HERE to see the dates & times we will be there. For those of you who are getting their head start on their holiday shopping, feel free to drop by to get your gifts wrapped by yours truly, the elves of Heavenly Angel Animals Rescue.
This year's City Pitties & 6th Annual Pet Coat, Blanket and Operation Food Bowl Drive RCS 5th Annual Walk Against Hunger will take place at Knights of Columbus Archbishop John Hughes Council; 1305 86th Street, Brooklyn NY 11228. Please come and donate to those animals who are in need of warmth during the cold seasons.
We are looking for a groomer to work 4 days a week including weekends. Please email us at haar13@aol.com.
We offer low cost micro-chipping for $35 every Saturday and Sunday from 2-4 PM. So come get your pet microchipped at this low rate to ensure their safe returns to home.
Thanks for all the support at our Grand Opening!
Ladies & gentlemen, rejoice! There is grooming available at our facility. Grooming will be available Tuesdays, Fridays, and Saturdays.
Training classes on Tuesdays at 7pm! Come early to meet our dog trainer, Sean Lundy! Free training lessons for those who adopted dogs from HAAR or the ACQ! Come stop by and take advantage of this opportunity!
We also offer low cost microchipping services
How Can You Continue to Help Us?
We are aware that not everyone could adopt one of our beloved's and bring them into their forever homes. There are other ways in which you, animal lovers can help us!
Donate to us. Since we are a fairly new organization, we are requesting your help to help our animals in need! We have a wishlist set up on Amazon, and would like you to help us out by purchasing some of these items for us. Click here to see our Wishlist! You are also free to donate anything you would like to us. We and the animals are very grateful for any contribution you can make to us!
Volunteer your time. We are generally open from 12-5. Come walk our dogs! Socialize with our cats! Our animals need to be cared for everyday around the clock, and it'd be helpful for others to get involved. We also hold adoption events which needs volunteers to help out. So click here to sign up with us to volunteer with our animals. Please notify us when you are available.
Attend our events. Aside from holding adoption events, we hold fundraising events. It would be most helpful for our organization and animals if you and anyone else could come!
Foster our animals. It is impossible to give a temporary safe haven to all the animals in need. We need responsible foster parents to take care of our animals temporarily until a forever home is found for them. If interested, please e-mail us and and arrangements can be made. But remember, it is still a responsibility of taking care of a pet!
Become our fan on Facebook! Since we are a new rescue, we want people to notice us. And that can only happen with your help! The more people notice our page on yours, the more people will join and stay updated with our rescue! Remember, it starts with you.
Donations