ALL ANIMALS WILL BE SPAYED OR NEUTERED PRIOR TO ADOPTION. All of our dogs have been vaccinated for DHLPP, and wormed with Panacur. All dogs are heartworm tested from age 4-5 months and older. All dogs over age 8 weeks are started on heartworm preventative. Our cats receive a vaccination of FVRCP, are leukemia/FIV tested, and are wormed with pyrantel. All of our animals are microchipped and receive rabies vaccinations (as age permits) prior to adoption. An adoption application must be completed, a thorough screening is performed, and a home check may be requested. Adoption fees are immediately placed back into our fund to help other homeless, neglected or abandoned animals. A contract is required for all animals being adopted. We do strict follow-up on this contract. Feel free to email us with any questions. However, please include the name of the animal in which you are interested. You may also call us at 410-820-1600.

Click here if you are considering adopting a dog or a puppy

Click here for DOG OR PUPPY ADOPTION APPLICATION

Click here if you are considering adopting a cat or kitten.

Click here for CAT/KITTEN ADOPTION APPLICATION

CLICK HERE FOR OUR ADOPTION FEES AND COMPARISON CHART










Animal shelters are your best source when looking for a pet. Not only do they have a great selection of adult animals for adoption, but they also have kittens and puppies, even purebred animals. In fact, on average, purebreds account for about 25% to 30% of a shelter's dog population.
Many pets at the shelter are waiting for new homes because they were obtained by someone with unrealistic expectations of the time, effort, and money required to sustain a lifelong relationship with their pet. National figures indicate that about half of the animals in shelters must be euthanized for lack of homes. Animals at our shelter are eager to find a new home and are just waiting for someone like you.
You can depend on responsible shelters to screen the animals for sound health and temperament. When animals are relinquished by owners, the shelter staff makes every attempt to collect a thorough history of that pet. Then, while caring for animals, staff and volunteers try to learn as much as they can about these animals as well as those who come to the shelter as strays. Before choosing your pet, you can even speak with an adoption counselor about whether your choice of a particular type or breed will be best for you. In an effort to make good matches between people and animals and to place pets in lifelong homes, many shelters provide adoption counseling and follow-up assistance, such as pet parenting and dog-training classes, medical services, and behavior counseling. Or they may be able to refer you to providers of these services.
--HSUS


In Memory of Katie Clancy
September 30, 1992 - January 21, 2008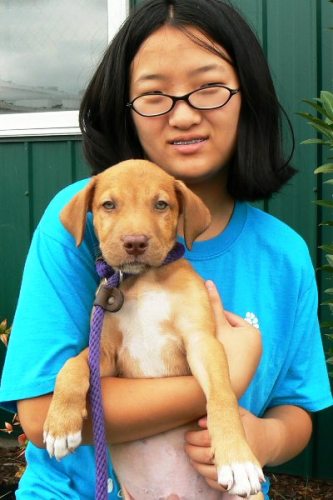 We will miss.... your boundless enthusiasm and energy; your hard work and dedication; your love for the animals and the excellent care that you gave them; your smiles and your hugs.

But those who soonest take their flight
Are the most exquisite and strong,—
Like angels' visits, short and bright;
Mortality's too weak to bear them long.


You can now purchase items with the Caroline County Humane Society logo!!
CCHS will receive a portion of the sales.
Simply click on the banner below:




Affiliate shopping (other animal products):



Need more information on PET CARE? Please visit the Humane Society of the United States.
HSUS Pet Care


How about a FREE Training Video using positive, reward-based training advice? Simply click here for more information!




Please click on the link below for information on why BSL does not work
Breed Specific Legislation--Why we all need to be concerned.



The opening of our shelter was August 1, 2000. We have 20 large indoor/outdoor runs, a puppy room and cat and kitten room. Every animal has their own bed, blanket and toys. Daily walks for the dogs (sometimes more), and play time for the cats keep the animals stimulated, happy and socialized.

OUR HOURS ARE: Monday, Tuesday and Friday 9:00-4:30. Thursday 11-7, and Saturday 10:00 to 3:00.





Our dogs love to sleep on Kuranda Dog beds. If you would like to donate a bed at a special wholesale price for a another dog to sleep in comfort, please click here.
Who We Are
The Caroline County Humane Society is a non profit 501(c)3 organization. We are located in one of Maryland's poorest counties. Before August 2000, we worked without a shelter. Until that time, all of the animals that we rescued were placed in foster homes with our volunteers. We still have many wonderful pets in foster homes, and many more in our new shelter. We offer a low cost/free spay and neuter program for the pets belonging to low income and elderly residents of our county, and offer educational programs and resources for pet owners. We are developing a program especially designed to reach the children in our community. We hope that this will insure the well-being of animals in the future, as well as in the present. We have established, and are constantly attempting to improve, an aggressive adoption program and are proud of our excellent adoption rate. In the near future, we hope to offer obedience classes for dogs and care/training classes for pet owners.





Our Board of Directors for the year 2010 are as follows: Bonnie Johnson (President), Chris Bower(Vice-President), Karen Kilheffer( Acting Treasurer), Joanne Shipley (Secretary), Connie Cook, Jonathon Powers, Karen Ritchey, Craig Crotts and Amanda Cook. Our Executive Director is Stephen Vaughn. Our Animal Control Officers are Diana Greenwood and Ray Colman .




WHY YOU SHOULD SPAY OR NEUTER YOUR PET
What do "spay" and "neuter" really mean?
Female dogs and cats are spayed by removing their reproductive organs, and male dogs and cats are neutered by removing their testicles. In both cases the operation is performed while the pet is under anesthesia. Depending on your pet's age, size, and health, he or she will stay at your veterinarian's office for a few hours or a few days. Depending upon the procedure, your pet may need stitches removed after a few days. Your veterinarian can fully explain spay and neuter procedures to you and discuss with you the best age at which to sterilize your pet.
Spaying or Neutering Is Good for Your Pet
Spaying and neutering helps dogs and cats live longer, healthier lives. Spaying and neutering can eliminate or reduce the incidence of a number of health problems that can be very difficult or expensive to treat. Spaying eliminates the possibility of uterine or ovarian cancer and greatly reduces the incidence of breast cancer, particularly when your pet is spayed before her first estrous cycle. Neutering eliminates testicular cancer and decreases the incidence of prostate disease.
Spaying or Neutering Is Good for You
Spaying and neutering makes pets better, more affectionate companions. Neutering cats makes them less likely to spray and mark territory. Spaying a dog or cat eliminates her heat cycle. Estrus lasts an average of six to 12 days, often twice a year, in dogs and an average of six to seven days, three or more times a year, in cats. Females in heat can cry incessantly, show nervous behavior, and attract unwanted male animals. Unsterilized animals often exhibit more behavior and temperament problems than do those who have been spayed or neutered. Spaying and neutering can make pets less likely to bite. Neutering makes pets less likely to roam the neighborhood, run away, or get into fights.
Spaying and Neutering Are Good for the Community
Communities spend millions of dollars to control unwanted animals. Irresponsible breeding contributes to the problem of dog bites and attacks. Animal shelters are overburdened with surplus animals. Stray pets and homeless animals get into trash containers, defecate in public areas or on private lawns, and frighten or anger people who have no understanding of their misery or needs. Some stray animals also scare away or kill birds and wildlife. Spay or neuter surgery carries a one-time cost that is relatively small when one considers its benefits. It's a small price to pay for the health of your pet and the prevention of more unwanted animals. ~~~HSUS


ANNOUNCEMENTS!
We are always in great need of volunteers and of foster homes for our pets. We need volunteers for all areas of our shelter...dog walking, dog/puppy bathing, dog/puppy/cat/kitten socializing, basic obedience for our dogs and puppies, as well as "office type" duties.

Foster homes are needed for animals that need to be in a home setting until they are adopted. For people interested in fostering a dog or a puppy, we are looking for families that are willing to housetrain, crate train, and to teach basic good manners and obedience to our dogs and pups. For people interested in fostering a cat or kitten, we are looking for families to be sure that the cat or kitten is litter trained and well-socialized. Please contact us to receive a volunteer or foster home application.

Donations of money or items for our shelter are greatly appreciated. We are a non-profit organization, so all donations are tax deductible. We need: dog/cat toys, treats, biscuits, puppy chow, cat food, blankets, towels, bleach, paper towels, laundry detergent, copy paper, anti-bacterial hand soap, collars, leashes, etc.



COME VISIT US!

We are located on the eastern shore of Maryland, approximately 30 minutes east of the Bay Bridge. We are approximately 45 minutes to Annapolis and Dover, DE; one hour and 15 minutes to Baltimore, Washington, DC and Wilmington, DE; two hours to Philadelphia.

DIRECTIONS TO OUR SHELTER FROM POINTS NORTH:
Take 295 South or the NJ Turnpike south over the Delaware Memorial Bridge, or take 95 South from Philadelphia area. Continue on 95 South to Exit 1A (Middletown), Route 896 South. Continue on 896 South ... this will turn into 30l South when entering into Maryland. After entering Maryland, stay on 301 South to milepost 110. At milepost 110, make a left at the flashing light onto Route 544. Come to stop sign, and make a right onto 313 South. Continue through the towns of Sudlersville and Barclay. Several miles past Barclay, you will enter into Caroline County. Continue to Route 312 South to Ridgely. Make a right onto Route 312 South. Follow into the town of Ridgely (about 6-7 miles). At the Provident Bank, make a right onto Bell Street. Follow Bell Street through two stop signs. Our building is on the right. Our street address is 407 West Bell Street.

DIRECTIONS TO OUR SHELTER FROM POINTS WEST:
Take Route 50/30l over the Chesapeake Bay Bridge. Continue on until the 50/301 split. Bear to the right onto 50 East. Stay on 50 East to Route 404 East (approximately 5-7 miles). Make a left onto 404 East. Stay on 404 East for approximately 7 miles to Route 480. Make a left onto 480 and go into Ridgely (approximately 2 miles). At the People's Bank on the left, make a left onto Central Avenue. Continue through the small town to the Provident Bank. Make a left at the bank onto Bell Street. Follow Bell Street through two stops signs. Our building is on the right. Our street address is 407 West Bell Street.



Map to our shelter



CAROLINE COUNTY HUMANE SOCIETY, INC.
Visit our website! Caroline County Humane Society
407 West Bell Street
Ridgely, MD 21660
Phone: 410-820-1600
Fax: 410-820-1110
E-mail:info@carolinehumane.org
Shelter hours: Monday, Tuesday and Friday 9:00 - 4:30; Thursday 11:00 - 7:00
Saturday 10:00 - 3:00


VISIT SOME OF OUR FAVORITE LINKS!
Grateful Paws, Inc.
On May 1, 2003, the Caroline County Humane Society in Ridgely, Maryland made national headlines with an animal hoarding case, dubbed "Operation May Day". Eighteen dogs and 291 live cats were removed from a residence in Denton, after reports were made to the Humane Society concerning the condition and welfare of the animals. Tragically, many other animals at the site were found dead. The case reached national attention as the largest extraction of animals from a residential home in U.S. history.

Caroline County Humane Society wishes to thank local rescue group, Grateful Paws, in Grasonville, MD, for all of their hard work to find homes for the cats that we were able to save.

Roxie's Fund - a great rescue site!

BREW - Beagle Rescue

Cocker Adoption Center

Oldies But Goodies Cocker Rescue

MidAtlantic German Shepherd Rescue

Chesapeake Shepherd and K-9 Rescue

Animal Resource Foundation

Animal Advocates of Howard County

Chesapeake Cats and Dogs