Animal Advocates Inc.
Read about our Thrift Shop and Upcoming Events below.
---
Our Featured Pet...
Jiffy is waiting patiently for his forever home ...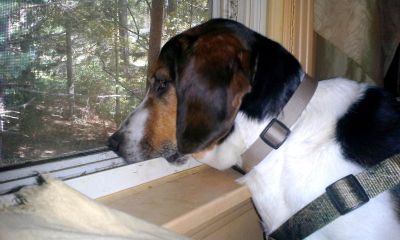 Donating is easy when you shop at the stores you regularly shop from on-line!!!
All you have to do is do your regular shopping through www.iGive.com/AnimalAdvocates

Then shop from over 1400 on-line name brand stores including Dog.com, Jeffers Pet, Pet Food Direct, 1-800-PetMeds, PetCo, PetsMart, Barnes & Nobles, Discovery Store, Land's End, Chadwicks, Hallmark, Dell, Home Depot, Office Max, and Sears, just to name a few. A percentage of your purchase is then donated to Animal Advocates to help us continue our work for the animals. You won't believe all the great stores that are participating! Join for free at www.iGive.com/AnimalAdvocates ; make your first purchase within 45 days of joining. iGive will donate an extra $5 to your favorite worthy cause!

On-line shopping has never been easier and your contribution to Animal Advocates is greatly appreciated. Thank you so much for your generous support.


News/Upcoming Events
Please visit our newly remodeled Thrift Shop at 35 Wabash in the West End of Pittsburgh. In addition to our regular assortment of beautiful bargains, we are featuring a great variety of items for holiday decorating , entertaining and gift giving, including new, "still in the package" toys, all at fantastically low prices. ANIMAL ADVOCATES SHOP ANIMAL ADVOCATES IS AN ALL VOLUNTEER ORGANIZATION. OUR SHOP IS STAFFED BY VOLUNTEERS. ALL PROCEEDS FROM OUR SHOP GO DIRECTLY TO THE CARE OF OUR RESCUED ADVOCATS AND DOGS. Location: Animal Advocates Thrift Shoppe, 35 Wabash Street, Pittsburgh, PA (West End, off Steuben Street) Shop Phone: 412 928-9837 Shop Hours: Mon- Fri 12:00 to 3:00 Saturday-11:00 to 3:00 ADOPTION "MEET AND GREETS" BY APPOINTMENT Adoption Phone: 412 928-9777


Who We Are
Animal Advocates is an all volunteer Pittsburgh based animal protection and animal rights organization. We are dedicated to ending the suffering, exploitation and abuse of all animals. We are involved in helping the local companion animal population, community outreach on behalf of animals, vegetarian/vegan awareness and educational work concerning animal issues. Animal Advocates is not a shelter. Except for a limited number of cats fostered at our office, our adoptable rescued animals are cared for in loving,volunteer foster homes. Adoption "Meet and Greets" are by appointment. Our office is at 35 Wabash Avenue in the West End of Pittsburgh. Want to volunteer? Our Animal Rescue Committee provides care for animals that come to us, either in a foster home or at our office. Foster homes for dogs, cats, puppies and kittens are always needed. Help is also needed with vet runs, grooming runs, etc. We need volunteers for tabling events and "meet and greets" with our adoptable animals. Our Resale needs volunteer staff to sell new and very gently used donated items at our Shop– all money goes to the animals! Volunteers and donations are welcomed and appreciated. If you are interested in learning more about us please call (412) 928-9777 or Email animaladvocatespgh@live.com




Adopting a friend from Animal Advocates: Our Adoptables aren't free, but they are priceless.
Our cat or kitten adoption fee is $75.00. This includes spaying or neutering, FeLv/FIV testing, vaccinations, AVID microchip and lifetime AVID registration . Our cat and kitten adoption contract includes a no declawing policy. We do sometimes have cats available for adoption who have been declawed prior to coming to our rescue. Our dog adoption fee is $100.00, puppies up to 6 months are $150.00. This includes spaying or neutering, heartworm testing, vaccinations, AVID microchip and lifetime AVID registration. In addition, rescued animals in our care are vet checked and any existing medical problems are treated. They are routinely treated for internal and external parasites. Our contract specifies that adopted animals be kept as indoor companions, not in a basement, garage or kennel. You must be 21 years old or over to adopt and the entire household (other animals included) must be part of the process. Please bring i.d. with proof of your current address. If you rent please bring a copy of your lease, indicating that you are permitted to have companion animals. We reserve the right to do a home visit. We are not a shelter. Our rescued animals stay in volunteer foster homes until they find forever homes. We get to know them very well and do our best to make the best possible match for both animals and humans. Our senior discount is 20% off the adoption fee for animals over 10 years and/or people over 60. Sometimes we have animals who are extremely bonded with each other and truly need to go home together. The adoption fee for bonded pairs adopted together will be reduced. We are an all volunteer organization with rescued animals cared for in foster homes, not in cages or kennels. We do not have a shelter facility with public hours. Our adoption meet and greets are by appointment. To learn more about our adoptions, a specific animal or to plan a meet and greet, please call (412) 928-9777 or email animaladvocatespgh@live.com
Come Visit Us!
To raise funds for animal care and outreach, we operate a thrift shop located in Pittsburgh's West End at 35 Wabash Street. We accept donations of items for our thrift shop, including gently worn clothing, crafts, jewelry, pet items,collectibles,art, small appliances, kitchenware, linens, etc. Because of limited space we cannot accept large appliances, textbooks, encyclopedias, out of season clothing, bulky sports equipment, large furniture or mattresses. Because of our philosophy we do not accept any fur or leather items. Come visit our shop; you'll find great deals and help animals at the same time. The shop is staffed entirely by volunteers, all monies received from our thrift shop go to help animals. New volunteers are always welcome. We have sidewalk and bake sales several times a year, as well as special holiday events and sales.


---
Animal Advocates Inc.
P.O. Box 8480
Pittsburgh, PA 15220
Phone: 412 928-9777

Email:
Advocates at animaladvocatespgh@live.com


Click here for a list of pets at this shelter

---

[Home] [Information] [Shelters] [Search]