Creatures Comfort
Our Featured Pets...
Click to see our featured pet...
Dolly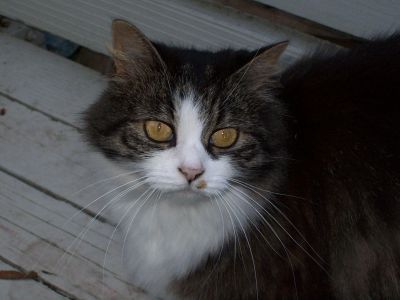 ---
Announcement!
In an effort to find lifelong, loving homes for our cats, we are reducing the adoption fees for all of our cats, from kittens to adults. To find out more about the reduced fee or free adoption, please contact us by email at creaturescomfort488@gmail.com or by calling Lois Wade at (360) 733-1648.
Who We Are
Creatures Comfort is a no-kill, TNR animal shelter with the primary mission of saving and improving the lives of the feral cat community. Trap-Neuter-Return (TNR) is the process of humanely trapping feral cats in order to spay or neuter them, provide them with vaccinations and basic medical care then ear tipping them before returning them to their environment. With the help of our volunteers, we are dedicated to helping manage the health of local feral colonies, and to saving newly lost or abandoned strays, who are often injured, ill and starving.
What is a Feral Cat?
A feral cat is a cat who has reverted in some degree to a wild state. They originate from former domestic cats who were lost or abandoned and then learned to live outdoors or in environments involving little human contact, such as warehouses, dairies or abandoned buildings. Feral cats breed frequently, and humane population control is a crucial step in preventing suffering and proliferation. Many previously owned cats may be re-socialized with patient love, care and confinement. Feral kittens are kept and socialized, then placed for adoption.
What is Ear Tipping?
Ear tipping is the universal sign of a neutered feral cat. The procedure involves removing approximately a quarter-inch off the tip of the cat's left ear in a straight line cut. This is done while the cat is anesthetized for spay/neutering and healing is rapid.
Our Volunteers
Creatures Comfort is supported through the dedicated and compassionate service of our volunteers. They care about the ferals and their welfare, and do all they can to help in the management and health of the feral colonies. The many services they provide are what keeps us going, from the beginning process of trapping to the fostering of the adoptable cats and kittens. If you would like to volunteer, there are many ways to be of help and we would love to have you. Please contact Lois Wade at (360) 733-1648 or by emailing creaturescomfort488@gmail.com.
Our Five Principles
Intervention: It is our mission to ensure all cats are cared for. Feral cats are trapped, spay/neutered, vaccinated and returned to their homes, hopefully under the supervision of a caretaker. Abandoned and stray cats are trapped and re-socialized if possible.




Prevention: Spay/Neuter is not just necessary, it is critical in controlling unwanted cat populations and reducing disease.




Rehabilitation: Young kittens taken from the wild can often be socialized and become trusting, loving, people friendly pets. Previously domestic adult cats that have reverted to a feral lifestyle may be a little more timid or shy, but re-socialization can be successful and allow them to be placed for adoption.




Adoption: We are dedicated to find loving homes for all the cats in our care.




Education: We want people to understand the plight of feral and stray cats and learn how they can help care for them.
We show one or two cats weekly at ACE Hardware in downtown Ferndale, 5715 4th Avenue. For more information on the cats and kittens we have available, please contact us at creaturescomfort488@gmail.com, or by calling Lois Wade at (360) 733-1648.
---
Adoption Policy Creature's Comfort has a firm no-declawing policy that extends to all of our cats. To find out more about the effects of de-clawing, please visit https://www.petfinder.com/cats/cat-problems/declawing-cats/ for more information.

Our Available Pets
---

[Home] [Information] [Shelters] [Search]