THANK YOU FOR CONSIDERING THE ADOPTION OF A PRECIOUS RESCUED DOG, WHO HAS NOBODY AND DESERVES TO HAVE A LOVING FAMILY OR THEIR OWN..
EMAIL ALL INQUIRIES: boxers@waboxerrescue.com
"CARSON" - EMACIATED BOXER SAVED FROM DEATH ROW (less then an hour before the killroom appt)
WITH A FEMALE. BOTH JUST TURNED 2 YRS OLD..
ANY AMOUNT HAS BEEN GREATLY APPRECIATED FROM THE BOTTOM OF OUR HEARTS HERE AT WBR..
RECEIPT PROVIDED FOR TAX PURPOSES UPON REQUEST.... PLEASE CLICK ON VIDEO BELOW (purple box) TO SEE CARSON WHEN HE CAME INTO WBR'S RESCUE PROGRAM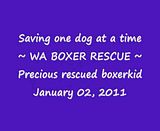 ALL ABOUT ~~ WASHINGTON BOXER RESCUE
QUESTIONS + ANSWERS TO MOST INQUIRIES
ATTN: OUR WEBPAGE HERE AT Petfinders tries to cover all your questions about this rescue program. Thank you for considering rescue for the adoption of a wonderful new family member. WASHINGTON BOXER RESCUE is a 501 (c) 3 non-profit corporation and we only adopt to WA STATE RESIDENTS at this time. WA BOXER RESCUE is located in SE WA State, in the Tri-Cities area - this is our home based location & main office, however- WBR has a representative for western WA located in Seattle, so we can work with anyone throughout WA. This rescue program is run by volunteers dedicating their endless hours of work with each dog in this program. We do the best we all can to answer each one of you corresponding, but at times - we simply get held up because of emergencies or overwhelmed with dogs in this rescue and cannot get right back with you on occasion.... WBR does have wonderful foster homes across the state that help with the recovery and care of our precious boxers waiting for their forever home, and our boxers are always spread out across the state residing in these homes as they wait..We are dedicated to helping place our wonderful rescued boxerkids, in a forever home. Our goal is to help them along their journey to a better life and to a home where they may share their loyalty with a new family. They all deserve a second chance at life with someone to hold them with kindness. To help those who cannot help themselves, is our greatest reward. We do our best to evaluate each dog that comes into rescue and to help match them with the best possible family. Please understand that this can take quite awhile per each dog to find that right home for them. They can stay in this rescue program for as long as that takes. We want you and your family to have a good & safe adoption through us, not a hasty one that adopts to you- the wrong dog. Your understanding is greatly appreciated. Please consider the adoption of a precious rescued boxer to love forever.
A: Let me address the most common questions below that are asked of me through boxer rescue. We receive over 1500 emails weekly and 20-30 phone calls a day, please read all the following on this page to possibly answer any questions that you may be wanting to ask, but please don't hesitate to write, if you want to know more. This is not a shelter where you can come and visit all the boxers I have for adoption, so please understand we cannot do this until your application has been approved for adoption. Our boxers are spread out across WA State in foster homes. These rescued boxerkids are brought into our private homes for much needed training & care after they are released to WBR. We all work very hard to help them regain their health, spay, neuter, vaccinate and prepare them to have a full and loving life with you. THIS IS NOT A SHELTER ENVIRONMENT, all of these boxers in my rescue, are in private homes - so please do not ask to visit them until your application has been submitted and approved. REMEMBER, we cannot always reply immediately via email due to our busy day caring for all the rescues.Your understanding is greatly appreciated.
B: Each boxer is different, just as we are and require that consideration through the rescuer and the potential adopter. We try to evaluate each boxer and potential adopter as well as possible for an adoption. We get many questions regarding boxers and cats, and a high percentage of boxers are very well known for not being cat friendly. As soon as a cat takes off down the hallway or across the backyard- the chase is on and this is a sport that can have a horrible outcome. Unless raised and socialized properly from a pup, you may never be able to trust a boxer in your home if you have cats and should never take that chance without an evaluation. Please do not inquire about a dog that is not cat friendly if you do have cats. This is for their safety...You can fill out an application to be on file ready for the next boxer that comes in to rescue, that is cat friendly and that would be the right step to take. So please understand that you may wait a bit longer on file, but you will be so happy that you did when all of your pets can be companions in the same household.
C: Boxers are usually very social and adaptable as youngsters, which is under the age of 2 years old, with all other dogs, of both genders. However, I will not place a boxer with the same sex in any household. When they become an adult, they may not get along safely anymore. After many years of experience with this breed, I can guarantee that they get along so much better with the opposite sex and it is safer in the long run. Believe me, it is not worth the consequences, and preventative measures are always the best step to take, no matter what.
D: Boxers love people and children and will go to all lengths to run and greet a person or a child playing down the street. This is why a fence is required through most rescue organizations when adopting a boxer. Taking a pet and putting them on a chain or tie out is completely unacceptable through my rescue as well. There are many other solutions for the safety of your pet, and if you have something as a run or kennel, or can provide a safe environment, please do not hesitate to note this on your application. Boxers are avid runners and love to kick up their heels when in play. They deserve to have this opportunity when they get a second chance at life.
E: These rescued boxers are surrendered to WBR from many walks of life. When they come into rescue, sometimes they have been severely neglected, abused, or simply cannot stay with their family for several reasons. Many are owner surrendered, because they have no other option and want the best possible second home for their boxer. This can be from military orders to move or to serve our country, this cannot be helped and we are here to assist, possibly a family death, illness, moving and loss of home. This decision is extremely a difficult & heartbreaking one, but I am thankful they have come to rescue to help provide their kids with the chance of a safe and loving home, the second time around, and I always welcome anyone that needs to contact me to release a boxer.
STEPS FOR ADOPTION of a forever friend
APPLICATION: Contact me via e-mail at BOXERS@waboxerrescue.com to request an application, then please fill out & return to be filed at WBR.



SELECTION: Please let me know if there is a particular boxer that you are interested in adopting. I try to do a search to find the best match for you, your family and one of our boxers, through rescue. When one is selected and you are in agreement, this boxer will be on hold while you wait for a home visit.



HOME VISIT: One of the board directors, or a representative for WBR from a Boxer Club or Rescue Club located in your area will come meet you in person to answer all questions and make sure your home is ready for a boxer to join your family.



ADOPTION: Meet representative for WBR to pick up your wonderful new adopted boxerkid, and sign contract through WBR.



FOLLOW UP: I will be following up on your adoption, and you are always welcome to contact me anytime after an adoption with any behavior or training questions regarding your new boxerkid. And all updates and/or PICS are greatly enjoyed!


LAST but not least - NOTES:
ATTN: Please send all correspondence/inquiries by email first if possible to BOXERS@waboxerrescue.com; It is really hard to return your phone calls daily, so your understanding is once again appreciated. And remember, we also can have a family matter that is urgent and unexpected, this is seldom but will detain email replies.. If you do not hear directly back from us, please write again for an application request. Your patience and consideration is always appreciated.
---
WASHINGTON BOXER RESCUE
PO Box 250

Benton City (Tri-Cities area), WA 99320

WBR has representatives located in Western & Eastern WA state to assist you in person-you can adopt or release a boxers dog, no matter where you are located at in Washington.

http://www.waboxerrescue.com

Email: boxers@waboxerrescue.com
Click here for a list of pets at this shelter
---

[Home] [Information] [Shelters] [Search]