Heritage Humane Society Inc.
---
Our Featured Pet...
Dash is a handsome 2 yr 10 month old neutered brown male tabby. He is a nice looking guy. Dash is an independent boy who likes to do his own thing. He is an explorer and likes to watch the happenings around him. He loves to watch the world from a window as well as bask in the sunshine. Dash would prefer to be an only child. He is a nice cat with a mind of his own. Dash is alert, curious and active. Dash came to our society May 19, 2013. He will make a wonderful addition to your family.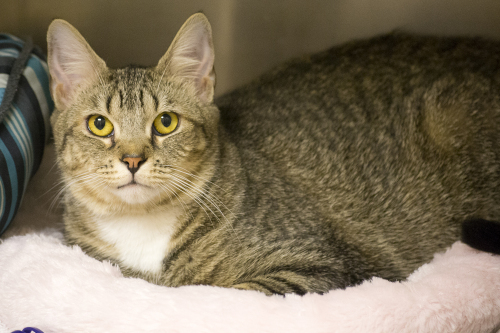 News
<
Who We Are
The Heritage Humane Society will serve as the compassionate steward of companion animals that are in transition from stray/surrender to forever homes. Heritage Humane Society will also educate the public about humane animal care and treatment, advocate animal welfare, and provide affordable adoption and spay/neuter services to measurably reduce overpopulation of unwanted companion animals.
Adopting a friend
If you see an animal that you would like to adopt, please contact our shelter at (757) 221-0150 or www.heritagehumanesociety.org
Come Visit Us!
We are open from Noon till 4:30pm.
We are closed on Thursdays.
---
Heritage Humane Society Inc.
430 Waller Mill Road
Williamsburg, Va 23185
757-221-0150
Email: adoptions@heritagehumanesociety.org

Click here for a list of pets at this shelter

---

[Home] [Information] [Shelters] [Search]