Hanover Humane Society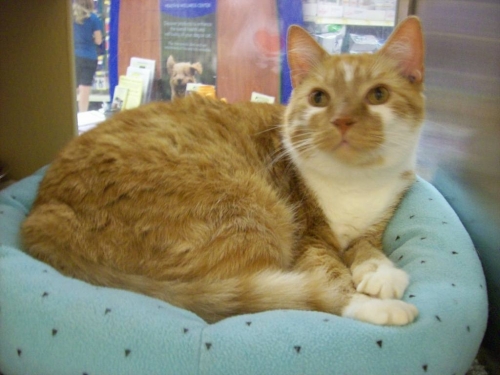 Click here for Simba's Petfinder.com listing!
<!! Place "Pet of the Month" text starting below this line. !!> I was taken in a couple of years ago by a nice lady, but her other cats would just not accept me. They made my life miserable, preventing me from getting to a litter pan and picking fights with me. Since I'm declawed in the front, I was unable to defend myself. Very reluctantly, this nice lady turned me over to the HHS so that I can find a home without any other pets where I'll be doted upon and happy. I have benign polpys in my ears (which I've had before), but I'm otherwise happy and healthy. Now 10 years old, I am about 53 in people years so I still have a lot of love to give. Once I warm up to you, I like to sit next to you and have my chin scratched! I'm looking for a loving home without small children, cats, or dogs. I am fully tested, vaccinated, neutered and microchipped. My $85 adoption fee also includes 30 days of free pet insurance at the time of my adoption. Come meet me this weekend! Find me at the PetSmart on Bell Creek Rd in Mechanicsville. Volunteers will be available during adoption stand hours on Saturday, 11 AM to 3 PM. <!! End "Pet of the Week" text above this line. !!>
---
Click here to see listings of animals who have recently found their forever homes!
News
This is our home page for our listings on petfinder.com. For adoption applications and additional information, please visit our main web site at (
www.HanoverHumaneSociety.org
).
Who We Are
The Hanover Humane Society is a non-profit organization dedicated to improving the welfare of animals in Hanover County (Virginia). Our focus is on finding "forever homes" for homeless animals and preventing animals from being abandoned or surrendered to the county shelter. In 2006, our 20th anniversary year, we purchased the former Yopaka Kennels on Route 1 in Ashland. This 4-acre facility is now our home. We continue to manage the boarding business and have added training and grooming to our menu of services. Every time you board, groom or train your dog at our facility, you are helping to save the lives of homeless animals in Hanover County. Visit our web site for more details and be sure to follow us on Facebook.
Adopting A Friend
For the most current, official and complete information about our adoption process, please visit the "How to Adopt" link on our web site. Adopters must be at least 18 years old. After completion and review of an adoption application, personal and veterinary references will be checked and a home visit may occur. If the applicant rents their home, the landlord will be contacted. The Hanover Humane Society makes adoption decisions based on (1) the animal's needs, temperament, and where it will reside, as well as (2) the applicant's history, experience, family, lifestyle, current/prior animal maintenance, references, other animals, employment, yard, housing situation and any other factors that affect the long-term health, safety and overall welfare of the animal under consideration. The Hanover Humane Society reserves the right to deny adoption to anyone who, in its opinion, will not provide a suitable home for the pet. Adoption fees start at $150 for dogs and $85 for cats, but may vary upwards for puppies and kittens, special needs animals, purebred animals, and other factors. All of our animals are fully tested and vaccinated (age appropriate), sterilized, and microchipped for identification. The adoption fee also includes 30 days of free pet insurance and a free initial office visit with a participating veterinarian. Applications are accepted at our facility during business hours, from our web site, and at our adoption stands during posted hours (see below).
How to Meet HHS Dogs and Cats
DOGS: Please visit the Hanover Humane Society's facility on Route 1 near Ashland. Formerly the site of Yopaka Kennels, we're located at 12190 Washington Highway (Route 1) just north of the Carter lumber store. We keep about a manageable number of dogs at the kennels who are available for adoption. Volunteers are onsite to assist you on Saturdays from 9:00 AM to 12:00 Noon. You can also call 798-0806 and make a special appointment to meet the dogs located at our facility. Check our listings for other dogs that may reside in foster homes.
CATS: We will be at the PetSmart stores in Mechanicsville and Virginia Center on Saturdays between 11 AM and 3 PM. We also have volunteers at the Virginia Center location on Sundays from 2 PM to 5 PM (but not in Mechanicsville). We have cats who live at the adoption centers 24/7 in these locations. Volunteers will be happy to assist you in meeting them! You may also view the cats through the adoption center windows whenever the PetSmart stores are open. Call 798-0806 if you'd like a special appointment to meet a cat, and check our listings for other kitties who live in foster homes. Please note that we do not as yet have a "cat room" at our facility in Ashland. All of our cats are in foster homes or at the Petsmart locations.
Donation
We always need financial support and specific items to help with our mission of saving animals. Please call us for a complete list of needed items, visit our web site or mail a donation to us.
Hanover Humane Society
P.O. Box 1011
Ashland, Va. 23005
(804) 798-0806
E-mail: info@hanoverhumanesociety.org