Texas Best Choices Animal Rescue
---
Our Featured Pet...
Marley!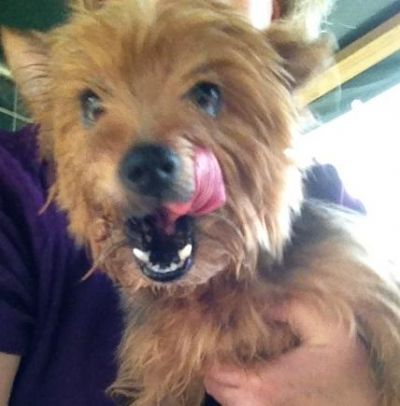 Marley is a sweetheart of a dog....she was left behind to die by her own family. This precious pup is possibly a pure bred Yorkie or Yorkie Mix- possible Schnorkie! ( Yorkie./ Miniature Schnauzer ) Whatever she is ..is adorable! She likes to be held, she is playful, and was living indoors. At the rescue, she likes to sit on top of the dog house so she can see everything that is going on- and be sure that you notice her! She has a flea allergy so she prefers to be pampered and be kept flea free like the beautiful girl that she is! It is easily controlled by a monthly flea prevention and has not been a problem for us at the rescue. She is about 5 years old and 12 lbs. She is spayed and ready for your heart to bond with hers. She does great with people but prefers to be an ONLY dog. We always have lots of puppies and some are getting to the fourteen weeks age. Please call us for details on each of these special furry friends. Make an appointment today!
Who We Are
Texas Best Choices Animal Rescue is our name. We are a HAPPY place for animals and people. We strive to make this a place for our rescued dogs to thrive while they are waiting for their "FOREVER FAMILY". You will see lots of waggin' tails and hear friendly barking when you arrive for a visit at our 22 acre outdoor, dog lovin' shelter. There are no small cages, nasty smells or pitiful faces to to send you running away. YES, we have a lot of beautiful puppies and dogs in need of homes , and we hope your home is just right for one, or maybe even two!
Adopting a friend
We have a simple adoption contract that ensures our dear little rescue will be treated with care and concern for their well being and with the respect they deserve as one of God's furry creatures. We do want them to become a part of your family whether they are an indoor dog, or indoor and outdoor. Fences make good neighbors, and are even more important for responsible pet owners. All of our animals must be spayed or neutered, and if this has not been accomplished before they leave us, it will be a requirement for adoption. Our adoption fee is so low you will want to take home 2! We are all about finding great homes for these precious 4-legged creatures. ! Contact us by email for Pre-qualification/ Adoption Application.
Come Visit Us!
We are in Quinlan, Texas, about one hours drive from Dallas, going east. Please call or email us for an appointment and exact directions. We have flexible hours and are available weekdays and weekends, as daylight allows. Thank you for visiting us on petfinder.com and we look forward to meeting you and matching you with your new furry, best friend. You can find us directly at www.bestchoices.petfinder.com. Look on Facebook for our page under Texas Best Choice Animal Rescue. Visit to see our "Happy Tails" of successful adoptions. Also see a video of us showcasing the beautiful Teddy Bear and Venus. http://youtu.be/cuocSHudDWM Thank you to The PEDIGREE FOUNDATION for their recent support to help us save more animals. Texas Best Choices Animal Rescue is proud to be a Partner for Pets! BISSELL and LostPetUSA.net have teamed up to help organizations like ours raise money, and now you can help too! When you buy pet products on bissell.com and enter the code ADOPT at checkout, a portion of your purchase will be donated to our shelter. Whatís more, every purchase goes towards an entry for us to win a $5,000 quarterly giveaway! Now thatís a deal for all of us! Visit www.lostpetusa.net. to help a lost or missing pet find his way home. Use the code ADOPT and select Texas Best Choices Animal Rescue at the BISSELL checkout to receive the discount. If you have it in your heart to provide a raised bed for one of our dogs... Kuranda is one of the best beds on the market but out of our reach financially. They are offering 10% donation if you buy one for your own dog..... We would be honored to receive a bed for one of ours. http://kuranda.com/dog-beds?partner=11291%22 Visit www.bissell.com/partnersforpets/products to view available products.
---
Texas Best Choices Animal Rescue


Quinlan, TX 75474
Phone: 214-535-5230

Email: allanc214@aol.com
Click here for a list of pets at this shelter

---

[Home] [Information] [Shelters] [Search]