We are No-Kill Williamson County - please help us with this goal!
Georgetown Animal Outreach
---
Our Featured Pet...
Herra and Precious Herra and Precious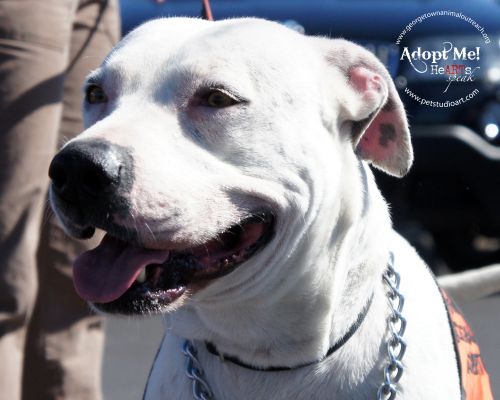 News
MOST OF THE AREA SHELTERS AND RESCUE GROUPS ARE BURSTING. IF YOU'VE BEEN THINKING ABOUT ADOPTING OR FOSTERING A RESCUE DOG, PLEASE TAKE THE PLUNGE NOW. WE NEED GOOD PERMANENT AND TEMPORARY HOMES FOR LOTS OF GREAT DOGS.

Georgetown Animal Outreach has a new partner in Nicaragua - Granada Animal Outreach. For more information go to their website:
www.granadaanimaloutreach.org
You can also donate funds designated for Granada Animal Outreach by going to that pet on our petfinder site list of adoptable pets and clicking on "sponsor me."

GAO meets every month on the first Tuesday at the Georgetown Library or Parks and Rec. Please join us. We start at 7:00 pm.
Online Adoption Application
http://www.georgetowndogrescue.com
GAO also helps with some referral dogs as indicated on their listings. We verify veterinary records for all of these dogs and hope we can help them to find homes. We encourage you to contact their foster homes directly for more information. Who We Are Georgetown Animal Outreach is a 501c3 focused on supporting the Georgetown Animal Shelter and other shelters in the area and on spay/neuter education and financial support in the Georgetown area. On a special needs basis, we foster animals from the Georgetown Shelter as well. We also have our new partnership with Granada Animal Outreach in Nicaragua. Adopting a friend For more information email us: For dogs email txcodigirl@gmail.com For cats email debbiedoeslittle@hotmail.com All of our dogs and cats will be fully vaccinated and spayed/neutered prior to adoption. Adoption Contributions/Fees: Dogs - $50.00 or 95.00; Puppies - $100.00 or 150.00; Purebred Dogs (if indicated in description) - $200.00; Cats - $85.00 Georgetown Animal Outreach must maintain the right to select the most appropriate adopter for each animal and to refuse adoption as we see fit. Come Visit Us!

---

Georgetown Animal Outreach
P.O. Box 1684

Georgetown, TX 78627


Email: txcodigirl@gmail.com
Click here for a list of pets at this shelter


---





[Home] [Information] [Shelters] [Search]