B
Amazing Grace Pet Rescue
We have some FABULOUS mature dogs that have a lot of love to give. All that is missing is an equally FABULOUS owner to love them! Remember, a mature dog can be easier to handle, more relaxed, have out grown puppy phase (i.e. chewing), eager to please, and grateful for your love and attention. Contact us and we can help you to find the perfect new family member!
Our Featured Pet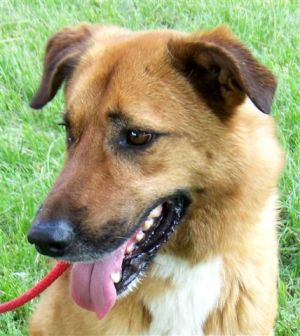 Click to see our featured pet... Zach!

Meet Zach!
Zach is a beautiful shepherd mix with a happy go lucky personality!
Click on his name below to find out more information on this sweet dog.
---
NEWS!!!
Every third Saturday of the month (including July 21st), we will have several of our GREAT dogs at the North Eldridge Petco Store (located at 12310 FM 1960 West in Houston). We will be there from 1 pm until 4 pm.
Who We Are
We are a no-kill rescue who specializes in animals that others have given up on -- the sick, the blind and deaf and the emotionally damaged. We nourish the sick back to health, we train the deaf and blind dogs to live in a home environment and we help the scared and lonely with lots of TLC and training. Our philosophy is that a trained dog is a happy dog and its family is much more likely to keep that dog forever. That is why we include training with our adoptions.
Adopting a Friend
Our adoption procedure starts with filling out an application. Once your application is approved and the right dog is matched to your family situation, we conduct a home visit and check references. Our adoption fee also includes a mandatory obedience/get to know your new dog session. To start the application process, please send an email to: Amazinggracepetrescue@yahoo.com to request an application and a volunteer will get back with you.



Because of our dedication to the animals in our care, we appreciate your understanding that we see visitors by appointment only. We will try very hard to make ourselves available at a time that is convenient to you.


Thank you for helping us to save great pets that others gave up on long ago!
---
Amazing Grace Pet Rescue


With fosters conveniently located in the Spring and Pearland vicinities!



Email: amazinggracepetrescue@yahoo.com

Click here for a list of pets with this rescue.
---

[Home] [Information] [Shelters] [Search]