Border Collie Rescue/Texas
---
Our Featured Pet...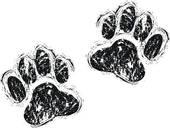 Summer Heat Can Burn Dogs' Feet

Dog's feet and pads are tough, right? Most people are aware that foot pads can be injured by stepping on something sharp, but what about something hot? Dangerously hot pavement and metal surfaces are hard to avoid in the heat of summer. Walking or running on hard pavement is tough on feet, too. Pavement, metal or tar-coated asphalt get extremely hot in the summer sun. We remember to wear sandals, walk on the grass and not sit down on these surface in the heat of the day (most of the time -- I know that I have been surprised a time or two). Harder to remember is summer heat and our dog's feet. Unlike the obvious wounds such as lacerations, foot infections (fungal, bacterial), or foreign bodies such as cheat grass), burned pads may not be apparent to the eye, at least initially. Signs of burned pads: limping or refusing to walk licking or chewing at the feet pads darker in color missing part of pad blisters or redness Another Way to Injure Pads on Hot Pavement A colleague and I presented at a wilderness first aid talk for people who love to be in the outdoors with their dogs. One of the audience members shared a story of what had happened to their dog and brought up a good point about foot pad health. They had been swimming/floating in the river for about an hour and a half. When it was time to go, they walked along the road, but then their Labrador Retriever refused to go on. They figured that he was just exhausted from the swim. Turns out, his foot pads were bleeding and he was in pain. The time in the water has softened his pads up quite a bit and the hot road asphalt severely burned the pads. Burned Pad First Aid It is important to keep the foot area cool and clean. As soon as you notice the problem (limping along on the road), flush with cool water or a cool compress if available. Get the dog to a grassy area or if possible, carry him. At first chance, your vet should examine your dog for signs of deeper burns, blisters and possibility of infection. Your vet will determine if antibiotics or pain medication is needed. Washing the feet with a gentle cleanser and keeping them clean is important. Bandaging can be difficult to do and to maintain (monitor and change often), but licking must be kept to a minimum. Some dogs will tolerate a sock to keep the area clean, but caution is advised for dogs that may chew and ingest the sock. Lick deterrents (bitter sprays) may help reduce the damage caused by licking. Prevention is Best Best advice is to be mindful of hot surfaces -- asphalt and metal (i.e. boat dock, car or truck surfaces) -- and walk your dog on the cool side of the street or in the grass. Another tip is to lay down a wet towel for your dog to stand on when grassy areas are not available. Good way to keep cool while loading up the car.

For more information please search the internet and check with your veterinarian. CONTACT YOUR VETERINARIAN FOR MORE INFORMATION. http://vetmedicine.about.com/od/diseasesconditionsfaqs/qt/hotfeet.htm http://www.bcrescuetexas.org All adoptions require an approved adoption application, a home visit by a BCR/TX representative, veterinary references and a $200.00 adoption fee.




News
Who We Are
Border Collie Rescue/Texas, a non-profit organization, is a group of volunteers mainly scattered throughout Texas (Austin, Dallas, Houston, San Antonio, and Wichita Falls) and Southwest Louisiana area (Lake Charles). A few members are now located in other states and continue to offer valuable support. We work tirelessly to assure our dogs get the veterinary care they need by raising funds and keeping abreast of medical and training issues to better enable us to work with our dogs and place them in homes where they will flourish. Most of our dogs come from shelters near the foster homes and foster space is almost always filled up. Our volunteers work closely together to maintain an excellent support system to foster homes and adopters. Our $200.00 adoption fee covers all recommended vaccinations, hip x-rays to screen for hip dysplasia, spaying/neutering, micro chipping, and any other medical care they may need, which often includes expensive heartworm treatment. Our commitment to the dogs is shown in the request for an approved adoption application, checks on all veterinary references, and a home visit done by one of the members. The home visit generally limits our adoptions to the Texas and South Louisiana areas and is a valuable part of the adoption process. The adoption fee rarely covers the full cost of medical care for the dog while it is in the foster program. Donations are always gratefully accepted. Border collies are an extremely active breed, bred to work all day. As puppies they can easily get into trouble when they try to herd children by nipping and biting at legs to move " the herd" in the direction the puppy thinks "the herd" needs to go. Most border collies carry this herding instinct even if their parents and grandparents were not used for this type of work. Border collies are not a dog to leave outside without attention or to allow to run loose. They require an owner that is active, willing to work with a border collie, and enjoys spending time with a dog that is smarter, is definitely faster , and has more energy, than you will ever imagine. If you are interested in more information on one of the dogs listed, please go to our website at /www.bcrescuetexas.org If you do not see a border collie to fit your family, please check out nearby shelters , rescue organizations, and humane societies. There are hundreds of border collies in need of good homes.
Adopting a friend

adoption application: www.bcrescuetexas.org/bcrtadoptapp.htm

Come Visit Us!
Check out our home page at www.bcrescuetexas.org for information on behavior, training, and other bits of insight into the delightful , quirky, border collie.
---
Border Collie Rescue/Texas
P.O. Box 1338



La Porte, TX 77572
Phone:

Email: samarai1234@yahoo.com
Click here for a list of pets at this shelter

---

[Home] [Information] [Shelters] [Search]